Monitor Audio Silver RS 6 Speaker System
Quality drivers in quality cabinets equals quality sound—at a nice price.
It's easy to find your eyes dazzled, and your mind befuddled, by the outpouring of new speakers over the last few years, particularly those of the nontraditional variety. In-walls, plasma-friendly speakers, and even flat-panel speakers are all the rage with the general public. This is hardly a bad thing—anything that can get people to recognize that the speaker realm extends far beyond the two-dollar paper drivers in their televisions serves a valuable purpose. Many of these people may also come to realize that, at this point, most of these recent unconventional designs embody some degree of compromise, and they hopefully won't fall victim to the dreaded anything-that-is-new-is-better philosophy. It is true that manufacturers are getting more out of unconventional designs than ever before. But, generally speaking, the best speaker sound still comes out of old-fashioned cone drivers and dome tweeters in cabinets with the proper interior and exterior qualities, along with the proper space for them to do their work.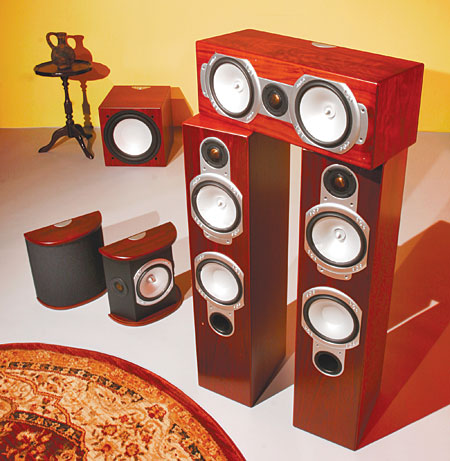 With the spotlight shining elsewhere, conventional speakers have had to perform that much better, and become that much more inexpensive, to still get noticed—and the speaker buyer who still favors the traditional approach clearly benefits from this. The new Silver RS speakers from Monitor are the perfect case in point, as they enter the scene at price points that are being bombarded by ever-smaller and more aesthetically driven competition. It seems obvious to me that the top priority with the Silver RS line is sound performance, although they happen to be pleasing to the eye, as well. They may not dazzle anybody who has a preference for outlandish or rebellious appearance—but appearance isn't what speakers are supposed to be about.
I went to work on a 5.1-channel Silver RS system made up of RS 6s in front, an RS LCR in the center (which, as the name suggests, can also be used vertically for left/right applications), two RS FX surrounds, and an RS W12 subwoofer. The 2.5-way RS 6 and RS LCR each put two of Monitor's highly regarded, 6-inch C-CAM drivers into play, with one reproducing only bass and the other functioning as a midbass unit. The C-CAM drivers, which are designed and built by Monitor, use a ceramic coating applied to an aluminum/magnesium core that allows them to exploit the benefits of both substances (e.g., the rigidity of ceramics and the strength of metal). The tweeters are also C-CAM drivers that are single 1-inch domes on both the RS 6 and RS LCR. Well-placed internal bracing at critical resonance modes keeps the cabinet performance purer, and reflex ports at the front and rear of both the RS 6 and the RS LCR help reduce internal pressure that can lead to low-frequency compression. Two sets of good-quality, five-way binding posts allow for biamping or biwiring.
The RS FX uses a 6-inch C-CAM driver on its front baffle that always operates in phase and a 1-inch C-CAM dome tweeter on each of its side baffles that you can switch between dipolar and bipolar output. A low-slope, linear phase crossover helps deliver 180-degree dispersion characteristics. The RS FX's relatively lightweight and manageable dimensions, as well as the attached keyhole brackets, make for easy wall mounting.
Fairly manageable dimensions characterize the RS W12 subwoofer, as well. It is on the heavy side for its size, though, thanks to a healthy 500 rated watts of internal power, in addition to the 12-inch C-CAM woofer and the impressive motor assembly behind it. The back panel offers an adjustable crossover control (40 to 120 hertz) and a crossover-bypass switch. There's also a phase switch (0 or 180 degrees) and line-level inputs and outputs (RCA). The front panel supplies gain control and two EQ settings—one flat and the other with a 4-decibel boost.
Strong midpriced speakers deserve strong midpriced backing, so I set up the RS Silvers with a Parasound C2 pre/pro, a Sunfire Cinema Grand amplifier, and a Marantz DV8300 universal player. I set the front speakers a couple of feet out from the side and rear walls, with a slight toe-in. I then set the center channel on top of the TV, which conveniently put its drivers right around ear level in the seated position. I placed the rear speakers on the side walls, about 2 feet above ear level and approximately 120 degrees from the listening position. Finally, I placed the sub halfway along the side wall, firing to the rear.
The first thing to grab me about the RS 6s with two-channel material was their prodigious bass. It was punchy, full-bodied, and deep, but never bloated or forced. Granted, these aren't exactly bookshelf speakers, but they aren't room-dominating towers, either. Call them mini towers if you must—and be impressed that this much clean, potent bass can come from two 6-inch drivers in a cabinet this manageably sized. They knocked out the driving bass line of Sara K.'s rendition of "Brick House" (Super Audio Collection Vol. 2, Chesky) with a clear sense of authority and composure. Pink Floyd's "Another Brick in the Wall" from the second Burmester collection tested both ends of the frequency range. The bass remained impressive, and the upper frequencies avoided almost all of the trappings that characterize inferior metal tweeters. They maintained their clarity and immediacy without becoming harsh or fatiguing.
Good-quality speakers usually live or die in the midrange, and, after I'd listened to the RS 6s' midrange performance, especially with high-resolution material, I found myself doing a double-take at their price. Vocals were entirely natural and full bodied, and midrange-dwelling instruments, which includes most instruments, had a presence and dimensionality that you don't often get from speakers at this price level. Whether it was blues or bluegrass, jazz or rock 'n' roll, the Silver RSs responded with a blend of effortlessness and enthusiasm that was altogether engaging. Their treatment of Ralph and Carter Stanley's magical pipes from "Angel Band" (O Brother, Where Art Thou? soundtrack, Lost Highway Records) was especially memorable, with an accuracy that was every bit the equal to much more expensive speakers.
The Silver RSs' impressive musicality continued with movie soundtracks. They developed stage dimensions that belied their physical dimensions and gave music-heavy soundtracks like Crouching Tiger, Hidden Dragon, The Blues Brothers, and Almost Famous ample space to work with. To the eye, the RS LCR is probably the classic definition of a medium-sized center channel. But, to the ear—and that's what really counts—it has the sound of a much bigger speaker, one that wouldn't fit as well as the RS LCR does atop a medium- or small-sized TV. Quality drivers, a quality cabinet, and a quality crossover design all contribute to the speaker's avoidance of virtually all traces of boxiness. It's highly successful at sorting out dialogue, music, and effects, as well, and resists being overwhelmed by even the densest center-channel tracks. Jake and Elwood's purposefully mundane banter in chapter 10 of The Blues Brothers had an easygoing sonic characteristic, even while police cars and a shopping mall were demolished all around them.
The RS W12 and RS FXs had their say during soundtrack demos, as well. As good as the bass was on the RS 6, the RS W12 enthusiastically took over the low-end rumble for soundtracks. Like the RS 6, The RS W12 carries a big punch in a relatively small package and does its work without resorting to boominess or monotonality. The C-CAM driver is also impressive in its 12-inch form, with a quickness and bite that lets large sonic events like explosions finish properly and then quickly reload for the next sortie. The RS FXs are agile, throwing surround effects around the room with little in the way of localization, especially in the dipole mode. Their compact size doesn't allow them to develop the largest surround field you've ever heard, but they provide more than you'd expect from their cabinet dimensions and more than enough to fill up the back of most regularly sized listening rooms.
There's no denying that speaker shopping at this price level is a daunting task these days, primarily due to the sheer number of available options. But, then again, the more options you have, the better chance you have of finding exactly what you want. Something like Monitor's Silver RSs would be a pretty good place to start. The speakers are well designed and well built, and they were clearly designed with audio performance as the top priority. It doesn't hurt that they are space friendly and manageable—and easy on the eyes, as well. They don't tout revolutionary technology or radical form; they just sound good—and that's my kind of speaker.
Highlights
• Big sound in a relatively small package
• Excellent build inside and out