Dynaudio Focus Series Speaker System
All clear!
I think it's time we revived the old maxim that speakers are the most important part of an audio system. Yes, DVD players, A/V receivers, pre/pros, and power amps all play crucial roles, but speakers give you a bigger shot at personalizing your sound. Some speakers deliver exacting resolution, while others effortlessly unleash a wide range of dynamics or shake the foundation of your abode. Dynaudio speakers excel on every front and remain loyal to the sound embedded in your DVDs and CDs. So don't let the Dynaudio Focus speaker series' understated demeanor throw you off track; these speakers can get down and boogie.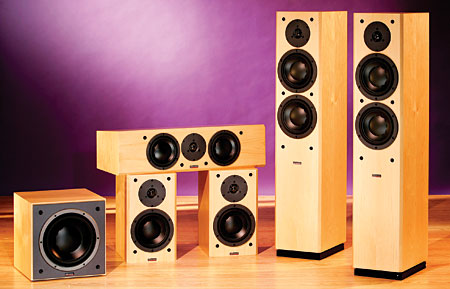 Modern Danish Design
The all-new Focus series handily fills the price gap that existed between Dynaudio's entry-level Audience models and the higher-end Contour speakers. Upmarket from there, Dynaudio's Confidence and megabuck Evidence speakers go for as much as a fully loaded Porsche Boxster. Someday, I'll get a hold of those beauties (the speakers or the car), but, for this review, I spent quality time with three Focus designs: the Focus 220 towers ($3,000/pair), the Focus 200 C center speaker ($1,000), and the Focus 140 bookshelf speakers ($1,800/pair). Dynaudio's Sub 250 ($1,000) completed the system.
Exquisitely finished cabinets are a hallmark of Dynaudio's highest-end speakers, and now, with the Focus' superb real-wood maple, rosewood, cherry, and black ash veneers, that level of craftsmanship is available at a more real-world price. The slender cabinets are part of the visual allure, and their subtly tapered shape serves to break up internal standing waves that could add coloration to the speakers' sound. The speakers are fairly trim, but nowhere as trendy as the flat-screen-friendly designs I see everywhere. Dynaudio is, well, focused on producing speakers for more performance-oriented buyers.
The Focus 220 tower sports twin 6.5-inch woofers, the Focus 200 C center uses a horizontal woofer/tweeter/woofer array with 5.5-inch woofers, and the Focus 140 sports a solo 6.5-inch woofer. Each Focus speaker uses the same Esotec+ 1.1-inch soft-dome tweeter that is said to be superior to the tweeters found in the previous-generation Contour speakers. Dynaudio claims that the tweeter's ultra-high-purity neodymium magnets are 25 times more expensive than the neodymium found in many tweeters (and distortion is said to be lower because of it). The woofers feature die-cast aluminum frames and double-magnet motor systems that combine refinement and high performance abilities. Crossovers are first-order, phase-coherent designs constructed of high-quality parts. The single-pair binding posts are robust, gold-plated affairs that accept banana plugs, spade connectors, or bare wire.
The Sub 250 is deceptively tiny. This little guy measures just under a cubic foot and boasts a 10-inch magnesium-silicate polymer cone, an oversized 4-inch aluminum voice coil, and a 200-watt rated amplifier. Connectivity is a little unusual in that it offers slave outputs for daisy-chaining up to six subs. I'm a fan of using multiple small subs instead of one big whopper—it's easier to even out the bass throughout the room with a set of subs. The Sub 250 and Focus speakers are manufactured in Dynaudio's factories in Denmark.
System-setup particulars differ from those of similarly sized speakers in one slight but significant detail—Dynaudio recommends running all of the speakers large. I'm all for that, because engaging the bass management on some receivers and pre/pros for the small settings can sacrifice some sonic transparency. The bass management/high-pass processing that's part and parcel of small settings is generally bypassed when you run speakers as large. And, if you place a Focus speaker near a wall and the proximity muddies the bass, insert the supplied foam plugs into the ports to exorcise the boom. That'll often do the trick. I wired my reference Pioneer DV-45A DVD player, Sunfire Theater Grand III surround processor, and Ayre V-6x power amp with a combination of Monster Cable and Analysis Plus' Silver Oval cables.
Dyn-O-Mite Sound!
When I test speakers, I like to keep things casual at first and listen while I read or write, but the Focus system wouldn't let me—it's too good to ignore. There's a purity to the sound, with no false warmth or tipped-up treble—no, the Focus' aim is true. Ah, but can they get down and groove? No problem—James Brown's funk got my mojo working big time. And, when I subjected the Focus ensemble to a full-on blast of Iggy Pop's "Lust for Life," they reveled in the music's raw power and gut-pounding rhythms. Switching gears, I kicked back with the new audiophile diva, Valerie Joyce, and her voice's soothing dexterity had me searching for superlatives. It was drop-dead gorgeous. On her new CD, New York Blue, she mostly sticks with jazz standards, but my favorite tunes were her versions of Jimi Hendrix's "Little Wing" and Lennon and McCartney's rarely covered gem from Abbey Road, "Golden Slumbers." The Focus system rendered her ravishing piano, bass, and drum accompaniment with realistic space, depth, and hall ambiance, so I had the sense of being there in the room with Joyce and her musicians. These speakers are faithful servants to the sound.
Flexing the Focus' home theater muscles with the Alexander DVD demonstrated the speakers' talents in a hurry. The tension in the air leading up to the battle scenes was palpable—the pounding of the soldiers' feet, their roaring cheers, and then carnage on a massive scale. Galloping horses, charging elephants, the bloody sounds of hand-to-hand, sword-on-sword combat had my heart racing.
Stay Focused!
Later in the review process, I moved the Focus 220s aside and tried the Focus 140s up front and finessed the Sub 250's controls to achieve a super-smooth sub/sat blend. The exercise also increased my respect for the baby sub; it's a seriously powerful pup. I won't name names, but some micro subs that belt out room-shaking lows can sound flabby on music. The Sub 250 suffered no such indignities and was always tuneful. I won't claim that the Focus 140s had the full gravitas of the Focus 220s, but, after a few days, I never looked back. The Focus 140s' sound was as pure—and their wide-open imaging just as precise—as the towers. I fired up the Alexander DVD again, and the smaller system's visceral, feel-it-in-your-guts sound was immensely satisfying. I'd go so far as to say that, in a cozy home theater, the Focus 140s will probably make more sense than the Focus 220s—and save you $1,200. I should also mention the Focus 110, the baby bookshelf speaker ($1,400/pair) that can serve in front or surround positions. The point is that the Dynaudio "house sound" is uniform; feel free to mix and match models in your home theater. Dynaudio also offers dedicated stands and wall brackets for their speakers.
As I racked up hours of listening time, the thing that stood out about the Focus speakers' sound was their consistency. The high-resolution presentation wasn't merely confined to just incisive treble, see-through midrange detail, or supple low end. No, it was the Focus' beguiling ease that set them apart. Listen, and you'll see.
Highlights
• Incisive sound flatters CDs and DVDs
• Danish build quality
• Classy good looks