Wolf Cinema DCX Projectors at Raleigh Studios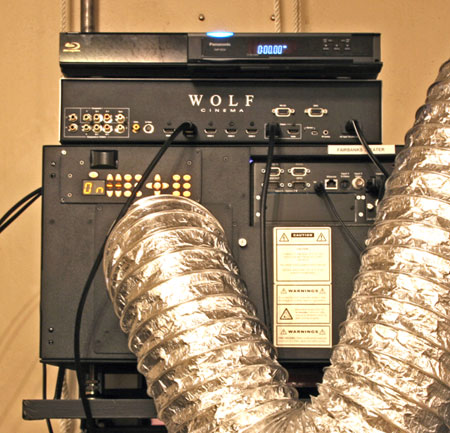 All photos by Scott Wilkinson
Last year in this blog, I profiled the high-end DCX-series 3-chip DLP projectors from Wolf Cinema. Last week, I joined Tom Norton and Shane Buettner for a tour of Raleigh Studios in Hollywood, CA, where DCX projectors are being used in two historic screening rooms.
The tour was hosted by Wolf and Best Practices Lab (BPL), an industry R&D and training facility located on the Raleigh lot, which is right across the street from Paramount Pictures. Interestingly, Raleigh predates Paramount as the oldest continuously operating movie studio in Hollywood, and BPL occupies several offices, including Charlie Chaplin's original on-site apartment and the quaint bungalow pictured here.
On our way to the theaters with Wolf projectors, we passed the studio commissary, which served as a set for Gunsmoke and Death Valley Days among other TV shows and movies.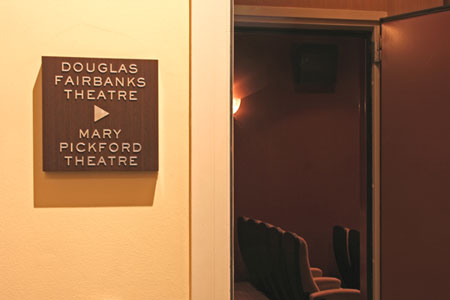 Raleigh Studios has three screening rooms, including the Douglas Fairbanks and Mary Pickford Theatres, both of which offer film projection as well as Wolf digital projectors.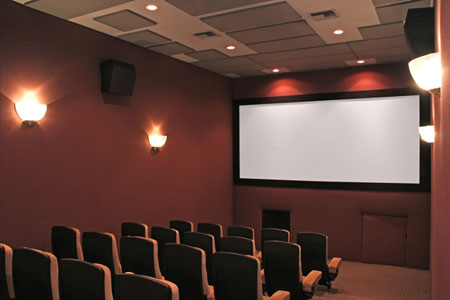 The Douglas Fairbanks Theatre includes 36 seats and a 13-foot-wide, 2.25:1 Stewart Studiotek 100 microperfed screen. We saw clips from Speed Racer and Casino Royale projected by a DCX-1000i, which uses a 1000-watt xenon lamp and offers lens memories that can recall precise zoom and focus settings for different aspect ratios without an anamorphic lens. (Of course, all Wolf projectors can accommodate an anamorphic lens if desired.)
Both theaters include the original control panel that allowed studio execs to communicate with the projectionist in the booth.
Seeing the DCX-1000i next to a film projector makes clear just how far we've come in the art of movie presentation. Sitting atop the Wolf projector in this photo is its outboard ProScaler video processor, which is based on Anchor Bay's well-regarded VRS technology. All Wolf projectors come with this box, which provides multiple inputs as well as deinterlacing, scaling, and other processing.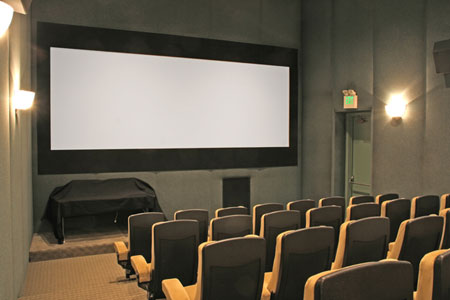 Next, we moved into the 38-seat Mary Pickford Theatre, in which another microperfed Studiotek 100 resides—this one 17 feet wide with a 2.73:1 aspect ratio. The projector was the DCX-1500i, which uses a 1225-watt xenon lamp. Here, we started with a clip from The Replacements on DVD to demonstrate the quality of the ProScaler, and it did indeed look surprisingly good. We also saw clips from Patton and How the West Was Won on Blu-ray, which looked spectacular.
My only quibbles in both theaters were that the black level was too high—it looked like the black level in a film-based theater—and the colors were a bit oversaturated (Speed Racer notwithstanding!). However, I have every confidence that both of these items can be tweaked in the projector's extensive control system.
Naturally, these projectors wouldn't be Ultimate Gear if they weren't expensive—the DCX-500i (with 500W xenon lamp) is $65,000, while the DCX-1000i goes for $85,000. The DCX-1500i is $110,000, and it requires a 220V AC circuit. If you want the VariScope Ultra anamorphic lens with motorized sled, that'll be another $15,000. But if you want the image in your home theater to look as good as the screening rooms at Raleigh Studios, it's money well spent.