Whole-Home Audio for the Rest of Us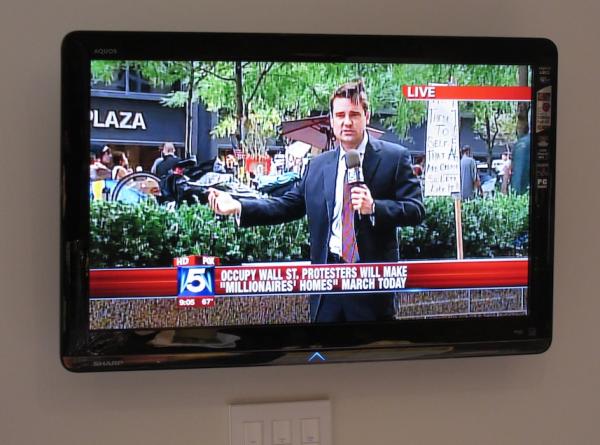 Legrand - a leader in residential wiring and custom install components - in something of a surprise move announced the airQast wireless music system at this year's CEDIA Expo. Part of the company's On-Q subbrand, which includes the LyriQ wired multiroom music system, the $329 airQast is aimed directly at consumers, and marks the company's first venture into the wireless audio market hotly contested by players like Sonos (and, increasingly, Apple and its partner brands employing the AirPlay protocol).
We got a chance to play around with a pre-release airQast pair at a demo staged in an über-luxurious penthouse duplex in lower Manhattan, where it was part of a whole-house entertainment and control system using components from On-Q and Legrand sibling luxury brands Vantage and Bticino. The new wireless system was developed, said Legrand's Terry Craft, in response to the downturn in the housing market, but the company's backgroundis evident in the product's design.
The physical system is a pair of powered (40 watts per channel) desktop/bookshelf speakers. They don't function as a source in themselves, but rather work as Wi-Fi receivers for audio streamed from airQast Server software running on a PC; setup is accomplished via a USB port onboard the left-channel master speaker (which also includes an analog line-in for an auxilliary source); all functionality is accessed via a free airQast Controller app for iOS and Android.
The Server software can stream both a local music collection and streaming services (internet radio and Pandora, Last.fm for now, with the facility to add new services as deals are inked). The airQast piggybacks on your main Wi-Fi network rather than establishing its own network as Sonos does, so if you're doing a lot of other streaming or downloading, performance may be affected. AirQast Server software must be running - and thus you need to always have a running PC in the mix - for the airQast speakers to operate; there's no facility for playback from NAS, as you'd find in a Sonos system.
The experience is similar to what you'd have if you configured an AppleTV unit as an audio satellite - it'd have to find a live copy of iTunes running on a Mac or PC in its network in order to operate, so it's a pretty common approach. Also like airPlay, airQast offers independent control of volume in multiple zones (should you pick up more than one stereo pair), but not independent streams per zone as Sonos does.
The version of the Controller app we saw sported an efficient, utilitarian UI - it's not quite as slick at this point in its development as Sonos' controller apps, but provides clear access to your local music library and streaming services.
The airQast does have one clear price/performance advantage over an individual Sonos box: the fact that being a pair of separable speakers, you can actually get a decent stereo image out of each individual unit - you'd have to buy a couple of Play:3s to get similar imaging while staying entirely in the Sonos universe, or a ZonePlayer and speakers; either way paying a substantial premium. Sonics were hard to judge critially during the showing, but the little speakers have plenty of power and should do well in the desktop and casual listening situations they're intended for.
An interesting twist owes something to On-Q's residential custom install heritage. Via a module called airQast Main Source, airQast pairs can be used as a wireless extender for an existing lyriQ wired setup - in which case it can play directly from the lyriQ server, no additional PC required - so if you've recently decided to add on a new wing to your already-wired mansion, you may be able to save yourself a few bucks by going with airQasts as satellites. Or you could look at airQast as a gateway drug - pick up a few stereo pairs, and you might find yourself wanting things like hard-wired on-wall touchpad controllers after all. You never know. . .
The airQast should make its way out to retailers in mid-December. And by retailers, Legrand/On-Q is planning to put the airQast in (among other outlets like Amazon and Crutchfield) Lowes' stores (where it's already selling its residential wiring components and kits), so the system is definitely being pitched to a mass market rather than an audio geek niche.
Sonos, meanwhile, announced this week that its product line would be available in Target stores nationwide. (The press release went out, coincidentally, just as the Legrand demo was beginning.) Taken together with Legrand's commitment to putting their product in front of customers shopping for extension cords, having Sonos next to housewares and designer collabos means - at least potentially - putting wireless streaming in a whole lot more ears. We're all for it.