What Was Old Is New Again
After 60 years of making some of the finest audio components available,
McIntosh Laboratory
is celebrating its quadquindecennial with the reissue of two classic models—the C22 preamp and MC75 monoblock power amp that were first introduced in the early 1960s. Both units have been updated with the latest features and manufacturing techniques and will be sold as a limited-edition "Classic System" including one C22 and two MC75s.
Like the originals, these updated components are based on vacuum-tube technology, which is prized by audiophiles for its warm analog sound. The C22 recreates the look and feel of its progenitor while adding several circuit enhancements that allow it to match McIntosh's current preamp specs. Balanced inputs and outputs ensure interference-free connections, and a new moving-coil and moving-magnet phono stage accommodates a wide range of phono cartridges. Also new to the reissued model is an IR remote—after all, some concessions had to be made to the modern era.
As its model designation indicates, the MC75 offers 75 watts of power into 8, 4, or even 2 ohms. How can that be? Most amps deliver more power as the impedance decreases, often to the detriment of sound quality. The answer is surprisingly simple—the MC75 has separate transformer-balanced outputs designed for 8, 4, and 2 ohms. Just be sure to connect your speakers to the correct outputs! Among the 21st-century updates is the patented Security Monitor short-circuit protection and balanced I/O.
Only 120 Classic Systems will be available in North America for a cost of $15,000 each. Also included is a deluxe coffee-table book entitled ...for the love of music... signed by author and industry veteran Ken Kessler, McIntosh co-founder Sidney Corderman, and current McIntosh president Charlie Randall. The book chronicles the company's history, starting with its founding in the late 1940s by Frank McIntosh, who, as a television-broadcast engineer, recognized the limitations of then-available audio equipment and set out to build a better amplifier.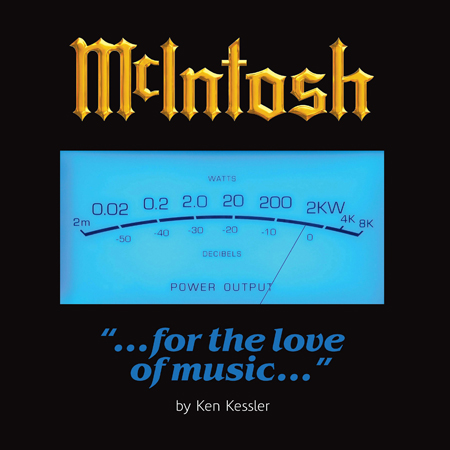 I've never owned any McIntosh gear, but I know plenty of people who do, and from what I've heard of those systems, this one should be outstanding. Granted, it's strictly a 2-channel proposition, so it won't be found in home theaters. But for those who believe they must have separate 2-channel and multichannel systems to get the most out of each type of source material, I'm confident that the McIntosh Limited Edition 60th Anniversary Classic System will be music to your ears.