What Kind of HDMI Extender Will Pass Dolby Vision?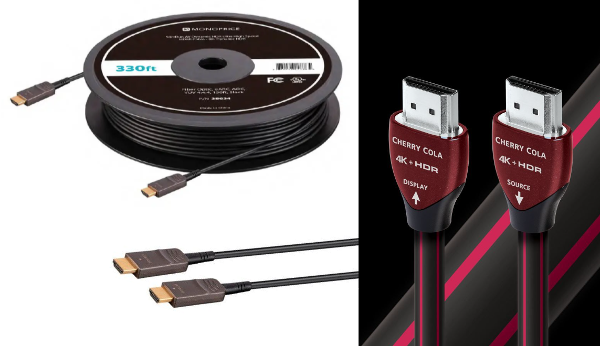 Got a tech question for Sound & Vision? Email us at AskSandV@gmail.com
Q I'm in the process of rebuilding my home theater with a 4K projector and flat-panel TV. Here's my question: What kind of HDMI extenders can I use to pass a video signal with Dolby Vision high dynamic range (HDR) from my receiver to both screens? I'm completely at a loss here. —F. Hudson Miller, Hollywood, CA
A HDMI extenders are typically used in complex systems where video is being distributed to multiple rooms in the home. For a more basic, point-to-point system such as a home theater, a long HDMI cable run will provide the easiest, most reliable, and least expensive solution, especially if you are able to run wiring during construction.
A problem with long HDMI cable runs, however, is that they can become unreliable at distances beyond about 16 feet (5 meters). That's because the 4K/HDR signal is more bandwidth-intensive than regular high-definition video. Just how unreliable will depend on the source (Ultra HD Blu-ray player, streaming box, game console), the A/V receiver being used as a video switcher, and the sink (TV or projector), along with the specific cable you are using.
For distances greater than 5 meters, you'll want to use fiber optic active, a type of HDMI cable that contains — you guessed it — fiber optic glass conductors. Along with providing robust and reliable data transmission over longer distances, fiber optic active cables are typically thin and flexible, allowing for easy routing through walls and ceilings or under floorboards during installation.
Since Dolby Vision is important for your installation (for the TV at least, since projector HDR support is limited to HDR10), you'll want to use cables capable of handling "Dynamic HDR." While most cables spec'd for 8K video pass-through should be able to handle that, the info should be clearly stated on the product's labeling. Two qualifying examples we've seen are Monoprice's 8K SlimRun AV Ultra High Speed HDMI Cable, which is available in runs up to 200-plus feet, and AudioQuest's Cherry Cola Hybrid Active Optical Cable, available in lengths up to 100 feet.
Whichever cable you choose, it will be a wise idea to confirm the manufacturer's return policy (Monoprice offers 30-day returns), and to test the cable with your specific gear configuration prior to running it through a ceiling or wall. (It's also worth noting that, unlike regular HDMI cables, fiber optic active ones are directional, so you'll need to make sure you run them with the source and display ends at the correct location.)
Some final words on your installation: The A/V receiver should provide dual HDMI outputs, both of them specified for 4K/60Hz video support, to accommodate the 4K flat-panel TV and projector (the Yamaha RX-A6A we recently reviewed qualifies, as does the Denon AVR-X6700H AVR we tested in 2020). Also, S&V's custom installation expert John Sciacca recommends that you pull multiple Cat6 cables along with HDMI, a step that will help future-proof the installation by enabling features like network connectivity and IR (infrared) and RS-232 control.
Click here for more expert advice on all things audio and video.