What HDMI Splitter Should I Use With an Xbox?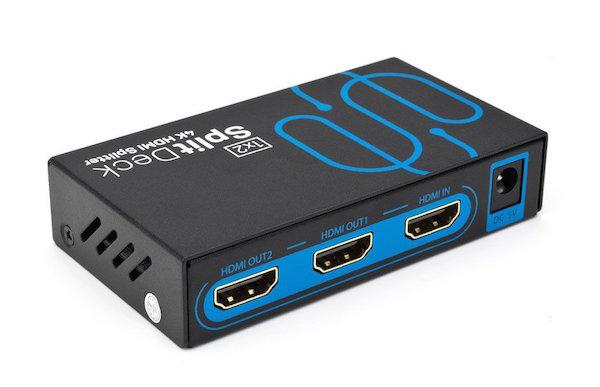 Got a tech question for Sound & Vision? Email us at AskSandV@gmail.com
Q I recently upgraded my TV to an LG 65B7P OLED. My receiver is an older Pioneer model that I'm loathe to give up. I plan on using an Xbox console, either the One S or the forthcoming One X, as my 4K source. Here's my problem: both Xbox versions provide only a single HDMI output. I know I could use the TV's HDMI ARC port to route audio back to a receiver, but my Pioneer doesn't support that feature. Another problem is that HDMI ARC doesn't support the Dolby TrueHD and DTS-HD MA lossless audio codecs. Which gets me to my question: Is there some kind of HDMI splitter I can buy that will let me route the Xbox's output separately to the TV and AVR? —David Becker
A Yes, there is. You can find plenty of HDMI splitters on sites like Amazon. The type you'll be searching for is a 1 x 2 model that accepts a single HDMI input from a source like a game console or Blu-ray player, and distributes the signal to two separate TVs, or to a TV and AVR, via dual HDMI outputs.
Once you go online, you'll find there's a huge selection of models, some at surprisingly low prices, to choose from, but an HDMI splitter isn't something to cheap out on. There are several keywords to look for when shopping. First, you'll want to search for an active model with an external power supply. Active HDMI splitters boost and equalize the signal for reliable performance over a specific distance. They also enable the activation of HDCP copy protection between devices, which is a necessity when watching movies using an Xbox or other media player as a source.
Since your LG 65B7P OLED TV is also 4K and high dynamic range (HDR)-capable, there's an additional spec to look out for. You'll want to buy a splitter with HDMI 2.0a ports. HDMI 2.0a will let you pass HDR movies and games to your TV, which is compatible with both the HDR10 and Dolby Vision HDR formats. Using a splitter that meets the latest HDMI specification will also ensure compatibility with Ultra HD programs that have a 60 frames per second display rate, as well as games on the Xbox One X, which reportedly supports native 4K rendering and 4K/60Hz output.