What Are the Benefits of Bi-Wiring Vs. Bi-Amping?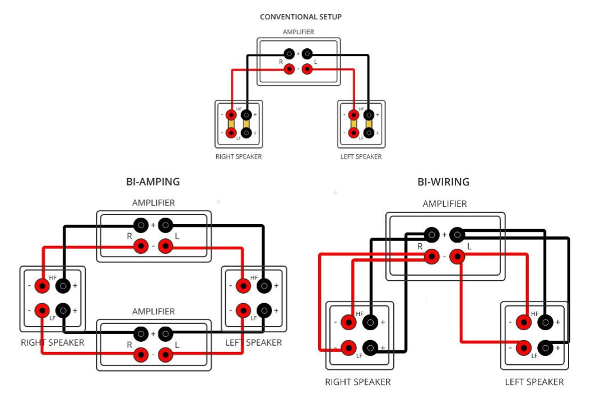 Got a tech question for Sound & Vision? Email us at AskSandV@gmail.com
Q I just bought Polk Audio Monitor 40 Series II speakers and want to know how to install them using bi-wiring. Do I connect two separate wires from the positive and negative outputs on the receiver and run them to the separate positive and negative input sets on the speaker? What benefits will that provide? —Kris Green, via email
A Yes, to bi-wire your speakers, you can either connect two separate sets of speaker wire in the manner you describe or use special four-conductor cables designed for that purpose. Note that you will first need to remove the conductive metal jumper strips connecting the Monitor 40 speaker's dual-input terminals for the bi-wiring to provide any potential benefit.
Which brings us to part two of your question. While some experts maintain that bi-wiring can have a beneficial effect by allowing the high- and low-frequency portions of the audio signal to be separately routed to the high- and low-frequency drivers in the speaker, others claim there are no audible benefits to bi-wiring and you are simply buying more wire (buywire, ha).
In all likelihood, a more sensible use for those dual-input sets is to bi-amp the speakers. With bi-amping, separate amplifier channels power the speakers' low- and high-frequency drivers. Bi-amping is fairly common in systems where a 7.1-channel AV receiver is matched with a 5.1-speaker setup: instead of letting those two extra amp channels go to waste, you re-route them to the front left/right speakers. The catch here is that the receiver needs to permit re-routing in its setup menu, though many current models do allow for that. And bi-amping isn't limited to receivers with unused amp channels, since you can also add an external stereo amp to a two-channel integrated amp or 5.1 setup.