This Week in Music, August 13, 2013: Pushing art-pop buttons with Sam Phillips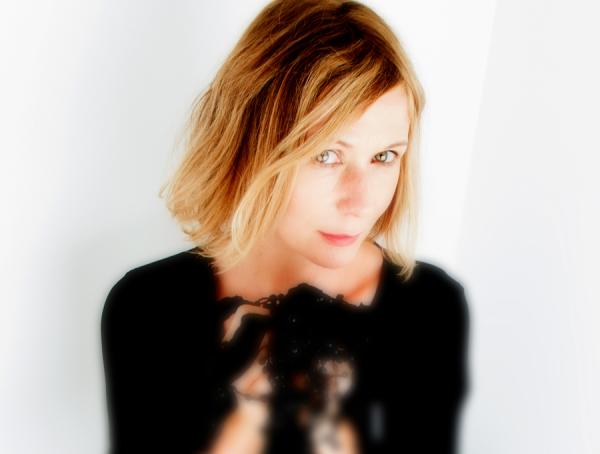 Sam Phillips: Push Any Button
New release (Littlebox)
You make modern accommodations from audience reaction
Stereo realist
Disconnected exposure meter
Start counting everybody
It's gonna blow
Pretty Time Bomb
You're a mirror of your times
Not the average opening lyrics of your average chanteuse. But then, Sam Phillips has never been anyone's average singer/songwriter, as she herself acknowledges: "I never could go with the crowd / Even though they seemed to know where they were going."
Having delved into the virtual world with Long Play, her digital subscription project, Phillips now releases Push Any Button, her first physical album of new material since 2008's Don't Do Anything. Those opening lyrics up top are from "Pretty Time Bomb," which begins the succinct 10-song set with garage-y, distorted-electric, almost Tom Waits-ian Bone Machine sonics. Yet from there, most of the album has a homespun acoustic base, imaginatively produced by Phillips with assistance from her engineer, Eric Gorfain.
As she told American Songwriter, composing and recording Push Any Button made Phillips feel as if she were in "a nostalgic sort of dream of being a pop star in the 1960s and early '70s. It's a sweet kind of album, and I don't know where it came from." Much of it sounds like it came from the folkier portions of the Beatles' Rubber Soul. There are moments when a mild electric stomp returns, and we're more in the realm of Revolver - especially when "Speaking of Pictures" seems to pay homage to "I'm Only Sleeping," complete with backwards-guitar solo. But overall, the unplugged vibe prevails.
Often, that vibe is agreeably ragged. And if the album is "sweet," it's also somewhat edgy - a fitting dichotomy for describing Phillips's voice, too, considering how it's still reminiscent of latter-day Marianne Faithfull while remaining far away from that singer's more pronounced vocal ravages.
As for the lyrics, the enigmatic quality of "Pretty Time Bomb" (imploding Hollywood starlet? something more sinister?) is actually atypical of the album as a whole. Phillips appears more concerned with expressing common emotions. So as she sings the title line of "When I'm Alone," she follows it up with "I'm not lonely." And here's how she describes the sense of déjà vu all over again:
It feels like I've been where I'm going
Like every new corner is inside a knowing
Time is wound on a circle of ground that feels like I've been where I'm going
Stillness moves in me like water is knowing
How to find a way through
That song, "Going," clocks in at only a minute and a half, but the string accompaniment by the Section Quartet (of which Gorfain is a member) helps give it (and "See You in Dreams") a rich, lasting resonance. Other tracks benefit similarly from the assembled sessioneers, who include drummer Jay Bellerose and pianist Benmont Tench.
All told, Push Any Button is a collection of art songs that, simultaneously, are pop pleasures. In the No Man's Land of mid-August, between summer's radio trifles and fall's big releases, don't let this enchanting album pass you by.
Glen Campbell: See You There
New release (Surfdog)
Photo by Kristin Burns
Here's a fine companion to Glen Campbell's Ghost on the Canvas, which won a Sound & Vision Entertainment Award as one of the 10 best albums of 2011. During the Ghost sessions, Campbell recorded new vocal takes on some of his classic hits; later, the tracks were finished by producers Dave Kaplan and Dave Darling, who added instrumentation but kept the recordings "more intimate" than the originals.
Six of the selections are from Campbell's prime years of 1967-69: "Gentle on My Mind," "By the Time I Get to Phoenix," "Hey Little One," "Wichita Lineman," "Galveston," and "True Grit." Listening to these fresh versions, you'll notice how the songs retain their grandeur, even without the plush, widescreen sound of old. Then there's "Rhinestone Cowboy," from the different era of 1975. Wisely, in this case, Kaplan and Darling have added almost nothing, allowing just Campbell's voice and an electric guitar to refocus our attention on the song's story.
Rounding out the set: a redo of the Ghost song "There's No Me . . . Without You," two numbers that were iTunes/Amazon bonus tracks for that album ("What I Wouldn't Give" and Jimmy Webb's "I Wish You Were Here," a retitling of "Postcard from Paris"), and two versions of the completed "Waiting on the Comin' of My Lord," a Ghost track previously left unfinished.
Considering the singer's deteriorating health, we are lucky indeed to have this vital postscript.