This Week in Movies & TV, August 20, 2013: Killers With Kids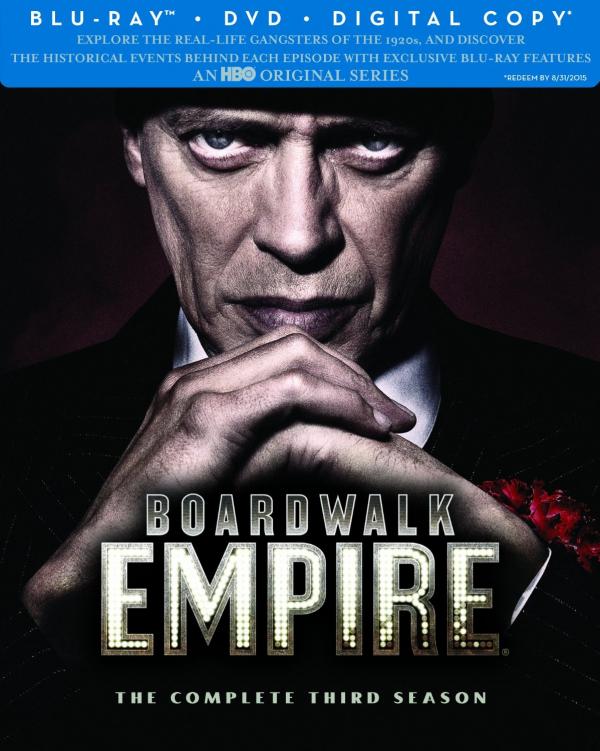 Boardwalk Empire: Season 3
This is a story of fathers and sons. As previous seasons have shown, every gangster, it seems, starts as a kid with a difficult relationship with their dad and every hood has an equally important relationship with their boy. James "Jimmy" Darmody (Michael Pitt) stabs his father, Commodore Louis Kaestner (Dabney Coleman). Jimmy, in turn, is shot in the face by his surrogate father Nucky Thompson (Steve Buscemi). Twice. Oedipus schmoedipus. So long as he loves his mother.
Endless other examples of this father/son fixation abound throughout Boardwalk Empire as the main motivator underlying the behavior of its depraved characters. But none is quite so surprising as that in Season 3's Episode 4. Here Al Capone (Stephen Graham), equating the vicious assault on one of his weaker associates in a speakeasy with the bullying of his deaf son at school, walks into the bar and, in front of a shocked room of witnesses, beats and stomps the attacker to death. Then he goes home, gets out his mandolin, hugs his kid close, and gently sings "My Buddy" to the boy. It's a highly effective ending to the episode and a perfect example of the psychological complexity of the series' characters.
Season 3 of this HBO Prohibition-era crime drama chronicling the life and times of Nucky Thompson, the gangster-politician who ruled Atlantic City, picks up sixteen months after the Season 2 finale, on New Year's Eve, 1922. With the Roaring '20s about to get into full swing, alcohol supply can barely keep pace with demand and so attempts to get and keep possession of it are bringing gangster violence to a boil. Nucky now faces new competition in the person of Gyp Rosetti (new cast member Bobby Cannavale), who builds a blockade against Nucky's alcohol trucking runs between Atlantic City and New York, killing his men and stealing his booze in order to force Nucky to deal with him - one way or the other.
The picture is very sharp and clear, everything exceedingly distinct. Incredible detail everywhere provides intricacies in the gangsters' ladies' expensive jewelry and patterns of their outfits with texture to textiles. Lace, straw hats, and whicker chairs all reveal their weaves. Grains of sand on the beach Nucky stands on and lines on Buscemi's face are visible. Gravel, distressed paint jobs, and boards in the boardwalk are all tactile.
Contrast is excellent. Colors are subdued but there are still rich, solid, and beautiful pastels throughout with a wide range of tones that are set off by the occasional bright, saturated red carnation or lipstick. Tuxedos and bowties are a deep black and dress shirts are a bright white. Skin tones are utterly natural and well variegated. Spaghetti-and-meatball-fed bulging gangster bodies are rounded, solid, and dimensional.
Sound is open and realistic with a wide dynamic range. The many newly performed songs from the era are full and nicely separated into all channels, the emphasis, though being on the front. Gunfire barks bassily, blasting like a canon echoing into the surrounds. Those channels also used for subtle atmospherics, such as a clock quietly ticking in a drawing room, music leaking up from a party below, or a prison gate clanking open before slamming shut. A massacre of truck drivers is expressed through distant gunfire from off behind. An aviatrix's fly by and cars and liquor trucks driving across the screen are accurately panned.
Other colorful characters include Arnold Rothstein (Michael Stuhlbarg), Eddie Cantor (Stephen DeRosa), Chalky White (Michael Kenneth Williams), Charles "Lucky" Luciano (Vincent Piazza), Benjamin "Bugsy" Siegel (Michael Zegen), Eli Thompson (Shea Whigham), Margaret (Kelly Macdonald), Gillian Darmody (Gretchen Mol), Nelson Van Alden (Michael Shannon), Owen Sleater (Charlie Cox), and Billie Kent (Meg Chambers).
This series - with its well-written dialogue and story and impressive visual expression - has won twelve Emmy Awards and has received 30 nominations, including two for Outstanding Drama Series. Boardwalk Empire also won the Golden Globe Award for Best Television Series – Drama. It's executive produced by Martin Scorsese.
Video: 1.78:1. Audio: DTS-HD Master Audio 5.1. Extras: 6 cast and crew commentaries including ones by creator-writer-executive producer Terence Winter, director-executive producer Tim Van Patten and actors Buscemi and Jack Huston on "Resolution," executive producer-writer Howard Korder and actors Stuhlbar, Bobby Cannavale, and DeRosa on "You'd Be Surprised," Korder, director Allen Coulter, and actors Whigham and Mol on "Sunday Best," Winter and actors Shannon, Cox, and Chambers on "The Pony," Korder, Coulter, Buscemi, and actor Williams on "Two Impostors," Winter, Van Patten, Cannavale, and actor Chris Caldovino on "Margate Sands," "Scorsese on Season 3" with executive producer Martin Scorsese, "Boardwalk Empire: Director's Chair," and "New Characters," featurettes, "Boardwalk Chronicle" feature allowing viewers to interactively track the major characters, the real-life people they're based on, and the settings for each episode, as well as a bit of real-world history, "Distilling Season 2" 14-minute recap, "American Empires" text-based exploration of the gangsters of the 1920s, "Newsreels" 62 minutes of featurettes on the historical figures and times on which the story of Season 3 are based; DVD and UltraViolet digital copy for streaming/downloading. Studio: HBO.
Shadow Dancer
Directed by James Marsh (Man on Wire, The King, Project Nim), Shadow Dancer is a slow-burning British-Irish conspiracy thriller set in Belfast, Northern Ireland of 1993 during the Troubles, the conflict that began in the late-1960s and continued mercilessly for the next 30 years.
Based on Tom Bradby's novel adapted for the screen by Brady, it tells of widowed, single mother Collette McVeigh (Andrea Riseborough) who's arrested carrying a bomb on the London Underground as part of a failed IRA bomb plot. She's offered one chance to remain free if she agrees to returns home to Belfast and become an informant working for the secret services under MI5 officer Mac (Clive Owen) spying on the IRA group she belongs to. Although this would mean informing on her own family and placing herself in grave danger, she agrees because it's preferable to going to jail for 25 years and losing her life and, above all, the custody of her son. Since her brothers are both ultra senior-level IRA operatives, Mac sees it as an opportunity of breaking the cycle of violence in 1990s Belfast and saving the lives of families torn apart by the strife of the civil war.
Shadow Dancer co-stars Gillian Anderson, Aidan Gillen, Domhnall Gleeson, and Stuart Graham. In 2012, Riseborough won Best Actress Award at the British Independent Film Awards.
Video: 2.35:1. Audio: DTS-HD Master Audio 5.1. Extras: making-of featurette. Studio: Magnolia.
Star Trek: Enterprise: Season 2
Creators Rick Berman and Brannon Braga had decided, after making The Next Generation film First Contact, to continue from that point in history at which humans made first contact with a starship from the future with a series set that tells of their inspired first attempts in the 22nd century of their own at interstellar travel 100 years before Captain James T. Kirk set sail - a prequel to Star Trek: The Original Series.
Star Trek: Enterprise: Season 2 tells of the adventures of Captain Jonathan Archer (Scott Bakula) and the crew of Earth's first warp 5 starship, one that could reach speeds that made interstellar travel feasible, allowing the Enterprise NX-01 to boldly go where no man had gone before. The main mission of the pioneering crew of the revolutionary new experimental spacecraft - human captain Archer, fetching Vulcan science officer T'Pol (Jolene Blalock), chief engineer Charles "Trip" Tucker III (Connor Trinneer), helmsman Travis Mayweather (Anthony Montgomery), security/weapons expert Malcolm Reed (Dominic Keating), communications officer Hoshi Sato (Linda Park), and Denobulan chief medical officer Phlox (John Billingsley) - is to chart the galaxy and experience the wonder and mystery of the final frontier as they seek out new life and new civilizations including Romulans, Klingons, Borg, Tellarites, and Andorians.
The episodes on this 6-disc set from 2002-2003 - the second of four Enterprise seasons - include "Shockwave: Part 2," "Carbon Creek," "Minefield," "Dead Stop," "A Night in Sickbay," "Marauders," "The Seventh," "The Communicator," "Singularity," "Vanishing Point," "Precious Cargo," "The Catwalk," "Dawn," "Stigma," "Cease Fire," "Future Tense," "Canamar," "The Crossing," "Judgment," "Horizon," "The Breach," "Cogenitor," "Regeneration," "First Flight," "Bounty," and "The Expanse."
Video: 1.78:1. Audio: DTS-HD Master Audio 5.1. Extras: commentary by actors Billingsley and Bonita Friedericy for "Regeneration," commentary by co-writers Michael Sussman and Phyllis Strong for "Regeneration," commentary by writer Chris Black and Mike & Denise Okuda for "First Flight," text commentary on "Stigma" and "First Flight" by Mike & Denise Okuda, "In Conversation: The First Crew" 94 minutes of interviews with Anthony Montgomery, Dominic Keating, Jolene Blalock, Scott Bakula, Linda Park, Connor Trinneer, and John Billingsley moderated by series co-creator-executive producer Brannon Braga, deleted scenes, humorous outtakes, interviews with Brannon Braga, Rick Berman, Blalock, and Scott Bakula on "Stigma," 17 minutes of behind-the-scenes footage from the making of "Future Tense," photo gallery, "Enterprise Secrets," "LeVar Burton: Star Trek Director," "Enterprise Moments Season 2," "Inside "A Night in Sickbay," and "Enterprise Profile: Jolene Blalock" featurettes, "Uncharted Territory" 90-minute featurette in 3 parts, NX-01 File 04 on Bakula, NX-01 File 05 on Hoshi, NX-01 File 06 on Montgomery, Season 2 promo. Studio: Paramount/CBS.
Amour
Amour,the latest film from master Austrian writer-director Michael Haneke (The White Ribbon, Caché, The Piano Teacher), won the Palme d'Or at the 2012 Cannes Film Festival and Best Foreign Language Film Oscar earlier this year, also being nominated for Best Picture, Best Actress in a Leading Role (Emmanuelle Riva, the oldest nominee in that section), Best Original Screenplay (Haneke) and Best Director (Haneke).
It tells of Georges (Jean-Louis Trintignant) and Anne (Riva), a cultivated, couple each in their eighties who are both retired music teachers. They have a daughter, Eva (Isabelle Huppert), also a musician, who lives abroad with her family. When, one morning over breakfast, Anne suffers a stroke which leaves her temporarily catatonic, Georges initially thinks she's just joking.
After surgery on a blocked carotid artery goes wrong, Anne is left paralyzed on one side of her body and confined to a wheelchair. Georges agrees to not send her back to hospital or to a nursing home and instead to look after her himself, but he's dubious about his ability or desire to do so.
Although her condition temporarily improves, giving Georges hope, a second stroke leaves her incapable of coherent speech, possibly demented. Georges soldiers on, continuing to look after her, but is irritated and beginning to feel the strain. Although their daughter, Eva (Isabelle Huppert), wants her mother in care, Georges, despite his own feelings, refuses break his promise to his wife, even in the face of this severe test of the bond of their love.
Video: 1.85:1. Audio: French, DTS-HD Master Audio 5.1 with English subtitles. Extras: "The Making of Amour" featurette, Q & A with Haneke. Studio: Sony.
Killing Season
In the action thriller Killing Season from director Mark Steven Johnson (Simon Birch, Daredevil, Ghost Rider), a reclusive American military veteran and former NATO operative during the Bosnian War of the mid-1990s, Colonel Benjamin Ford (Robert De Niro), is living in a cabin retreat deep in the Appalachian Mountains to forget the war.
He meets and befriends a European tourist Emil Kovac (John Travolta) who helps him with his Jeep when it breaks down. In return, Ford invites Kovac, who turns out to be a former Serbian soldier who also fought in the Bosnian War, back to his cabin for drinks and they spend the evening talking about the war.
It's only on the next day, when they go on a hunt together, that Ford learns Kovac has tracked him down and intends to kill him, despite Kovac having apparently spared his life back in the hostilities.
With the first arrow he shoots at Col. Ford there begins a gory battle between the hunter and hunted across the forbidding landscape. Kovac intends to capture and torture Col. Ford into confessing to his war crimes before killing him while Col. Ford is willing to do what he must in order to survive. Now only mutual understanding of the other's position can prevent their mutual destruction.
Video: 1.78:1. Audio: Dolby TrueHD 5.1, Dolby Digital 2.0. Extras: making-of featurette. Studio: Millennium Media.
The Big City (Mahanagar)
Charulata (The Lonely Wife)
These two titles by the great Indian director, Satyajit Ray (The Apu Trilogy, The Chess Players, The Stranger), were made in consecutive years, both dealing with the challenges to women in a changing society. They're two of this master's finest films.
The Big City (Mahanagar, 1963), a Bengali film set in Calcutta in the mid-1950s, centers on Arati (Madhabi Mukherjee), a married woman who decides to take a job as a door-to-door saleswoman to help support her family, despite resistance from the rest of her traditionalist clan. After initial support from her bank-clerk husband, Subrata (Anil Chatterjee), familial and societal pressure leads him to ask her to quit - until he gets laid off from his own job. Meanwhile, Arati's hesitance, nervousness, and uncertainty gradually start to give way to confidence as she begins to enjoy her newfound financial and psychological freedom. This powerful humanist drama through the detailed story of one woman's life also builds a picture of the evolution of a more confident modern Indian society. The Big City is based on a short story, Abataranika by Narendranath Mitra. For it, Ray won the Silver Bear for Best Director at the 14th Berlin International Film Festival.
Charulata (The Lonely Wife, 1964), set in Calcutta of the 1870s, tells of one woman's artistic and romantic hopes and needs. It takes place in the beautiful home of a liberal-minded but ambitious, workaholic newspaper editor, Bhupati (Shailen Mukherjee), who rarely spares time for to his beautiful wife, Charulata (Madhabi Mukherjee). The reason he's ignoring her at the moment is because of the upcoming elections in England that he believes the winners of will be determining the future of India, so he sees it as his patriotic duty to immerse himself in writing articles promoting the Liberal Party's point of view.
When, out of concern for his lonely wife, Bhupati invites his cousin, Amal (Soumitra Chatterjee) - an aspiring writer and poet - to come to visit with them, Amal encourages Charulata to pursue her own writing and she finds herself both inspired and attracted to him.
Once again, this is a delicate tale of an individual attempting to grow, putting her marriage in jeopardy, but it's also about the delicate balances and challenges of a country attempting to establish its own voice and independence in another marriage - with Great Britain - and a society looking for a new direction. Charulata is based on a novella Nastaneer (The Broken Nest) by Rabindranath Tagore. Ray won the Silver Bear for Best Director at the 14th Berlin International Film Festival.
Charulata was recently restored in 2K from its original film negative. The restoration was supervised by RDB Entertainments and carried out in Studios Pixion in Bombay, India. Earlier this year, the restored Charulata had its premiere in the Classics section of the Cannes Film Festival.
The Big City comes in new 2K digital film restoration with uncompressed monaural soundtrack.
Both, Video: 1.33:1. Both, Audio: Bengali, LPCM Mono with English subtitles. The Big City,Extras: The Coward 1965 feature film directed by Ray that also addresses modern female identity and stars Mukherjee and Soumitra Chatterjee, new interview with actor Madhabi Mukherjee, "Satyajit Ray and the Modern Woman" new interview program featuring Ray historian Suranjan Ganguly, booklet featuring an essay by scholar Chandak Sengoopta and an interview with Ray from the 1980s by his biographer Andrew Robinson. Charulata, Extras: new interview program with actors Madhabi Mukherjee and Soumitra Chatterjee, "Adapting Tagore" new interview program featuring Indian film scholar Moinak Biswas and Bengali literature historian Supriya Chaudhuri, archival audio interview with Ray by film historian Gideon Bachmann, booklet featuring an essay by critic Philip Kemp and a 1980s interview with Ray by his biographer Andrew Robinson. Studio: The Criterion Collection.