Vudu XL2 Internet movie player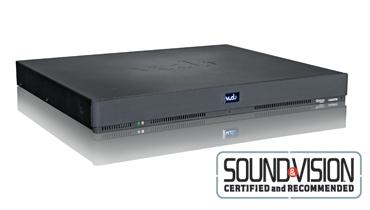 The Short Form
$799 / VUDU.COM
Snapshot
Vudu sets the standard for regular and HD streaming and for downloaded movie quality. Plus, its terrific high-def interface makes browsing a breeze.
Plus
• Can watch HD movies instantly • HDX titles offer near-Blu-ray-Disc- quality video • Terrific user interface • Well-implemented parental controls
Minus
• Audio quality no match for Blu-ray • Limited library of titles as compared with Netflix • HD rentals somewhat pricey
Key Features
• 1-terabyte hard drive stores up to 500 SD or 200 HD titles • Delivers 1080p/24 HD video via HDMI and 720p/1080i over component video • HD user interface • Library of over 13,500 titles (1,500 HD and 425 HDX) • Can instantly view SD and HD titles (download required for HDX movies) • Movie rentals range from $0.99 to $3.99 (SD), $3.99 to $5.99 (HD & HDX) • Movie purchase prices range from $9.99 to $23.99 • Online access to YouTube, Flickr, Picasa, and Pandora • AVN channel offers a large assortment of adult titles, many in HD
Whenever I hear that direct digital downloads are the future of home video, my first thought is "hogwash!" That's because when video is streamed and then blown up to home theater sizes, it's often unwatchable. The picture barely reaches DVD quality, let alone broadcast HDTV or Blu-ray Disc levels. Plus, downloaded movies are often in stereo instead of 5.1-channel surround sound. And who wants to wait hours for a 30-GB full-HD movie to download? Kind of kills the spontaneity of, "Hey, let's watch a movie!"
So, needless to say, I was skeptical of Vudu and its online rental/purchase program. Having agreed to test the company's new custom install-friendly XL2, I looked forward to being able to smugly say, "I told you so!"
SETUP
Since the XL2 is only sold through professional installers, it comes with no setup instructions. Fortunately, installation was incredibly straightforward and didn't throw me any curveballs.
The biggest difference between the XL2 and other Vudu models is its form factor - the XL2 is designed to be mounted in a Middle Atlantic-style rack. Being only a single space high (13?4 inches), it requires very little room. Of course, it can also sit on a shelf in a more traditional equipment cabinet, which is how I used it.
The XL2's rear panel resembles a Profile 2.0 Blu-ray player, with HDMI, component-video, Ethernet, and optical-digital/analog-stereo audio connections. Vudu supports video-output resolutions up to 1080p/24 over HDMI, and 720p or 1080i for component video. While the XL2's HDMI and optical outputs can deliver 5.1 Dolby Digital surround sound, Vudu currently offers no closed-caption support.
The rear panel also has connections for the player's RF (radio-frequency) antenna and IR (infrared) target. A USB port currently goes unused, but the user guide claims: "In the near future, Vudu will upgrade the player's software to support off-the-shelf external NAS drives." When that happens, the USB port will likely come into play.
With Vudu, your Internet connection's speed will largely determine the quality of your viewing experience. The company's Web site has a bandwidth test to see if your connection is up to the task. Also, a small light on the front panel illuminates green, yellow, or red to show your current speed. If you don't have an Ethernet connection readily available, Vudu offers a "no hassle" wireless kit for $79.
Once the cabling is connected, the XL2 initiates a guided setup routine where you're assigned a number and directed to Vudu's site to complete the activation process. Vudu is a pay-as-you-go model, so you must provide credit-card information to fund your account.
When you have the equivalent of an entire video store inside your home, you might not want all titles available all the time. Vudu's parental controls let you limit what will appear on the browsing screen. When a certain MPAA rating is "blocked," any posters, previews, and synopses for related movies all disappear. Also, you can keep babysitters and mooching in-laws from racking up charges by requiring a password before renting, playing, or buying titles.