VUDU Media Receiver
Fill it up with movies, not pins.
Regular readers of Home Theater might know that I also write the "Top 100 DVDs of All Time" article each year, which means that I have at least 8.3-dozen discs at home. And those discs tend to pile up. But how else is a cinephile supposed to build an impressive video library? Kaleidescape is too rich for my blood, DVD jukeboxes are too difficult to manage, and downloading movies to my computer isn't really a living-room experience. So there's the Apple TV, which recently began high-def movie rentals, not purchases, from major studios directly to the box. The Xbox 360 also allows paid download-to-own TV shows, some in high def, although all movies are rental only. And then there's VUDU. The VUDU box is essentially a movie machine, a library on a hard disk drive inside a box. It's an entertainment portal that sits quietly next to the TV until called into action.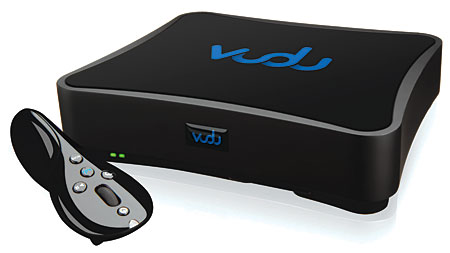 The Illusion of Speed
Life with the VUDU moves pretty quickly. After quick connections for power, audio/video, and broadband Internet access, you zip through an onscreen setup guide, complete with a tutorial on the curvaceous, minimalist RF remote and an automated ping to the VUDU servers to ensure that the latest software is on board. Over on the computer, you do need to set up a user account on vudu.com, pre-paying $50 or $100 toward future transactions. Some titles are available for purchase only, some for rental only, and some for both.
So, the installation and setup is fast, and the big, clear user interface is responsive. A portion of each of the movies offered for sale or rental is already loaded onto the VUDU hard drive, so as soon as you complete the three-second transaction, the VUDU asks you if you'd like to begin playback now or later. If you choose to stream the movie for immediate viewing, which requires an Internet speed of 2.0 megabits per second, a readout along the bottom of the screen indicates the actual download status. While you can start viewing the download immediately, the total download time for average-length standard-def movies took between one and two hours using my DSL connection. (Download speeds vary among providers, of course.) Theatrical trailers for many of the films are also preloaded, for lag-free previewing before you commit to the deal.

Tucking coded pieces of each movie on users' hard drives, which takes up no more than 10 percent of your total disk space, also gets around the high bandwidth demands of multiple users trying to purchase the same movie at once. You—and other VUDU users—can access them directly, bypassing the main VUDU server and greatly accelerating the download process in a cost-effective fashion. Even portions of a popular new rental, once officially deleted from your hard drive, might remain in that reserved area, for access by your fellow renters. This peer-to-peer system is similar to how BitTorrent works, and it might be another reason that users are encouraged to keep their VUDU boxes powered up and connected to the Internet whenever possible.
The only pothole in this speed frenzy was me, frankly. The sparse, five-button remote control with clickable scroll wheel is vaguely mouse-like but really different from anything I'd used before. But by the end of the first day, I was navigating and shopping without even glancing at the keys. VUDU includes an antenna to attach to the rear of the box, and you can adjust the sensitivity via the onscreen menus. It helps to hold the remote horizontally, as most of the necessary scrolling is side-to-side. And a mysterious More button hints at future, added functionality.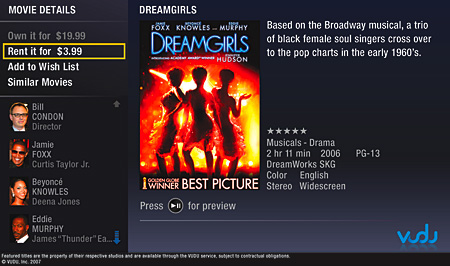 The colorful interface presents a string of simple choices that let you click through to anything you need in seconds, from managing your library and system settings to checking out the latest offerings, special offers, themed weekly film festivals, and recommendations. Coming Soon titles were often listed under New Arrivals, which can be a bit frustrating. But to be fair, VUDU offers many, many titles for permanent sale and/or rental on the same day and date as their DVD counterparts. Studio support is broad, from all major Hollywood outlets and smaller boutique labels, with a smattering of "mature" and special-interest fare to round out the mix. At press time, Walt Disney titles appeared to be rental-only.

Today and Tomorrow
VUDU's hardware is finalized, but the software and features will remain in a perpetual state of flux for the foreseeable future. VUDU pushes updates to the box automatically; in fact, the Belkin network switch that distributes my DSL to my home theater was blinking pretty much nonstop while the VUDU was installed, even when the box was powered off. (It still continues to download while in Standby mode.) Not that it was off for very long. The first night, I was up way past my bedtime as I could not stop exploring and doing related searches and then wanting to see all the movies from this director or that actor. It's actually a lot like imdb.com, except you can immediately begin any movie you land on.
Right now, one high-definition title—Universal's The Bourne Ultimatum—is available for purchase, at $25, while the first two Bournes in HD are free to all VUDU owners. Several dozen more HD movies are rentable at $6 for new releases/$4 catalog, from Paramount and Lionsgate, with the usual "30 days to start watching, then 24 hours to finish" terms. So today, the vast bulk of the movies are in standard definition, files of unspecified format (I tried and failed to hack in and find the truth!) provided by the studios to VUDU's specifications. They're not quite true DVD quality. They're softer, with very noticeable compression artifacating at times; thus, the vastly sharper HD alternatives are preferable whenever possible. I did, however, discover my first and only glitch during a high-def rental, as I suddenly found myself unable to play the movie. Widescreen titles are "enhanced" anamorphic for 16:9 displays, and you can choose how to display 4:3 content. (Go for black bars on the sides if you have a 16:9 TV.) With a few mono exceptions, audio offerings are Dolby Digital 5.1, downsampled from the file's full Dolby Digital Plus, or Stereo. Both demonstrated excellent fullness and clarity on each title. The machine runs quiet as a whisper and remains as cool as the other side of the pillow, even after our downstairs butler carelessly left a DVD boxed set sitting on top of the unit all day. Oh, the irony….
The box does not offer integrated Wi-Fi, although you can add a wireless bridge. You also can't currently transfer purchased content to a new box, in the case of hardware failure or if you choose to step up to the 1-terabyte VUDU XL. The box itself is inexpensive, but loading it with your favorite movies ain't cheap. That's why I consider VUDU a midrange product and not entry level. New releases in standard definition are $20 each. This is more than the street price of DVDs, but they play almost anywhere and often have some bonus content, like chapters. Catalog titles cost half that, and it's the depth of that catalog more than anything that impresses me here. By serving up every definition of "classic" side by side with Hollywood's latest, VUDU reveals its true intent to be a movie lover's favorite toy.
Highlights
Download to own or rent, with most titles in standard definition, some in high def
Support from all the major studios means huge selection of movies you really want
250-gigabyte hard disk drive holds 50 feature films, for keeps