Ultimate Home Theater! Page 2
BenQ PE8700 Although BenQ's projector is relatively inexpensive for a high-def DLP projector, it's still capable of spraying your screen with a remarkable-quality image. As noted, it uses the new HD2+ chip, which Texas Instruments says provides increased contrast ratio by placing the tiny mirrors on its surface closer together, so less light is lost between them. Confusingly, earlier versions of the projector do not have the new chip, and BenQ didn't assign the updated 8700 a new model number. (According to the company, HD2+ models will have an identifying sticker on their packaging.) As I discovered, the new chip has a big impact on performance, so be sure you're getting the latest version of this projector.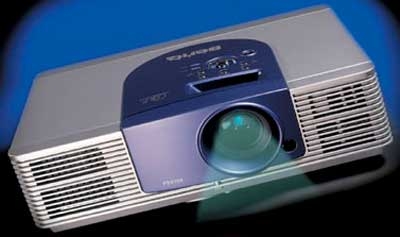 True to its "low" price, the PE8700's pedestrian design resemblesa solid silver brick, topped by a patch of purple plastic that encompasses the controls and the recessed zoom/focus rings. Bright red backlighting illuminates every key on the well-thought-out remote. The buttons are generously spaced and grouped into four distinct categories. One set is for menu access, two more let you choose from among the display and input modes, and one controls picture-in-picture (PIP) - something you don't find on most projectors.
BenQ did throw in some extras, though. Each input gets its own custom picture settings, and three global memory slots let you save picture settings for different lighting conditions. The five display modes (aspect ratio settings) each work with every source. All of the video inputs I expected to see were present, including DVI (Digital Visual Interface) and a set of dual-use BNC-type component-video/RGB jacks. I'd have appreciated an additional wideband (HDTV-capable) component-video input, however.
When I slipped Ridley Scott's Matchstick Men into my DVD player, the darker scenes in this film about an obsessive-compulsive con man had plenty of detail and remarkably clean gradations between various shades. A nighttime pan around the bedroom of Nicholas Cage's character, Roy, revealed very little visible noise or the artificial-looking contours I've noticed on other projectors. The blacks weren't as deep as I've seen on CRTs, but they were as dark as anything I've seen from a DLP projector and made everything in the movie seem that much more realistic.
BenQ PE8700
DIMENSIONS (WxHxD) 15 3/4 x 4 3/4 x 11 1/8 inches WEIGHT 17 pounds PRICE $7,995 MANUFACTURER BenQ, www.benq.com, 909-569-0700
The BenQ's color was accurate and compelling for the most part. In the laundromat where Roy's daughter, played by the ridiculously cute Alison Lohman, cons a female mark, the setting sun gave their skin a realistic red-orange L.A. glow, but it wasn't overpowering. Only the greens - in Roy's lawn, for example - seemed a little less green, more lime-toned, than I expected.
In another scene, where Roy and his partner Frank convince an old couple to sign over access to their bank account, the closely spaced stripes on Roy's suit moved unnaturally and tended to blend together as he moved - a sign of imperfect video processing. This effect was only visible with interlaced signals, though, so you won't notice it if you're watching movies with a good progressive-scan DVD player.
The PE8700's image improved when I switched to the DVI output on my V Inc. Bravo D1 DVD player. I expected as much, since the player's 720p (progressive-scan) output exactly matches the 8700's native resolution. Fine details looked a couple of notches sharper. As Roy argued with Angela in the street, I could more clearly see the faint wrinkles in her neck.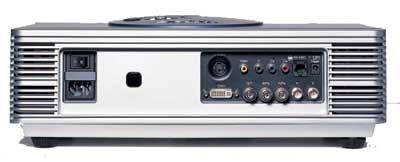 As I expected, HDTV looked brilliant on the BenQ. I watched a recording of CBS's broadcast of an early-round NCAA tournament basketball game: Oklahoma State vs. Memphis. The image was obviously much more detailed than DVD - I could make out scratches in the paint covering the court and clearly see the cheerleaders from the long-range press-box camera.
The PE8700 is one of the least expensive DLP projectors available with HDTV resolution, and thanks to the new HD2+ chip it delivers a level of performance that would put many cineplexes to shame. Those strengths easily compensate for its shortcomings and make the PE8700 an excellent value among high-def DLP projectors.
LATEST VIDEO