Ultimate Home Theater! Page 3
Sim2 Domino 30 The Italian projector company Sim2 Sèleco apparently named its latest DLP projectors after a color scheme: they're available in either glossy Black Shadow or White Evolution. The Domino 30 wears its Italian design chops proudly, with so many organic curves that there doesn't appear to be a flat area anywhere on its carapace.
Its sleek look comes at the expense of control buttons on the back panel. Zoom and focus are controlled by buttons on the remote, not dials on the projector. But there's also a convenient lens-shift feature that let me manually tweak the vertical height of the image.
I found the bland, rectangular remote just unfamiliar enough to be annoying. It lacks a backlit keypad, and to turn the projector on you need to press a number key, not the more obvious power button.
Unlike other projectors I've tested, the Domino 30 was unable to automatically detect incoming signal types. When using the single component-video/RGB input, I had to access a separate menu to switch, for example, from standard 480i to progressive-scan 480p. And when I fed the projector a 720p signal, I had to hit the Auto button to get it to display correctly.
The Domino 30 lacks a DVI input, which isn't good news for people who prefer as much future-proofing as possible. (Copy-protected DVI connections are becoming a standard feature on new HDTVs.) On the plus side, the Sim2 has a VGA-style jack for a computer hookup - the only projector among the three here to have this.
Sim2 Domino 30
DIMENSIONS (WxHxD) 13 5/8 x 6 7/8 x 12 1/2 inches WEIGHT 11 pounds PRICE $7,995 MANUFACTURER Sim2 Seleco USA, www.sim2usa.com, 888-695-3113
Matchstick Men
proved that the Domino 30's image could stand up to the competition. Colors looked good, with none of the over-accentuated reds that can make skin tones ruddy. In a scene where Roy waits for his daughter outside a playground, the sky looked deep blue and his worried face appropriately pasty. The only color flaw was a slightly desaturated green, which made the grass appear just a bit less lush than it should.
The projector's blacks weren't truly inky, but I saw plenty of detail in the shadows. When Roy awaits his daughter's return in a dark room, I could see blemishes on an outside wall near the pool and make out the contours of the shrubs in his backyard. Transitions between lighter and darker shadows were smooth and even.
On a few occasions I noticed what videophiles call the rainbow effect - a subtle visual artifact of the color wheel that separates the image coming off the projector's single chip into its red, green, and blue components. When Roy dresses down his daughter for coming home late, I caught a faint rainbow that followed the top edge of his sweat suit. But I never saw this effect unless my eyes moved, and it only showed up where a bright patch appeared adjacent to a dark area.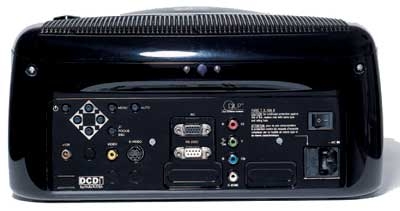 What was more noticeable was the Domino 30's sub-par video processing. When Roy moved, the stripes on his jacket also moved, creating a distracting cross-hatch pattern. You can avoid this problem, at least for DVDs, by simply pairing the projector with a good progressive-scan DVD player.
It took HDTV to really show off the projector's capabilities. Watching the basketball game, I saw a clean, vivid image with deep, rich colors. The thundering dunks perpetrated by Oklahoma State came alive with ferocious reality, and I could see the NCAA logo on the ball during a slow-motion replay.
Anyone who likes to take a different approach will appreciate Sim2's Domino 30. Its unique design is ideally suited to placement where all your friends can see it, and paired with the right type of programs it'll really shine.
LATEST VIDEO