Ultimate Home Theater! Page 4
Sharp XV-Z12000Sharp's XV-Z12000 looks as much like a model for a futuristic sports car as it does a projector. Its silver case looks like it was shaped in a wind tunnel, and the lens protrudes forward like a cyclopean headlight. The projector is big, measuring a good foot-and-a-half square and tipping the scales at 20 pounds, so you'll certainly want to mount it on the ceiling.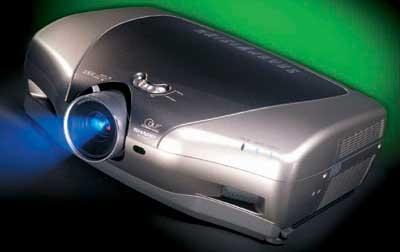 All of the controls are hidden beneath a small door toward the rear, leaving the top smooth and unmarked aside from the lens-shift dial and a huge SharpVision logo. The main vent is on the right side.
Every button on Sharp's excellent remote is backlit, and its sensibly spaced keypad offers direct access to video inputs. The projector's onscreen menus also deserve mention. The individual animated screens provide a wealth of information at a glance, and a big "status" screen sums up a total of 35 settings in one display.
Sharp offers more picture controls than the BenQ and the Sim2 combined. Two global picture presets and two custom global memory slots are joined by an individual picture memory for each input, and there are presets and custom memories for gamma (to fine-tune gradations between light and dark parts of the picture) and color balance. Along with noise-reduction and edge-enhancement settings, you can select from three film-mode processing options to help remove jagged edges from film-based DVDs and TV shows (I'd have appreciated an auto setting here, too).
As with many HDTVs, the number of available display modes (aspect ratios) varies with the type of program being displayed. There are four modes for regular TV and progressive-scan DVD, but only widescreen for HDTV. Highlights on the Sharp's well-endowed rear panel include a DVI input and two sets of RCA-type jacks that accept either wideband component-video or RGB signals.
Sharp XV-Z12000
DIMENSIONS (WxHxD) 18 3/4 x 7 x 16 inches WEIGHT 20 3/4 pounds PRICE $12,000 MANUFACTURER Sharp Electronics, www.sharpusa.com, 800-237-4227
The Sharp also features the same lens-shift function as the Sim2 projector, but with a much wider range. A convenient Iris button let me switch between high-brightness, high-contrast, and medium modes to better deal with different room-light conditions. Of course, I did my testing in high-contrast mode in a completely dark room.
While I'm on the subject of darkness, Sharp's XV-Z12000 matched the BenQ in reproducing dark scenes better than any previous non-CRT projector I've laid eyes on. In the scene from Matchstick Men when Roy waits for his daughter to come home, the only illumination is provided by lights in his pool shining into the room. A foreground pillar separating a sliding glass door from a window blended into the letterbox bar, and again both were just barely lighter than the black velvet frame surrounding my screen. I saw detail everywhere in the shadows, from the barely discernible folds in the curtains to his perfectly aligned sandals on the patio.
The big Sharp performed exceptionally well in nearly every area. For example, its excellent color rendition came through in the scene where Roy sits in his car waiting for Angela to appear outside the playground. The green field looked fresh and vibrant in the sunlight, and salmon and blue shirts worn by passing teenage girls were realistically muted in the shadows. The projector had no problem delivering every last detail, from the stubble on Roy's worried face to the butts in his car's ashtray.
When I turned once again to the HDTV recording of the Memphis vs. Oklahoma game, the image was stunning. The referees' pants were almost pitch black, and I could see expressions on faces in the crowd, marbling on the blue center-court NCAA logo, and seemingly every grain in the wood floor.
The Z12000 delivers the kind of first-class picture you'd expect from a $12,000 projector outfitted with cutting-edge display technology. It won't be compromised by any source you feed it, and its deep blacks set the standard for digital projectors.
For people with thousands of dollars to spend on a big-screen home theater, any of these projectors will deliver video bliss by the wall-full. Cheaper LCD projectors might offer similar resolution, but they can't touch DLP's ability to render deep blacks. And lower-priced DLP models just don't have enough resolution to make good on HDTV. But these projectors are in the true home theater sweet spot, delivering outstanding image quality at a fair price - at least as far as high-end projectors go.
PDF: Features Checklist
PDF: In the Lab
LATEST VIDEO