Toshiba's Big-Screen Surfer
Price
: Included with Toshiba HDTVs
At a Glance
: Netflix, Vudu, Cinema Now apps stream most available TV shows and movies • Complete Web browser
At first, it seemed like the Toshiba 47L7200U smart TV I sampled to check out its streaming options offered only the bare bones. When I opened the ePortal app home page, there were only the basic media streaming apps like Netflix and Vudu. Unlike Samsung or LG, Toshiba doesn't have an app store. Also, it can only play a few basic digital file formats. But its Web browser goes beyond the basics. It's unrestricted from most streaming Websites and easy to use. While you may still want an external media streamer, the Toshiba offers enough streaming options for users who only stream online video.
Movies, TV, and 3D
The ePortal button brings up the streaming media menu that includes Netflix, Cinema Now, YouTube, Vudu, and Vudu Apps. Together, these apps cover the range of movies and TV shows you might want to stream. Where Netflix rarely has the most recent releases, they are available from Vudu in 1080p and Dolby Digital surround, with some titles in 3D.
The 47L7200U is a 3D HDTV that works with RealD passive 3D glasses (the kind you get in the movie theater). It automatically detects the 3D movies for an experience that rivals that of a 3D Blu-ray movie. The Avengers and The Lorax were available for rent on Vudu at $5.99 each, but the rest of the films, including Drive Angry, Tron, and a host of Disney 3D animated titles were only available for sale at around $35.
While Vudu lacks current TV shows, Cinema Now has current-season TV shows to buy for $1.99 each. Episodes are available within a few weeks of the original air date. Amazon Instant Video has TV shows the day after they air, and the Website works with the Toshiba Web browser.
Web Browser: Wowser!
The Toshiba TV's Web browser is its crowning glory. Most TV Web browsers are blocked from many streaming Websites, but the number of Websites that streamed video to the 47L7200U happily surprised me. You can rent or stream TV shows from the Amazon Instant Video Website. Even better, the network TV Websites—ABC, NBC, and CBS—don't limit streaming to their shows' video clips. Instead, you can stream full episodes. Although the Toshiba ePortal doesn't include the HBO Go app, HBO can be streamed to the Toshiba browser.
Remote Apps and Wireless Keyboard
Surfing the Web on a TV is usually an awkward experience. When you have to use a remote's arrow keys to emulate the movement of a mouse, it can be hard to navigate. However, Toshiba has a couple of remote control apps for smartphones or tablets (both iPhone/iPad and Android) that work with the Toshiba Web browser. The Toshiba TV remote app includes a gesture screen that works like a touchscreen mouse. To the right of the gesture area is a scroll bar that can be used to easily move down (or up) the page. Use a keyboard to enter information into logins, search terms, or other windows.
The Toshiba Send and Play app lets you type in a URL to visit a page in the smartphone/tablet, then tap Send to instantly open the page on the TV. To avoid seeing a Website's mobile version, type the URL directly on the TV's Web browser. A full-size wireless keyboard is included with the TV. The keyboard is convenient, and its arrow buttons move the mouse smoothly and accurately.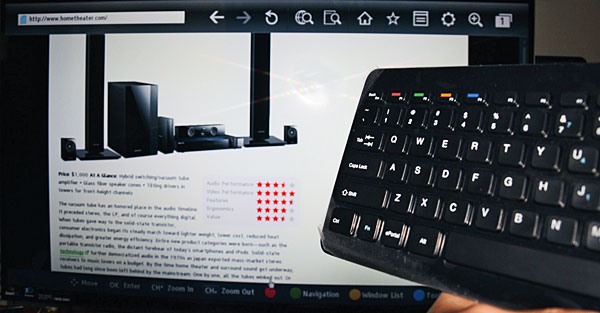 DLNA: Better Late Than Never
Most desires for streaming online video can be fulfilled by the combination of apps and the Web browser. But streaming from my home network was quirky and unreliable with my sample, which did not feature the Digital Living Network Alliance (DLNA) media player certification that makes it easy for a TV to stream your movies, music, and photos from computers, network attached storage (NAS) drives, or other media servers. Subsequent to completion of my review, Toshiba informed me that this model was certified after its release for the core DLNA streaming options, so current samples should have the ability to stream file types including MPEG2 H.264 video and a variety of audio files. Unfortunately, I was unable to test this, and prior to DLNA certification, the Toshiba found all my media servers but didn't see my pertinent files.
Search
The Toshiba has a global search feature that's supposed to find files on your home network and video services. In repeated tests in which I knew the name (and location) of different files, the Toshiba never found them on any services or on my home network. Toshiba's included Media Guide app has a search function. It displays a grid of TV shows and movies that were currently playing on my TV provider as well as those that were available from the Cinema Now App. To make it work with a satellite or cable box, you must set it up with an IR blaster to change the channels to the chosen show.
Final Words
If you like the picture quality and other attributes of Toshiba's late-generation HDTVs, you may be happy with its smart TV features. But you'll need a media player if you want to stream Hulu Plus, and possibly to stream from your home network if the TV's untested DLNA functions fail to work as promised. On the other hand, if you like browsing the Web on your TV, the Toshiba is the way to go.