Toshiba HD-XA1 HD DVD Player Page 5
The Short Form
$799 / 17.3 x 14 x 4.5 IN / 19.5 LBS / www.tacp.toshiba.com / 800-631-3811
Plus
•Stellar picture and sound quality •Great interactive disc menus
Minus
•Slow start-up and disc booting •Sluggish response to commands •Kludgy remote control •Poor 720p conversion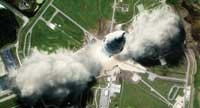 Key Features
•Plays high-definition HD DVDs •480i, 480p, 720p, or 1080i output •Ethernet port for upgrades and interactivity •5.1-channel internal decoder •outputs HDMI, component video, S-video, composite video, SPDIF digital audio (optical and coax), 5.1-channel analog, 2-channel analog •inputs 2 USB, 1 RS-232C, 1 Ethernet •Price player, $799; discs, $29 to $40 list Full Lab Results - Coming soon!
Also irksome was the supplied remote control. On the plus side, it's got a sleek metal body and the cool vibration-sensitive backlight mentioned earlier that turns on when you give the remote a little jerk or hit a button. On the other hand, it relies on a kludgy eight-position navigation rocker to move about the Setup or disc menus. Frequently, I'd press the up/down/left/right buttons and the onscreen cursor wouldn't respond. A feather-light touch on the rocker improved its hit rate, but I still had to crawl through menus to avoid cursor freeze. Toshiba has acknowledged the bug and is correcting the problem for future production. Meanwhile, I programmed the nav keys into a cheap universal learning remote, and much to my shock, the HD-XA1 ran like a thoroughbred. I was suddenly able to navigate the internal menus and discs at warp speed with nary a hiccup.
BOTTOM LINE I've got plenty more to say about the Toshiba HD-XA1 HD DVD player - so if you want still more information on this zaftig 20-pound, rack-width beast, check out the links at the bottom of this page. There, you'll find a recitation of all its fancy features, such as the graphically endearing menu system (three different skins!), plus a rundown of all the player's inputs and outputs and the wacky ways you can configure them.
It ended up taking very little time for me to become accustomed to the stellar picture and cleaner, more open sound of HD DVD. Basically, I'm ruined - I'll never again be able to watch a regular DVD with an uncritical eye. Granted, it's too early to take sides in the high-def disc war, and we'll have to see if the first Blu-ray Disc players can do a better job out of the gate. And Toshiba's bold first attempt at HD DVD has the definite potential to drive you a little buggy. But I can assure you that from the moment a movie starts till the roll of the final credits, all will be forgiven. And that's the time that really counts.