Tommy Shaw's Summertime Playlist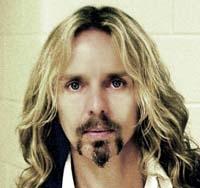 Like the Rolling Stones, Styx continues to gather no moss. Singer/guitarist Tommy Shaw has been a member of these perennially successful road warriors - perhaps best known for enduring rock hits like "Renegade," "Come Sail Away," and "Too Much Time on My Hands" - for 30 years and counting. "I still love getting out there and doing it night after night," says Tommy.
The Mrs. and I had the pleasure of confirming that statement when we caught Styx's recent gig at the PNC Bank Arts Center in Holmdel, New Jersey, on May 28. (You can keep up with Styx's summer schedule at www.styxworld.com and www.tommyshaw.com.) After Foreigner got everyone all hot-blooded for about 80 minutes (a sizzling "Starrider" and a rousing "Jukebox Hero" were standouts), Styx raised the roof for 90-plus minutes of their own. Highlights included keyboardist Lawrence Gowan getting the crowd to sing Springsteen and Sopranos lyrics back to him before commencing "Come Sail Away," original Styx bassist Chuck Panozzo joining the band for a pair of songs, lead guitarist James "J.Y." Young spitting out an apropos sneer at "Miss America," and a searing cover of Humble Pie's "I Don't Need No Doctor," which served as the perfect lead in to Tommy's balls-out-rocking encore closer, "Renegade."
Tommy and I had long ago bonded over our mutual love of Mustangs, and we enjoyed catching up a bit after the show. Later, I asked him if he wouldn't mind coming up with a ten-song summertime playlist for S&V readers. Ever amenable, he agreed, and a few hours later, he emailed me his list. "This was harder than I expected," he said. As you'll see, the results should help get your summer motor running, too.
Foo Fighters "Everlong," The Colour and the Shape Pink Floyd "Us and Them," The Dark Side of the Moon Red Hot Chili Peppers "Under the Bridge," Blood Sugar Sex Magik The Beatles "Something," Abbey Road Son House "John The Revelator," The Legendary Son House Beck "Everybody's Gotta Learn Sometimes," Eternal Sunshine of the Spotless Mind Soundtrack Oasis "Lyla," Don't Believe the Truth John Prine "Taking a Walk," Fair and Square Radiohead "Everything in Its Right Place," Kid A Stevie Ray Vaughan and Double Trouble "Pride and Joy," Texas Flood
more of this month's reviews Back to Homepage What's New on S&V