TiVo HD DVR Page 4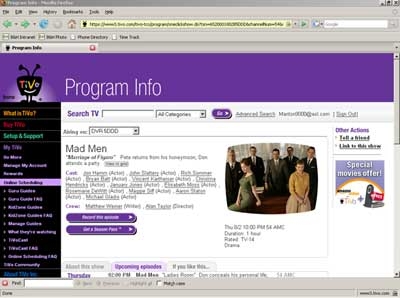 I especially missed the meatier remote that came with my cable company's leased box. I prefer its discrete buttons for navigation (as opposed to the cramped, mushy-feeling four-way rocker on the TiVo remote that I often mis-hit), and I find the TiVo's volume and channel rockers clumsy as well. On the plus side, a 30-second quick-skip command can be programmed into the remote from instructions readily available on the Internet. Though never officially sanctioned by TiVo, previous models allowed the same option. However, you may find that insistently pressing the 30-second button to get through a commercial block more of a pain than simply hitting the fast forward button a few times to scan through at top speed. (And TiVo auto-backtracks about seven seconds when returning to play.) Programming the remote for 30-second skip also misappropriates the very useful advance button normally used to toggle between the beginning and end of a recorded show or the live TV buffer.
In some ways, TiVo HD and Series 3 models are actually less capable than the older, standard-definition TiVo Series 2. Missing from both newer models is the Series 2's TivoToGo function, which enables you to transfer a recorded program over a home network to your notebook computer to take with you or to a desktop or notebook PC to facilitate copying to a handheld player or a recordable DVD. Also missing is the ability to copy programs from a TiVo in one room to a TiVo in another via an Ethernet or Wi-Fi link. TiVo has announced that it expects to implement TivoToGo features on Series 3 and TiVo HD models in November with a new software release, however.
BOTTOM LINE My wish list for the next version of TiVo HD includes a PIG, a clock on the front panel so I know something as basic as when to turn on the TV or change channels, an improved remote with big discrete buttons, more navigational shortcuts like jumping the guide ahead in 24-hour increments, and being able to use the guide while continuing to play a recorded show and watch it in the PIG. I had all those things with my cable-leased DVR, plus VOD, and I miss them. If TiVo is to attract cable's best customers, it must offer all the convenience features that come with their cable-leased boxes and more.
Still, TiVo goes further than any cable box in aggregating content from cable, over-the-air analog or digital TV, the Internet, and your networked computer.
And by offering most of the features of the higher-priced TiVo Series 3 for only $300, TiVo HD finally starts to be competitive with the cost of operating your leased cable box. My cable company currently charges me $16.69 a month for my leased dual-tuner DVR: $8.95 for DVR service (including the cable company's interactive guide), $7.49 for the box, and 25-cents for the remote. Over 36 months, that works out to $603. The monthly cost for TiVo over the same period (assuming you pay your TiVo subscription three years in advance) works out to $362 ($8.31 for the TiVo service and $1.75 for an M-CARD). Alas, you'd still have to add $300 for the initial TiVo HD hardware purchase, but that's a one-time, non-recurring expense.
So the bottom line is that while TiVo HD represents an up to $500 savings over the TiVo Series 3, you're still going to pay a premium to own it compared to a box you lease from your cable company in which there are no upfront costs. After that, and assuming you pay your TiVo subscription three years in advance, you will save a little money each month versus renting a cable DVR. After three or four years your TiVo HD unit might actually start to pay for itself. Of course, you can drive yourself crazy thinking in those terms. For users who hold TiVo in high regard and their local cable monopolies in low esteem, paying the difference is worth every penny.
TiVo Series 3 Digital Media Recorder Photo Gallery Back to Homepage What's New on S&V
LATEST VIDEO