TiVo HD DVR Page 3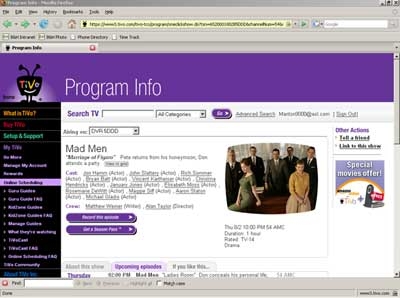 The Short Form
Price: $300 plus subscription / tivo.com / 877-289-848
Snapshot
With capabilities that go beyond those of a cable-leased box, the attractively-priced TiVo HD offers a strong case for getting your own DVR, but it's not without its foibles.
Plus
•$500 cheaper than TiVo Series 3 •Aggregates cable TV, over-the-air, and Internet programs in one box •Easy to use program guide •Schedules recordings over the Internet
Minus
•TV picture obscured by guide •Can't surf guide while watching recorded show or see list of recordings while watching TV •Mushy directional diamond and rocker buttons on remote •Incompatible with satellite and cable video-on-demand services
Key Features
•Record two HD cable or over-the-air channels at once while watching a previously recorded show •Store up to 20 hours in HD or 180 hours in standard definition •Download to rent or buy Amazon Unbox movies •Stream photos or music from networked computer •Inputs: Cable, antenna •Outputs: HDMI; component-, S-, and composite-video; stereo analog and optical digital audio; Ethernet; phone line; 2 USB connectors (for optional Wi-Fi adapter); e-SATA (for hard-drive expansion) •16.5 x 12.6 x 3.4 in; 12 lb
Even though you can get your cable company's video-on-demand services only through its set-top box (CableCARDs, including the M-Card, are incompatible with VOD), TiVo's partnership with Amazon Unbox puts many of the same movies at the tip of your remote. Once you register your TiVo box with Amazon, you can order TiVo-compatible movies from your TV or your computer that are downloaded directly to your TiVo's hard drive, and thousands of titles are available. Prices are competitive with cable, but in the case of certain titles (mainly old ones), Amazon lets you download the movie to keep permanently. So, for example, 300 was available only for rental at 99 cents (most new rentals are $3.99), and you have 24 hours to complete viewing it once you press play. Even if you don't watch it, your Amazon Unbox video is automatically deleted within 30 days of when you download it. But a library title, such as Journey to the Center of the Earth, can be bought for $9.99. Each Amazon Unbox Video purchase allows you to download multiple versions at different quality levels. They include a 2.8-megabit-per-second version (highest quality) for playback on a TiVo Series 2, Series 3, or TiVo HD, a 2.5-Mbps version suitable for playback on a PC, and a 600-kilobit -per-second version meant for playback on a Windows Media-compatible handheld device. Unfortunately, titles are not available in high definition.
Access to Amazon Unbox movies is via a menu called TiVoCast Downloads, which includes content from other TiVo's partners that would otherwise be available on the Internet from a computer. These include video shorts from The New York Times, The Onion, and CNET that are free to TiVo subscribers. Since these are mainly series, you can set up a Season Pass as you do with TV shows. That way, they'll be downloaded ahead of time automatically as they become available, and they're listed on the Now Playing screen along with recorded TV programs. Also, TiVo has a new feature called Swivel Search that works across both TV programs and TivoCasts. So, for example, creating a Wish List for comedy not only brings up The Office but also The Onion videos.
TiVo offers a separate audio podcast menu with such partners as NPR, Scientific American, and ABC's Lost. Or you can enter the RSS feed for a particular URL. These programs only stream, though, and you can't even pause a podcast once it begins. So, while I loved the idea of sharing with my wife a particularly poignant and funny segment of This American Life, an NPR show, there was no way to fast-forward to the last two sections that I cared most about. Having been spoiled by TiVo control over TV, I found sitting through a 59-minute podcast just to hear the last 12 minutes incredibly frustrating.
TiVo HD has a hidden talent, and that's being a media receiver for streaming photographs and music from a networked computer. That makes it a little like Apple TV, though it doesn't play video from your computer, and it can't play music and photos at the same time. Still, I love the fact that TiVo HD combines the functions of a high-def cable and over-the-air DVR, an Internet content aggregator, and a home network media receiver in one box. It saves space on my A/V rack and uses up just one set of inputs on my TV, not to mention just one outlet in my power strip.
At the same time, aspects of the TiVo experience can be a little disappointing. Some eight years after TiVo helped put DVRs on the map, I was struck by how little its interface has changed. While competitors have introduced picture-in-guide (PIG), shortcuts to get a list of recorded shows or to jump 24-hours ahead in the guide, or the ability to peruse the guide while watching a recorded show or see your list of recordings while watching live TV, TiVo still can't do any of those things. It's grid-style onscreen guide (one of two guide options offered) is completely opaque; having gotten used to my big-screen TV accommodating both my cable company's guide and a decent-size picture of what I'm watching, I find TiVo's cover-up intrusive and its inability to multitask lame. Also, if it's Thursday and you bring up the guide intending to check out Sunday night's offerings, you have to screen down through every listing from now until Sunday - no 24-hour jump ahead/back command.
LATEST VIDEO