Tips for Watching "Game of Thrones" Premiere As HBO Now Launches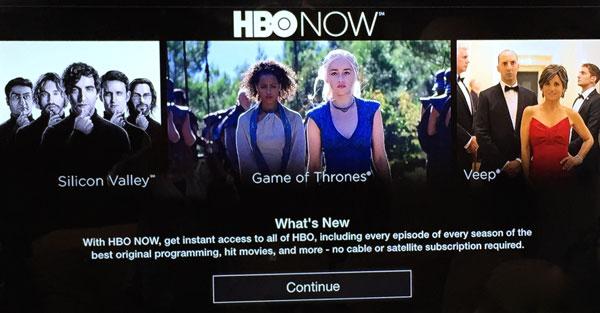 The stand-alone subscription service,
HBO Now
is available now. The app has been released on Apple TV and iOS devices, and on Dish's
Sling TV
. This is exciting news to many people who want to watch the
Game of Thrones
premiere on April 12th (or the
Silicon Valley
and
Veep
premieres). Be advised, you will be joined by the show's throngs of fans who may also want to take advantage of HBO Now's 30-day free trial. If history repeats itself, you could run into trouble trying to access the Sunday premiere in real time at 9 pm. Sling TV is already making adjustments. Hopefully, HBO will be able to handle the traffic as well.
Last year HBO Go, the streaming app for premium channel subscribers, had issues when an unexpected number of viewers tried to watch the finale of True Detectives. I was one of the affected viewers that received an error that I could not connect to play the video. This happened again during the 2014 HBO Go stream of the Game of Thrones premiere.
This issue raised its ugly head on Sling TV a week ago when viewers were unable to watch the March Madness college basketball final on TruTV. According to the Sling TV blog, "Here's what happened… We experienced the convergence of two events:1) there was a high number of new customer signups just as the first game was beginning and 2) we received an extremely high volume of concurrent streams."
Dish also states that they are on top of it to prevent the problem during the Game of Thrones premiere. The company has been making improvements over the past eight weeks since the service launched. An update of the Sling TV app on all devices has been pushed out this past week that addresses the problem and should help them to manage high viewership.
Recommendations from Amazon (whose Amazon Fire has HBO Go but not HBO Now) and other websites are that viewers watch the highly popular shows on HBO Go or on TV. For HBO cable or satellite subscribers, the premieres will also be available on HBO Go at the same time they premiere on the cable, satellite, and telecom channels. The HBO Go app may be less congested. Another streaming option will be to watch the premieres live via your cable or satellite provider's TV everywhere app—Dish Anywhere, Xfinity Go.
As we continue on the path to receiving TV online, there will be many issues to overcome. Some of these issues will be from the strains on the source by high demand. Other issues may be at any point along the way from traffic on an internet provider to a slow router. Still, with both Sling TV and HBO Now offering a come-and-go approach—no commitment and the ability to skip months—it still may be worth a few hiccups along the way. Get a free trial of Sling TV or sign up for HBO Now from the app on your Apple TV, iPad or iPhone.