Sneak Peek at Dish's Sling TV Streaming Service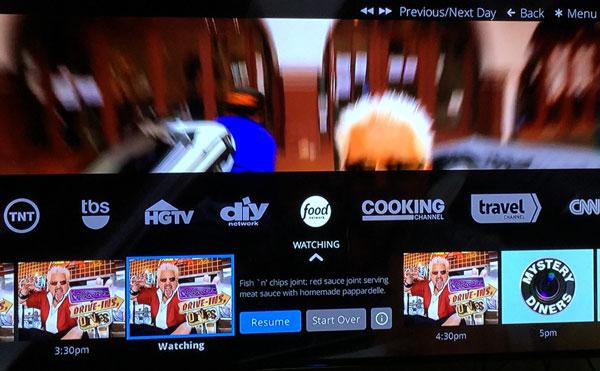 Dish is issuing invitations to try out the new Sling Television streaming service that launches in February. Based on my experience with a pre-release version, I can say it's definitely worth checking out.
The service is aimed at millennials who have never subscribed to cable or satellite and may appeal to those who wish to cut the cord and supplement over-the-air broadcast channels with popular pay-TV channels like Watch ESPN, the Food Network, TNT, TBS, and more.
Sling TV streams to the Sling app on Roku 3, iPhones, iPads, and Android devices (though not on Android TV). Fire TV and smart TVs will be getting the app soon. When you sign up for Sling TV, you will be offered the option of purchasing a Roku 3 to play it. While it's available on multiple devices, it can only play on one device at a time. Sling TV is not the same as the "Sling Player" app that streams from a Slingbox connected to a TV. In fact, the unfortunate name similarity is confusing as it has nothing at all to do with the Slingbox devices.
Dish is hoping that Sling TV's $20 per month price tag will appeal viewers who are tired of paying $50 to $100 per month for cable TV. At launch the service will include ESPN, ESPN2, Disney Channel, ABC Family, Cartoon Network, CNN, TBS, TNT, Adult Swim, Food Network, HGTV, and the Travel Channel. There will be extension packs for News and Info (HLN, Cooking Channel, DIY, and Bloomberg TV), Kids/Family (Disney Junior, Disney XD, Boomerang, Baby TV, and Duck TV), and Sports (details to be announced). Each extension pack will cost an additional $5 per month.
After spending a few days with Sling TV, I found that I wanted more content. Movies and TV series are available to rent for $2.99 (standard definition) and up. There is no premium pay-TV content available—no Showtime, Starz, or HBO. To have an experience that rivals a full cable line-up will require adding a stand-alone Showtime or HBO app (proposed for later this year) and buying extension packs.
Overall, I really like the Sling TV experience. The service is easy to use and the picture quality is better than the channels coming from the Dish satellite. I did an A/B comparison of TNT and TBS on Sling TV and saw subtle compression artifacts on the satellite feed that weren't in the streaming video. Of course, the downside to a streaming service is that you are at the mercy of your Internet provider's ability to deliver a robust connection during peak hours whereas a satellite feed is almost always available.
Sling TV's home screen and menus resemble an online video app such as YouTube or Vimeo more than a live TV guide display. There is a carousel of channel logos. Clicking on a logo brings up another carousel with thumbnails of the current show and what's coming next. Clicking on the "live now" icon brings up a carousel of shows that are currently playing on all Sling TV channels. The interface is the same for Roku, Android, and iOS apps.
Food Network, DIY, Bloomberg TV, and a few others offer the ability to pause live TV, restart the current program from the beginning, and choose shows that have aired over the past few days. Pressing "ok" then the down navigation button on the remote control brings up controls for the current show that let you watch or start over from the beginning as well as access information about the show. Fast forward is available when watching shows that have previously aired. Using the right navigation key on the Roku remote fast forwards through a show. As you move through the scrub bar, scene thumbnails are displayed, making it easy to jump around; this control is also available for video-on-demand movies.
TNT and TBS do not offer Live TV control functions or the option to watch past shows. This is a huge drawback. It's downright barbaric to not have the ability to pause a current show and fast forward through commercials, playback the last line of dialogue, or see what you missed when you went to get a snack. If DVR and VOD functions are added to all channels in the future, Sling TV would be a more viable replacement for cable or satellite.
Despite its limitations, I like Sling TV. Perhaps it's an appreciation for the details: the well-designed user interface, easy access to menus, the ability to add movies to a watchlist, and having movies and TV in one place. But what really won me over was one small detail. When you haven't used the app for a while, a screensaver appears. The screensaver is a changing list of TV shows that are live now with the logo of the channel airing it. I was sitting on the couch, and glanced at the screensaver. If I saw a show I wanted to watch, I could just grab the remote.
Sling TV has good bones. Looking at the advances Dish has made to the Hopper over the last 2 years, Sling TV or a future live TV streaming service based on Sling TV has a shot at making it, especially if Dish adds more programming and offers live playback control for all channels.
To try out Sling TV before it launches, go to sling.com and sign up.