HBO Now to Launch on Apple TV in April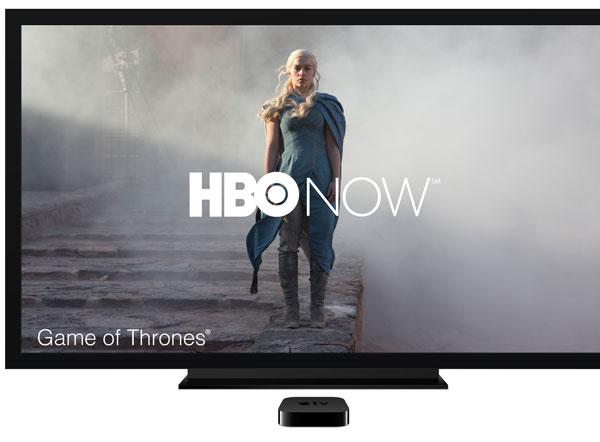 Cord-cutters are rejoicing as Apple and HBO announced the standalone streaming HBO app called HBO Now. At last week's Apple's Spring Forward press event, Apple and HBO stated that the service will launch exclusively for those with an Apple account. Apple customers will be able to subscribe directly to the service on Apple TV, iPhones, and iPads. Unlike HBO Go, the service will not require that viewers authenticate by also subscribing to HBO on cable or satellite.
HBO Now will run a promotion where the first month will be free when users sign up in April through Apple. After the first 30 days, the service will run $14.99 per month—comparable to the price of a premium subscription for HBO on many cable services.
The description of the service appears to be the same as HBO Go. HBO Now provides instant access to HBO's blockbuster movies and original programs, including every episode of every season of every HBO Original series. The April launch will be in time for the April 12 premieres of the new season of Game of Thrones, Veep, and Silicon Valley.
"HBO Now offers a new generation of HBO fans many of the best TV programs in the world without a cable or satellite subscription," said Eddy Cue, Apple's senior vice president of Internet Software and Services. "Now, with the same simplicity as buying an app, customers can subscribe to HBO Now and instantly start viewing their favorite HBO programs as they air—this is huge."
Apple also reported that there have been 25 million Apple TVs sold, and that they will be lowering the price from $99 to $69. Those who sign up for HBO Now through their Apple account aren't limited to watching on Apple TV. They can use the service on iPad, iPhones (probably not the best way to see Game of Thrones), or on computers via the HBONOW.com website.
In a statement on the website, HBO revealed plans to "roll out to additional devices soon." In fact, if you live in New York, Cablevision is adding HBO Now to its Optimum Internet and Wi-Fi customers, making it the first cable provider to carry the standalone subscription. No details have been announced about the pricing or dates it will become available through Optimum.