Tidal Sunray Tower Speaker
Most of the products on display at CES are new to the world market, but there are a few exceptions. For example, the Sunray speaker from Germany's
Tidal Audio
has been available for several years, but not in the USA—until now. North American distributor
Aaudio Imports
used CES 2010 as the venue to introduce the Sunray to the American audiophile community.
All of the Sunray's drivers are custom made exclusively for Tidal by Thiel & Partner and housed in three isolated enclosures. The central module includes a 1.2-inch black-diamond tweeter, said to be the most expensive in the world, and two 7-inch black-ceramic midrange drivers. Dual 9-inch black-ceramic woofers are mounted back-to-back in each of the other two rear-ported modules, forming an imposing tower over 6.5 feet tall and weighing about 500 pounds, due in part to the cabinet's resonance-damping construction with walls up to 5 inches thick.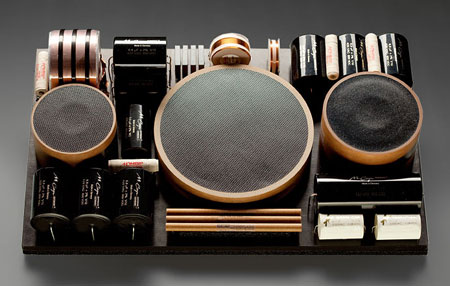 No expense has been spared in the crossover as well, as evidenced by the use of cast silver-foil capacitors, ultra-low-resistance inductors, and silver-carbon resistors. The crossover sits in its own, hermetically sealed chamber to protect it from vibrations and pressure fluctuations.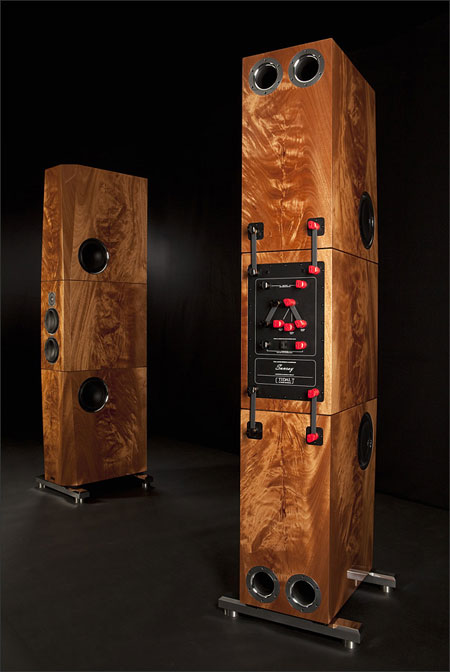 The result of all this extravagance is a frequency response from 28Hz to 22kHz (±1.6dB), a -3dB point at 25Hz, and a maximum frequency over 55kHz. And of course, the price of this speaker is commensurate with its performance and the cost of materials and extensive labor required to make it—expect to pay between $178,600 and $203,700 per pair, depending on the finish. That's a whole lot of dough, to be sure, but the Sunray appears to be a whole lot of speaker.