THX Veteran Laurie Fincham on the Future of Audio
Laurie Fincham has a storied career in speaker design and engineering that began in England in the early 1970s when he worked for Goodmans Loudspeakers, Celestion, and KEF. By day, he delved into speaker theory and design. By night he played stand-up bass in a jazz group to supplement his income. While at KEF, he co-developed the
Fast Fourier Transform (FFT)
system for measuring and modeling speaker. In the early '90s, he moved to the U.S. to work for Infinity before joining THX in 1998.
Today, as senior vice president of audio research and development, Fincham manages the audio side of the company George Lucas founded to raise the bar for cinema sound, starting with the theatrical release of Star Wars Episode V: The Empire Strikes Back in 1980. Throughout his career, Fincham has received numerous honors and accolades including Lifetime Achievement awards from HiFi News and ALMA, The International Loudspeaker Association, and was inducted into Home Cinema Choice's Hall of Fame. He is also a life fellow of the Audio Engineering Society (AES) and recipient of the AES Silver Medal.
S&V: As a musician who holds 35 sound-related patents, it's probably safe to say you have a passion for audio, which today is moving in many directions at once. Headphones are booming and traditional home speakers have taken a back seat to all-in-one soundbars and portable wireless speakers. What's your take on these trends? Put another way, what is the state of audio today.
Laurie Fincham: It's going for quantity, speed and convenience. It is also reaching a much wider audience than ever before, which is great. Still, most have not experienced very high quality sound in an environment where it can be appreciated.
S&V: In some ways these trends are antithetical to the push for Hi-Res Audio. What's your take on HRA—can it gain traction among a broader audience or will it be relegated to an audiophile pursuit?
Fincham: Unlike the case with high-def video, the difference in sound quality of HRA will not be so obvious to the casual listener. High quality sound needs to be heard on good equipment and in a quiet environment if its nuances are to be appreciated. The highest quality will always be limited to a smaller audience.
Most program material has already been compressed to better suit the listener on the move—so how does one know what they're missing, if it's not there? One option might be to offer two versions, as they do now for video streaming. Another possibility might be to only have hi-res for at-home streaming, and apply the necessary compression on the mobile device to make it suitable for noisy environments (trains, buses, and planes).
Broadening the adoption of HRA will prove challenging if both music selection and cost are not considered—there has to be a wide range of programming available, and it has to be at prices that are little or no more expensive to the consumer.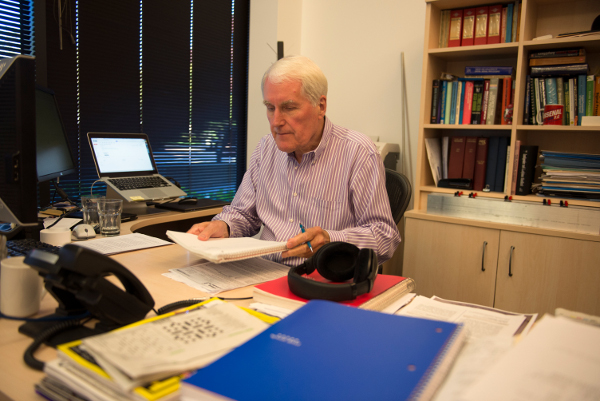 S&V: Over the past year or two we've seen the emergence of some fascinating technologies, especially in the mobile/personal listening space—earphones that tune themselves to the listener's hearing, "smart buds" that let you tune in to what's going on around you—even suppress or amplify specific sounds. What new product or technology really excites you?
Fincham: I'm excited about the new possibilities that are being opened by the introduction of smart voice control devices, such as the Amazon Echo. I'm a fan. I have four of them at home, inside and outside, one battery operated. I regularly use them for talk radio, especially the BBC—more serious listening happens on my main speakers in the media room. This is now; they can only get better.
Although it's an ancient technology, I find the resurgence of vinyl intriguing. There's something ceremonious to the art of listening to vinyl—the anticipation while pulling the record out, the fun of reading the sleeve, and sitting back, relaxing and being transported by the music. With vinyl you don't have a need to rewind and fast-forward—you experience an album as a whole, not just track 1, which you might otherwise download as a 99-cent MP3.
It's not vinyl that's the important part; it's the idea of taking one's time to listen to music in quiet surroundings, whatever the source. My hope is a whole new generation will discover the pleasure of getting inside the music by taking off their earbuds, setting down their phones, putting up their feet and just relaxing.
S&V: Apple took many by surprise when it nixed the headphone jack on the iPhone 7. Apart from the sheer convenience of wireless listening (who doesn't hate cables?), what are your thoughts on a wireless-only device?
Fincham: I think there's potential for high-quality wireless-only experiences, but there are things that need to be done first. Wireless can be unreliable, especially when many others are trying to use the same bandwidth. It does eliminate the need for a cable, but there are added needs for synching. Listening devices will always need their own battery, which is another thing to remember to charge (probably not a problem with normal headphones, but earbuds may be more challenging). The need to have very small batteries that last a long time between charges will be in conflict with the need for tiny DSP chips, DACs, and wireless chips. The desire for compression to save the battery life may mean compromising audio quality until better chips are developed.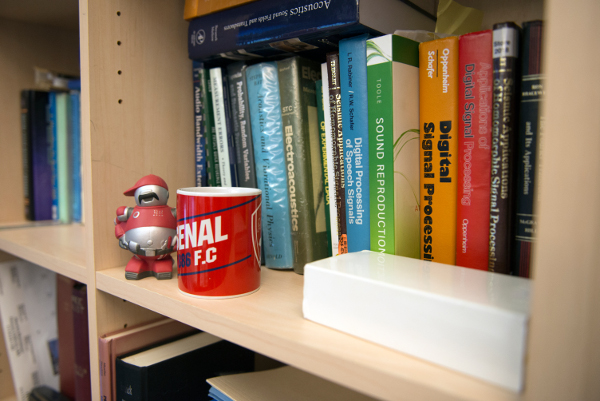 S&V: THX has continuously expanded its certification program over the years to include a variety of product categories. What is THX focusing on these days? How are you staying relevant in this rapidly changing market? We've heard a headphone program is in the works, for example.
Fincham: We're focusing on the obvious targets, including headphones, high dynamic range (HDR) video, streaming, and virtual reality (VR).
We follow market trends and look to see if a THX certification program can improve the customer experience. It's a challenge for us, though. The market changes so rapidly that we have to avoid the risk of the ink not being dry on our specification before it's out-of-date.
But good sound is good sound, good picture is good picture, reliable delivery is reliable delivery. The goals haven't changed. So in devising our specifications, we try to distill the essence of what's needed whilst avoiding slavishly following fashion.
A blind man would see that the hot market is headphones. There is a bewildering choice to the consumer—how are they to know what to buy if they're interested in more than just fashion.
Our headphone certification program aims to answer that question. THX Certified headphones will be evaluated to a common standard, which should simplify selection and provide an opportunity for the more serious manufacturers to differentiate their products.
S&V: Wide color gamut and high dynamic range (HDR) are pushing video performance to exciting new heights. Will THX have a program that addresses HDR-enabled displays?
Fincham: Yes, we have a 4K HDR display specification. We expect to see models pass in the near future.
S&V: Let's talk home theater. Object-based "immersive" surround sound has started its own revolution as it elevates the realism of movie soundtracks in exciting ways. What are your thoughts on this technology (Dolby Atmos and DTS:X) and is THX working on any programs related to this area?
Fincham: It's the way forward, but maybe it's still a work in progress as the sound designers continue to explore ways of exploiting this exciting new technology. We all have something to look forward to.
S&V: Okay, let's get out the crystal ball. Where to you see audio heading over the next five to 10 years? What's the Next Big Thing?
Fincham: Two big things—I think it is likely audio will go in two quite different directions: Smaller-lighter-cheaper-faster where quality will be good enough for most. Streaming will be the only format. Headphones will become more stylish and less obtrusive. Earbuds will be comfortable, better fitting, and will probably surpass over-the-head models of all types. Accurate 3D replay will be commonplace for all ears without the need for calibration. Audio will mainly be used to accompany video.
Then there's enthusiast-based equipment, capable of the highest quality performance, with time taken to savor the subtlety of good music under good listening conditions. Vintage versus box wine. Both have their place, but it's not the same place!