Thiel CS1.6 speaker
In this case, Thiel isn't a color, it's a lack of color, and nothing impressed me so much during my time with these five Thiel CS1.6 speakers as their colorlessness. One color particularly notable by its absence is green, as in the minimal amount of greenbacks you'll have to peel off your roll—the CS1.6 is one of the more affordable floorstanding speakers in the Thiel line. For only $2390, you can get a pair finished on five sides in a wood veneer, like the beautiful natural-cherry ones I used for the front channels—or, if you want to save a cool grand on a quintet, the $1990/pair matte-black models I put in the rear are all the color you'll need.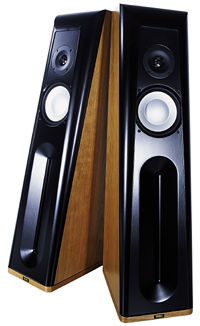 While Thiel's new speaker may be comparatively affordable—I can't say "inexpensive"—they're still all Thiel. Joining a 2-inch-thick, highly carved front baffle to the 1-inch thickness of the remaining cabinet walls, the CS1.6 presents the same sloped face as the rest of Thiel's Coherent Source (CS) series, and so lays claim to like benefits in time and phase coherence. The 6.5-inch woofer uses a relatively huge 3-inch voice coil to propel its metal diaphragm. The short-coil/long-gap 1-inch aluminum tweeter is an all-new Thiel design.
Perhaps the most visually interesting aspect of the CS1.6 is viewable only with the speaker's grillecloth removed. Starting at the bottom and running half the height of the front baffle is a narrow, gently beveled bass-reflex slot—a big change from the more conventional round ports and passive radiators. Still, this is a relatively small speaker, so what the reflex slot adds falls in the midbass; the CS1.6 is rated as being down -3dB by 48Hz.
I first heard the CS1.6 at CES last January, with a pair of Thiel's new SW1 subwoofers (not available in time for this review), yet at home I was comfortable enough listening to 2-channel music with only the CS1.6s at the wheel. Of course, a big Velodyne subwoofer was only a button away if I panicked.
Ready Freddy?
One of the reasons I wanted to review the CS1.6s, besides the fact that I'd loved what I'd heard at CES, is one of the reasons you may not. With their relatively short stature, a single CS1.6 just fit beneath my drop-down Stewart screen without blocking the image, making a quintet of matching Thiels a natural choice. But it was close, and even in my case, I could use the provided spikes only for the main left and right speakers. Placed on the center speaker, the spikes raised the speakers enough that they came dangerously close to blocking the picture. When it comes to perfectly matched timbre across the front channels, there's no center speaker like . . . well, no center speaker.
If you have a more conventional arrangement in your home theater, meaning just about any TV in a box, you'll have to go with a traditional, horizontally oriented center-channel speaker like Thiel's SCS3. If you can make it work, I advocate identical speakers all around. Conventional dipoles may be okay for the surround channels with movies, but with the advent of multichannel music, a quintet of reasonably priced high-end speakers like the Thiel CS1.6 is the proverbial chicken in every pot.
Listening
It was with music that the Thiels snared me at CES. After living with the CS1.6s for a few months, I'm still glued to the musical web they weave. Jazz vocalist Kevin Mahogany weaves a little Motown magic on the CD track of his new Pride and Joy (Telarc SACD-63542), covering past hits with his own fresh approach. Run without the aid of the subwoofer, a pair of CS1.6s fully re-created Melissa Stocum's finger-plucked double bass on "My World is Empty Without You," with no sign of that published 48Hz limit. If anything, the bass was one of the most evenhanded performances I've heard from a 2-way speaker, subjectively lacking the characteristic midbass "hump" that seems to be the bane of such designs.
Maybe it's Thiel's dense, rap-your-knuckles-till-they-hurt cabinet at work here, but the CS1.6's rendition of vocals was box-free! Kevin Mahogany's voice is a rich, deep, velvet even when he's reaching for those inspirational high notes, and the Thiel presented it with none of the cupped-hands quality frequently encountered in conventional speakers. To say the CS1.6 was superior in this regard to most dynamic speakers would be a fair statement. It combined some of the best characteristics of good electrostatic speakers, such as their sumptuously detailed midrange and effortlessly fast transient response, with the natural body and weight of the best dynamic designs.
With only two speakers, a great soundstage still emerged—hey, anyone remember 2-channel? With mild toe-in, so the tweeter axes crossed far behind my head, the CS1.6s created a solid center image. The Thiels demonstrated an ability to project height as well, putting Mahogany about a foot above the top of the temporarily silent center speaker. More impressive—and, when we go to the movies, more important—sitting off-center still produced a highly enjoyable aural panorama. Sure, the sweet spot was great, but sitting three across on the couch, we could all enjoy not only the music but the presentation as well.
How well Thiel's new tweeter did its job is an important question for the many who seem to come away from speaker demonstrations muttering the "B" word: bright. After a few weeks' break-in, the CS1.6's new 1-inch metal-dome tweeter sounded extended, as expected, but sweet and musical as well. Here, "B" stood for brilliant—cymbals sweated zing, but this was backed up with body, too. Harmonics were so natural, I knew I had a good seat up close to the stage. The new tweeter laid to rest any complaints I'd had regarding the lack of sweetness of some earlier Thiel designs.
I'm still one SACD player short of an SACD player, but I have plenty of DTS multichannel CDs to pick from. Holst's The Planets, as performed by Yoel Levi and the Atlanta Symphony Orchestra (Telarc CD-80466), is lively, but as we swing out toward Jupiter, the very big and luscious ASO counters Levi's brisk pace with superb and articulate playing. The Thiels were very warm and set the mood. On Mars, the clacking percussion of men marching off to battle was apocalyptic, the horns blaring at high levels, seemingly distorting; but here the recording was at fault, as I've heard it sound no better on my reference system. The Thiels hid no flaws.
LATEST VIDEO