Test Report: Toshiba BDX2700 Blu-ray Player Page 2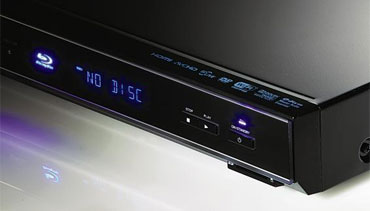 Rear connections include the usual suspects plus one nice addition: 7.1-channel analog outputs that can feed any legacy multichannel receiver with a 5.1- or 7.1-channel input. The onboard processor will decode Dolby TrueHD or DTS-HD Master Audio for multichannel analog output, or you can pass either an unadulterated bitstream from the disc or up to 7.1-channel PCM digital audio through the unit's HDMI output for decoding in an outboard receiver.

Overall, I liked the remote supplied with the BDX2700. Though it has no backlight and could have used a bit more heft, it has some thoughtful twists that deserve mention. Notably, there are eight additional function keys ringed around the usual 4-way navigation rocker, including helpful duplicates of the oft-used Previous/Next Chapter buttons at the right and left, and a pair of volume keys at the top and bottom for on-the-fly volume adjustments without having to pick up your TV's remote.

Hitting the Home Menu button calls up an engaging, highly intuitive graphic interface that reminded me a little of Sony's Xross-Media Bar menu. On the left of the screen are the main menu options, which move up and down in an orbital arc as you press the up and down keys. These main options include the Settings menu plus selections for all currently available sources, including a disc that might be loaded in the tray or a connected fl ash drive, and the Connected menu, which gives access to the integrated streaming services. You just scroll the circle up and down till you get to what you want. Selecting the Connected button calls up another circular, orbiting menu to the right of the main menu with options for Netflix, Blockbuster, Pandora, and Vudu.

And that's all. The offering seems a little flimsy compared with some of the competition until you get inside the Vudu menu and find not only Vudu's vast movie library but also a selection of Vudu Apps that greatly broadens your viewing options. I counted 110 "tiles" to select from, including the usual Widgets for stocks and weather, Picasa and Flickr photo sharing, Facebook and Twitter access, and podcasts from several major news organizations and entertainment networks. You get current episodes of various TV shows, and a fair amount of dedicated hobbyist programming. The quality of the video varies from app to app, as they would if you accessed them from your ››computer, and a few of the services had nothing posted in their archives, but there was still plenty of stu. to explore and enjoy.
LATEST VIDEO