Test Report: Toshiba BDX2700 Blu-ray Player Page 4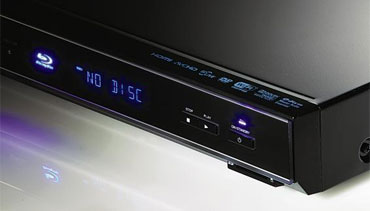 PERFORMANCE
In a word, the picture put out by the BDX2700 was spectacular. To check image quality on something familiar, I pulled out a Blu-ray of Invincible, the inspiring story of Vince Papale (Mark Walhberg), the late-1970s Philadelphia Eagle who became the NFL's oldest rookie after earning an invitation to training camp on an open tryout. (It didn't really happen that way, but that's the story and they're sticking with it.) All the detail I've come to expect in the close-ups of the coaches' netted white sta. shirts and Walhberg's gritty beard was present, along with the vibrant greens of the playing fi elds and the Eagle helmets and the subtle shadow details in the film's many dimly lit bar scenes. High-def trailers streamed from Vudu looked excellent as well, with no obvious stuttering from my wired network connection and only a touch of softness compared with movies on Blu-ray.

I was also hugely impressed with the player's 1080p/60-format upconversion of standard-def DVDs via its HDMI output. A DVD about another true-life story, Dog Day Afternoon, came across as noise-free and clear, with enough sharpness to let me forget it wasn't HD. Running a test DVD through the system validated my observations: The Toshiba performed about as well on the patterns as any player I've seen, flying past the deinterlacing, detail, and noise tests with aplomb. I also had a look at the Toshiba's component-video output and found no discernible difference in detail on Blu-ray discs compared with the HDMI output, though regular DVDs can only be viewed at 480-line resolution through the component output and looked predictably soft.

Power-up boot time on the Toshiba was excellent, with the unit's Home Menu popping up just an instant after I hit the power button. On the other hand, disc load times, while typically less than 10 seconds for DVDs, ranged from 30 to 45 seconds or more with most Blu-ray titles I tried — sluggish compared with today's zippier players.

BOTTOM LINE
With a street price of around $200, Toshiba's top-of-the-line BDX2700 Blu-ray player ranks squarely in the middle of the pack. It has an interesting mix of content to peruse (thanks primarily to Vudu Apps) and a nice graphic interface that proved easy to use once I got used to it, but it also lacks some key features that I'd like to see in a stepup model like this, including DLNA streaming and 3D compatibility. Its strongest suit was its excellent picture quality and DVD upconversion, as well as the inclusion of 7.1-channel analog outputs for enthusiasts with older, non-HDMI receivers. If you're one of them, you might do well to give the BDX2700 your consideration.
LATEST VIDEO