Test Report: Pioneer Elite N-50 Audiophile Network Audio Player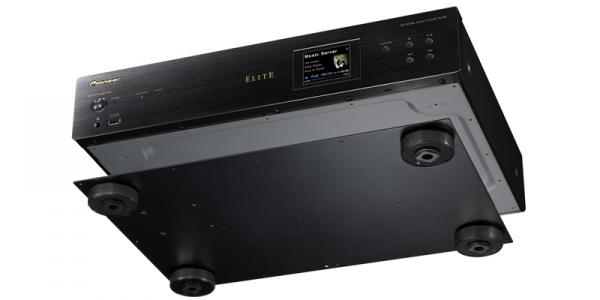 Elite is Pioneer's premier home audio line, much like Lexus is to Toyota. That means you can expect better build quality, a longer warranty, step-up features, and premium performance. New to Elite this year are two network audio players, the N-30 and N-50, that stream audio (including high-rez files up to 192-kHz/24-bit) from a computer, play Internet radio, and use Apple's AirPlay for easy wireless networking with iOS devices. When it comes to basic features, the two are essentially the same. But there are several key performance differences between the players that make it easy to argue the case for the N-50's $200 price premium.
Coming off a disappointing experience with another media streamer I recently had in for review, I was anxious to take a look at the N-50. Without giving too much away, it did not disappoint.
Setup
One of the N-50's step-up features is superior chassis construction, including dual isolated power supplies for the analog and digital sections and something called "armored chassis construction," which is designed to "eliminate external vibrations" and provide "rigidity with superior damping effect." What that all means in practical terms is that this audio component feels like it means business. I've installed 5-channel surround receivers that scarcely weigh more than the Pioneer N-50!
Beyond its weight, build quality is evident in fit-and-finish: With its beveled-edge aluminum front panel, this is just a gorgeous-looking player. The front has a clean, spartan aesthetic, including a 2.5-inch color LCD display, five small control buttons, LED indicators for Pure Audio and Hi-Bit 32 status, and a USB/iPod connection.
Outputs around back include analog and both optical and coaxial digital connections. There's also a LAN jack and a second USB port for use with Pioneer's optional AS-WL300 Wi-Fi adapter. (This needs to be connected directly to a computer for configuration before it can join your Wi-Fi network.) Another slot accepts Pioneer's optional AS-BT200 Bluetooth adapter.
Looking at the back panel, I noted a few principal differences between the N-50 and N-30. The N-50 includes coaxial and optical digital inputs that let it serve as an outboard DAC, and it also has a USB type-B port to connect a computer. The front-panel USB port is limited to accepting 96/24 files, but the rear one hooks you up to a 192-kHz/32-bit asynchronous USB DAC — a hugely desirable step up for anyone wanting to listen to ultra-high-rez files.
Actual setup was pretty simple. I plugged an Ethernet cable into the LAN connector, and the N-50 immediately grabbed an IP address and settled onto my network. After I plugged in the AS-BT200 Bluetooth adapter, my iPad discovered it and paired without trouble. After downloading the two available apps, AirJam and Pioneer ControlApp, onto my iPad (an Android version is available as well), I was almost ready to start enjoying some tunes.
The last setup step involved streaming files across my network. Since Windows Media Player can't play FLAC, you will need some other "server" that can support files in that format. I installed JRiver Media Center (jriver.com), which offers support for all manner of file types, including 192/24 FLAC. I also needed to download and install a USB driver for my laptop that would let it recognize the N-50 as a playable device.