Test Report: Monitor Audio Gold GX Speaker System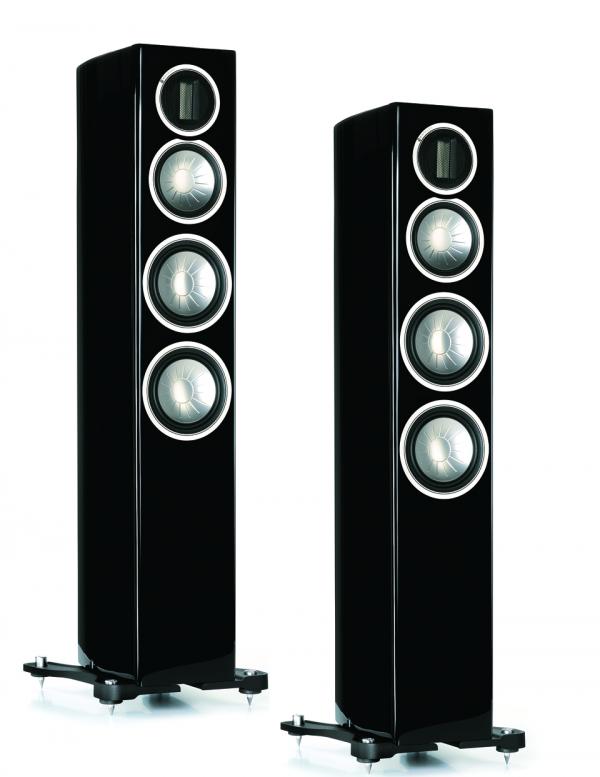 Two years ago, I found myself listening to Monitor Audio's flagship Platinum Series towers in the company's CES demo room and thinking, Who drops 10 grand on a pair of speakers, no matter how good they sound? The question lingered in my mind until last summer, when I sold my longtime reference speakers to a hay farmer from central New York who planned to insert them into the kind of crazy 11.2-channel rig (located in a converted barn, no less) that would make Tom Holman proud. As the guy drove off in his pickup, hay bales securing speaker boxes on either side, it hit me: It's a big world, and audiophiles come in all stripes — and income brackets.
Monitor Audio's Gold GX line represents the company's effort to port the benefits of its Platinum Series to a line priced at a level that not just investment bankers but also farmers (harvest permitting) could afford. The system I checked out is based around the GX200 tower, which at $4,495/pair costs nearly half that of its Platinum Series sibling. The rest of the package Monitor sent me consisted of the GXC 150 center, GX-FX surrounds, and GXW-15 subwoofer. Total tab for all that gold: just north of 10 grand.
The GX200 is a ported 3-way tower with a curved front that measures a mere 6.75 inches wide. A magnetically attached metal grille on the front conceals (barely) a ribbon tweeter and the speaker's C-CAM (Ceramic-Coated Aluminum/Magnesium) midrange and bass drivers, each of which is bolted through to the back panel to cross-brace the cabinet. Gold-plated binding posts (two sets are present to accommodate biwiring/biamping) around back accept spade lugs, banana plugs, or bare wire.
The GXC 150 center — a sealed design — has the same ribbon tweeter, metal grille, and attractive look as the towers. In this case, however, the tweeter is sandwiched between a pair of 5.5-inch drivers that cover midrange/ bass. Monitor's GX-FX is a large-ish surround speaker that can be configured — either manually or via a 12-volt input — for a direct or a dipolar radiation pattern.
The GXW-15 subwoofer is a sealed design harboring a 15-inch woofer powered by a 650-watts rms amplifier. DSP is used to control the woofer's output based on power reserves to limit distortion; it also allows for digital-domain filtering, phase adjustment, and auto on/off switching. The GXW-15 comes with D2Audio's LEO (Listening Environment Optimizer) automatic room correction, a process you carry out using an included calibration microphone. A remote control lets you control all functions of the GXW-15, with feedback indicated on its front-panel LED display.