TCL Readies 8K, Quantum Dots, Ultra Contrast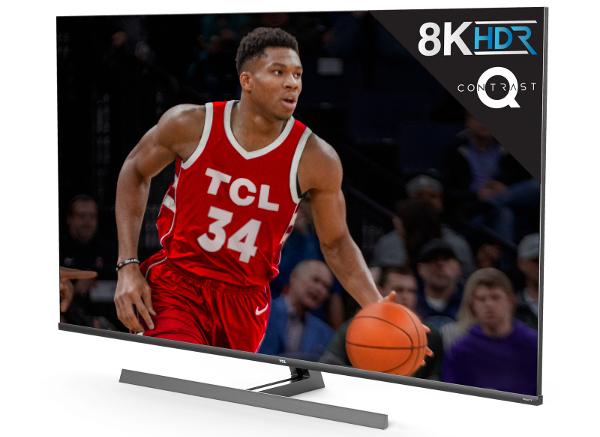 In a news conference on the eve of CES 2019, TCL made a commitment to further improve TV image quality, announcing plans for 8K TVs and for color-gamut-widening quantum-dot display technology.
As a technology statement, the Chinese electronics giant also unveiled an LCD TV with Ultra Contrast Control Zone technology, which uses mini LEDs to create thousands of local dimming zones to boost contrast.
In 8K, TCL will demonstrate a 75-inch LCD model (pictured) and plans to launch 8K models sometime in 2019 in a new top-end 8 series that will feature the Roku OS, quantum-dot display technology, and screen sizes of at least 75 inches. The TVs will also feature HDR 10 and Dolby Vision high-dynamic range (HDR), wide color gamut, and 300% more contrast control zones to boost contrast; current 65- and 55-inch TVs in the company's 6 series have 120 and 96 zones, respectively. TCL said it expects the TVs to ship with 8K-capable HDMI 2.1 inputs.
The 8 series will also represent the company's first U.S.-market quantum-dot TVs, which TCL said will deliver a wider color gamut than what's available in the company's lower cost 5 and 6 series TVs. Those TVs use the company's proprietary NBP (nano band phosphor) photon display technology. "In 2019, quantum dot delivers the right performance for the cost for mainstream consumers," said North America SVP Chris Larson.
Sometime in 2019, TCL will join Sony in embedding far-field microphones within the TV chassis. The microphones will listen for commands for the TVs' built-in Roku Entertainment Assistant, which controls TV functions and searches for content. Advanced beamforming and AI noise-suppression technology Roku is developing will pick up voice commands from anywhere in the room without the viewer having to shout, the company said.
In other announcements, TCL returned to the 75-inch screen size after an absence of almost a year with an addition to its top-end 6 series. The new model is available for preorder at less than $1,800 MAP. The current 55- and 65-inch 6 series models are priced at $649 and $929 MAP. In the new model, the number of contrast control zones climbs to 160 from 96 and 120, respectively. All three models use TCL's NBP display technology and support HDR10 and Dolby Vision high-dynamic range (HDR).
To expand the number of Dolby Vision sources compatible with its 5 and 6 series TVs, TCL plans a Q1 software update to make the TVs compatible with Dolby Vision content on the Xbox One X and One S. Those consoles stream Netflix in Dolby Vision, and Xbox games with Dolby Vision are expected, TCL said.