The Tannoy Highline Arena 500 5.1-Channel Speaker System
Once upon a time loudspeakers were large, floor standing affairs, especially those designed to produce deep bass. Then came the acoustic suspension revolution and "bookshelf" loudspeakers were born, most of which ended up on stands in homes where sound quality counts. Many manufacturers specialized in one or the other, but a few offered both.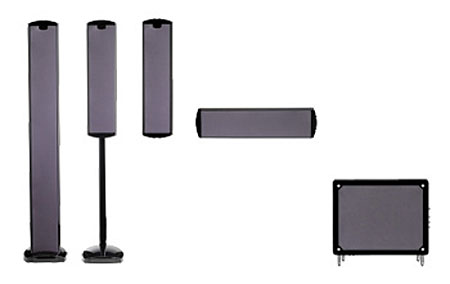 Today, add in-wall and on-wall to the mix and you're up to four loudspeaker variations. Tannoy's sleek "lifestyle" Highline Arena series combines three of the four configurations in a flexible, ingenious design that features a groove in the enclosure's extrusion, permitting stand or wall mounting of the center and satellites. Tannoy supplies all necessary brackets and hardware for both mounting possibilities and offers optional floor stands that utilize the same mounting system. The floor-standing towers come with an integral floor pedestal and both rubber and spiked feet.
This is how our Arena 500 5.1-channel system was configured: Arena Highline 500 Towers at $1,800/pr., an Arena Highline 500 Center at $720, Arena Highline 500 Satellites at $720/ea., and an Arena Highline 500 subwoofer at $1,100. Our system price totaled $5,438 with stands for the satellites used in the rear. An Arena system can also be assembled with four towers or four satellites, plus the center and TS500 subwoofer.

System Basics
Tannoy sticks with its famed Dual Concentric point source coaxial speaker design, which has been used in the company's professional audio line and in its boxier home speakers for decades. Here it's downsized to a 4" multi-fiber paper pulp low frequency driver crossed over at 1750Hz to a " titanium dome tweeter featuring a neodymium magnet system." Tannoy claims the driver ". . .generates a spherical wave front unaffected by energy loss at the crossover frequency in either vertical or horizontal planes. . ." so that the whole family gets "the full home theater experience," not just the fat guy in the sweet spot.
Of course as everyone knows, there's a price to be paid for any "perfect" solution, and with coaxial drivers the usual downside is interference caused by the tweeter's placement within the woofer cone. We'll see what the measurements show!
The tower, center and satellite speakers all use a 4" mid/woofer in addition to the concentric driver. The center and satellite claim a frequency response of 85Hz to 54kHz, while the tower version is said to extend LF response to 75Hz. Tower, center and satellite claim efficiency of 88dB, and all use sealed enclosures.
The high gloss black finish (the system is also available in silver), produced by multiple layers of electrostatically applied paint, each hand sanded and polished, was, as the brochure claimed, "sumptuous, deep and mirror-like." And free of ripples or other imperfections.
Given the frequency limitations of the satellites, center and towers, Tannoy's compact and graceful TS500 subwoofer has plenty of work to do. Its handsome design is among the most flexible you'll encounter. It allows for three placement orientations thanks to multiple inserts, into which you can put extenders and spikes: "low profile," "portrait" and "landscape." Two positions are "low profile," in that the 12" driver fires downward, with each offering a different top surface and orientation of the inputs and controls. "Profile" saves space by placing the unit vertically with the woofer in side or front firing mode. It too is a sealed box design.
Even the controls are stylish, should you wish to orient the sub to show them. They consist of volume, music/theatre, continuous phase and LFE mode ("on" bypasses the internal second order low pass filter, "off" let's you adjust the setting from between 50Hz to 150Hz).
A continuously variable bass contour control labeled "music/theatre" helps optimize the subwoofer's extension and upper bass response for both uses. I found a midpoint that worked well for both and left it there.
However, the user instructions are puzzling to say the least! They suggest that if you wish to use the sub's internal crossover you should configure your processor/receiver for "large" speakers and then use the sub's crossover to set its high frequency cut off. But why would the manufacturer suggest putting full-range frequency response into 4" drivers? Perhaps an explanation will be included in a manufacturer's comment. I chose LFE "on" and crossed over to the sub at THX's recommended 80Hz setting for obvious reasons. [Tannoy's fact-check of this review acknowledged the error in the user manual, and stated its intent to change the speaker setting recommendation to "small." –Ed.]
Setup
The pair of towers flanked my "old school" CRT RPTV, while the center sat atop it, cradled in a curved holder that made aiming it toward the listening position easy. The sub went into its usual position near the front left room corner, and the satellites, attached to the optional stands, fired toward the listening position from either side of the couch.
Once the system was in place, the thin black towers made a handsome, modern and not at all obtrusive statement in the room. The speakers do not include a low frequency contour switch, but given the satellite and center's 75Hz low frequency limits, boundary reinforcement probably won't be an issue on-wall. A few weeks of listening took place before I found out the system's price, which, surprisingly, turned out to be quite close to the far more massive, "driver intensive" NHT Classic system I recently reviewed, which sells for $4,350 complete with electronic crossover and two digital amplifiers. (Or $3,200 without electronic crossover and digital amps.) Adding an NHT powered subwoofer brings the price up to $4,050.