Super Audio CD Goes Surround Page 2
And to ensure that only the audio elite would sample their wares, Sony, along with a handful of high-end companies, initially produced nothing but expensive two-channel-only players. (We reviewed Sony's $5,000 audio-only two-channel SCD-1 in September 1999, its $1,500 two-channel DVP-S9000ES SACD/DVD-Video player in January 2001, and the first multichannel model - the $2,000 Philips SACD 1000 SACD/DVD-Video player - in April.) This strategy appears to have paid off, since the audiophile press has fallen in lockstep behind the format.
But Sony recently announced some inexpensive multichannel players, including two SACD/DVD-Video players as part of its home-theater-in-a-box Dream System line and three SACD/CD five-disc changers. In all, it plans to have more than a dozen SACD products out by year's end. And Sony Music has come out with a handful of multichannel titles with the mainstream in mind, including James Taylor's Hourglass, Miles Davis's seminal Kind of Blue, Billy Joel's The Stranger and 52nd Street, a Mozart album by Midori, Celine Dion's All the Way, Jeff Beck's Blow by Blow, Earth, Wind & Fire's Gratitude, and the Titanic soundtrack. Such Boomer classics as Meat Loaf's Bat Out of Hell, Michael Jackson's Thriller, and Boston's first album are rumored to be among the early releases.
While the format allows for discs that contain a CD layer for compatibility with existing CD players, all of the stereo and multichannel titles from Sony Music - in other words, the ones most people would want to hear - have been on single-layer discs that contain only a high-resolution recording. Of course, these discs will play only on SACD players. (Along with hybrid SACD/CD and single-layer SACD-only discs, the format also allows for dual-layer SACD-only discs that can hold almost 9 gigabytes of high-resolution music, although no albums have been released in this form.) The currently available hybrid SACDs are all from audiophile labels like Telarc, Chesky, Delos, and dmp.
While SACD players have digital outputs you can use to listen to traditional CDs, you have to use the analog outputs to play both stereo and multichannel SACDs. One of the more curious consequences of copyright paranoia, this diversion in DSD's direct stream prevents you from maintaining an all-digital signal path from your player to your receiver or preamp - a situation that isn't likely to change anytime soon.
Along with multichannel and stereo music, SACDs have an optional data area that can accommodate text and graphics. None of the SACDs released so far have taken advantage of this capability (presumably to avoid offending high-end sensibilities), and none of the labels supporting the format have plans to use it - which is just as well, since Sony's SACD/CD players don't have a video output that would let you watch the extra content anyway. Most SACDs do display the disc's title, artist name, and track information on the player's readout, however.
SACD & DVD-Audio: What's the Difference?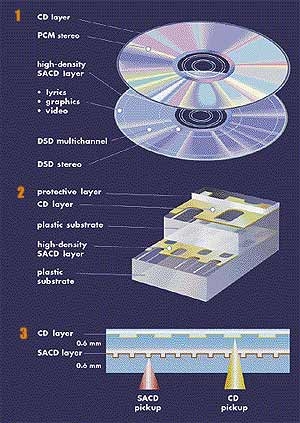 Hybrid SACDs revealed: 1. The discs, which can play on all existing CD players, have both a CD layer and an SACD layer. 2. The disc's structure. 3. How an SACD player uses separate lasers to read the layers.
If a lot of this sounds familiar, it should. DVD-Audio offers many of the same things SACD does: higher resolution than CD, multichannel playback, and extra content like liner notes, lyrics, photos, and video. And what differences there are between them are for the most part subtle.
The most obvious difference is that, like its DVD-Video cousin, DVD-Audio relies on PCM technology, while SACD uses DSD. Whether this leads to significantly better sound has yet to be determined. You'll hear people from both camps shouting that the other format doesn't have what it takes to succeed the CD, that its higher resolution doesn't go high enough. Some will even tell you that the other format is fatally flawed. Since both SACD and DVD-Audio have the potential to offer spectacular multichannel sound, though, you're best off ignoring the more rabid orators, listening to the discs for yourself, and making up your own mind. You'll be as far ahead as anyone else in the debate.
---
LATEST VIDEO