Sunfire TGM-100 Page 2
PERFORMANCE
The system fires up with an attractive home screen GUI offering four selections: Music, Movies, Disc, and Now Playing. Selecting Movies or Music calls up an alphabetized grid of either DVD or CD cover art. (Choices can also be presented in a more straightforward list view.) Music can be sorted by album, genre, track, year, or era (decade), while movies can be browsed by title, actor, director, rating, or year. I really liked that each movie title was superimposed on its cover art, and that highlighting a title displayed both rating and running time. Selecting a film brings up a box with more details, like a synopsis and cast and director information.
While music begins playing almost instantly when you select it on the TGM-100, movies take a couple of seconds to start and play, and they show trailers, warnings, and the DVD menu - exactly as if you'd simply inserted a disc into a regular DVD player. (The Kaleidescape Mini System that I reviewed in the October issue can skip immediately to the film's beginning.) Since AnyDVD rips disc data in its entirety, without compression, bonus materials and features are also retained.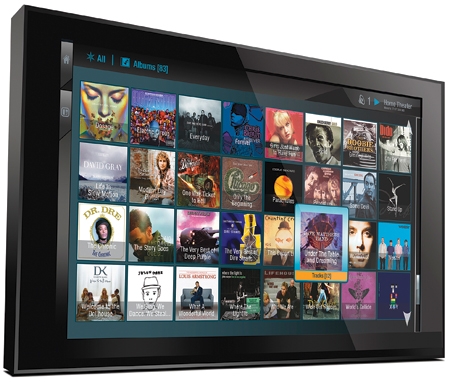 Navigating the system was very intuitive, and in no time I was bouncing around and sampling different selections: a song from the Beatles' Love, a scene from August Rush, some Insane Clown Posse, then Miles Davis, followed by a light-saber fight from Star Wars, Episode III: Revenge of the Sith. To me, this freedom to quickly sample from your personal media smorgasbord is the server category's greatest strength. Gone is the hassle of getting up, finding discs and sticking them in a player. Creating music playlists was also a breeze, with the GUI making it easy to play all songs within an album, artist, or genre category, or to add individual tracks to the Now Playing queue.
Sunfire also sent me a 10-inch Elan Via!Valet Touchpanel controller ($2,200) to use for this test. One of my complaints with music servers is that you generally have to turn your TV on to make a selection, but the Via!Valet Touchpanel provided a terrific way to browse music or movies without firing up the TV. The interface looked and behaved just like the TGM- 100's GUI. Instead of up/down/left/right scrolling, you simply touch the album art to select it - very intuitive and cool.
Importing DVDs averaged around 30 to 35 minutes, while CD ripping took roughly 4 minutes. You can play a disc without importing it, or enjoy something already ripped while an import is happening. CD and DVD recognition was generally spot-on, though it failed to recognize John Mayer's Continuum and classified The Empire Strikes Back as the entire Star Wars Trilogy. Fortunately, metadata can be edited either from the onscreen interface or by using the Web GUI.
I loved that the TGM-100 let me both export and import music - something that the Kaleidescape Mini System can't do. I have a large library of DRM-free digital songs residing on my PC, and the ability to just drag that music into or out of the Sunfire across the network without needing to re-rip was a great boon.
Checking out the Silicon Optix HQV Benchmark DVD to judge video deinterlacing and scaling performance, I found that the TGM-100 stumbled on many of the jaggies patterns, but I never noticed any problems during regular use. Even with video-based DVDs like Seinfeld and Spin City, the Sunfire's upconversion looked seamless, detailed, and stable.
Feature-wise, the TGM-100 is missing a couple of things that I like to see in a media server. There's no form of parental control. (Sunfire plans to add this feature in a future software update.) Also, there's no way to bookmark favorite scenes or to instantly resume a paused movie once you've exited to the Home Screen. Last but not least, there's no Blu-ray Disc support.
BOTTOM LINE
The Sunfire TGM-100 does exactly what you'd expect from a media server: provide a terrific storage and management solution for your music and movie collection, with an attractive GUI for browsing through it. And it also offers a slick touchpanel option to interface with Elan systems. The TGM-100 does come with several caveats, though, including no favorite scenes, no parental controls, no simultaneous A/V output options, and the need to install - and manually update - its required third-party DVD decrypting software. But at $2,000 less than Kaleidescape's Mini System, it will prove to be an attractive option for many, especially owners of Elan whole-house distribution systems.