Sunfire TGM-100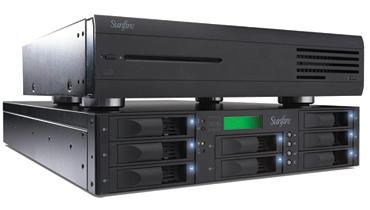 Key Features
$6,500 ($8,950 as tested) SUNFIRE.COM
• TGM-100 server rips and streams music and movies • 1-terabyte hard drive stores up to 145 DVDs or 1,600 CDs in uncompressed WAV format and supports up to 7 simultaneous streams with optional TGM- 100C clients ($3,000 each) • Connections: HDMI, component-, composite-, and S-video; DVI (for use with Elan touchpanel controllers); optical and coaxial digital and analog stereo audio; LAN, USB, and eSATA; RS-232 serial port, minijack IR input • Requires purchase and installation of third-party decrypting software for DVD ripping Dimensions • Weight TGM-100: 17 x 123?4 x 33?4; 23 lb
Living in the Google age, we can't be bothered to hunt around for a missing CD or wait for a DVD to load; we want access to all of our media, and we want it now!
With its ability to store and serve all of your movies and music, a media server makes the perfect delivery vehicle - it's like having a five-star concierge managing your collection. However, due to DVD copyright concerns, only a few models have been released, and the ones on the market are prohibitively expensive.
When Sunfire announced the TGM-100, the company's first foray into the server realm, I thought it looked interesting - but also expensive. However, a recent 35% price drop to $6,500 suddenly made it far more attractive and affordable. Perhaps Sunfire's TGM-100 will be the catalyst that gets more people to join the disc-less revolution.
SETUP
For all their technological intricacy, media servers install like any other component: Once you make the A/V and broadband Internet connections, you're basically done. For the most part, the Sunfire server doesn't stray from this trend.
All the usual video connections are present, including HDMI and component video, but the DVI output is slightly unusual. The TGM-100 was designed to dovetail with Elan whole-house A/V distribution systems, and its DVI output feeds video to Elan touchpanel controllers. (Elan is a sister company of Sunfire's, and if the link wasn't apparent, both the TGM-100's Web and touchpanel graphical user interface say "Elan.") Making this connection also requires the TGM-DVC adapter ($250).
I was disappointed to find that the Sunfire's various A/V outputs aren't all simultaneously active. Depending on how you plan to use the system, this detail will either be inconsequential or a major bummer. For example, if you do use the TGM-100's DVI interface with Elan touchpanel controllers, its HDMI output is defeated. HDMI provides a sharper, more detailed 1080p image, and it is disappointing that this system configuration would force you to step down to component video.
The TGM-100's handling of audio presents another potential hiccup. It can output surround or stereo signals, but not both. When "surround" is selected in the setup menu, 5.1-channel Dolby Digital and DTS bitstreams are available, but the system's analog outputs, which are used for many house-wide audio distribution systems, are disabled. Selecting "stereo" activates the analog outputs, but 5.1 movie soundtracks are also downconverted to a 2-channel format in that mode. One saving grace here is that the Sunfire has discrete control codes for switching between stereo and surround, allowing a user to remotely change modes as needed. But a better solution would be to purchase additional TGM-100C client players ($3,000) dedicated to specific zones or whole-house distribution. (The system supports up to seven simultaneous zones.)
Aside from a Disc eject and Power button, the TGM-100's front panel is devoid of controls. As a custom installer, I like the slot-loading DVD drive, since a disc tray to me is one more moving part that can break. A bright blue LED indicates power, and a green one denotes when a disc is loaded in the drive.
My review system included the TGM-HD1 ($580), a 1-terabyte drive that connects directly to the server via an included eSATA cable. This RAID 1 drive stores about 145 DVDs in a fully redundant backup in case one drive fails. CD storage capacity depends on import quality, with choices that include uncompressed WAV, MP3, or WMA. When the uncompressed WAV format is used, the TGM-HD1 can hold roughly 1,600 titles. Additional 1-TB drives cannot be added to the system. Expanding storage requires adding the TGM-HDC Theater Grand Hard Drive chassis ($6,400) and either the 3-terabyte TGM-HD3 ($2,700) or 6-terabyte TGM-HD6 ($7,200) hard-drive systems. These drives sit on a gigabit network, thus not requiring direct connection to the TGM-100.
While the TGM-100's connections are all straightforward, getting the most out of it requires some additional work that will likely require an installer. To quote from the owner's manual: "The system, as shipped, will only record unencrypted DVDs. Encrypted DVDs require the installation of thirdparty software. Please contact your installer for more information."
This essentially means that the system won't rip any DVD until additional software is installed. Asking a customer to contact the installer plays a bit of legal pass-the-hat. Ripping DVDs by breaking the decryption is illegal, and in the - albeit incredibly improbable - event that the F.B.I. comes knocking, is the company that sold the system, the software installer, or the system owner responsible?
Sunfire's "recommended" software is Slysoft's downloadable AnyDVD, which costs 64 euros (about $89) for a version that includes lifetime updates. Actually installing the software requires placing the TGM-100 into "engineering mode" and connecting both a USB keyboard and a mouse. Once installed, AnyDVD runs in the background and is totally transparent to users. One potential snafu here is that the TGM-100 can't automatically update AnyDVD because it's a third-party application. But as new DVDs with different types of encryption come out, the software is going to require updates - something that must be performed manually by returning to engineering mode. (For the record, my review sample came with the software pre-installed, so don't send the Feds to my house!)