Studio Electric Type Two Speaker
If you've ever seen photos of the 1939 New York World's Fair, you might recognize the inspiration for these Art Deco-esque speakers from American boutique maker
Studio Electric
. With a design based on the Trylon and Perisphere, two signature buildings at the fair, the Type Two is handcrafted from stainless steel and aluminum by master metalsmith
Josh Stippich
.
The highs are reproduced by a 0.75-inch silk-dome tweeter at the mouth of a tapered waveguide, which is mounted next to a spherical enclosure housing a 6.5-inch copolymer midrange driver with a very wide frequency range from 48Hz to 4kHz. This duo is also available separately as the Type One for smaller rooms and "bookshelf" applications.
At the base of the slender, non-ported tower is an 8-inch treated-paper cone woofer. It operates only in the range from 34 to 90Hz with a strong crossover rolloff starting at 60Hz to avoid excessive overlap with the broadband midrange.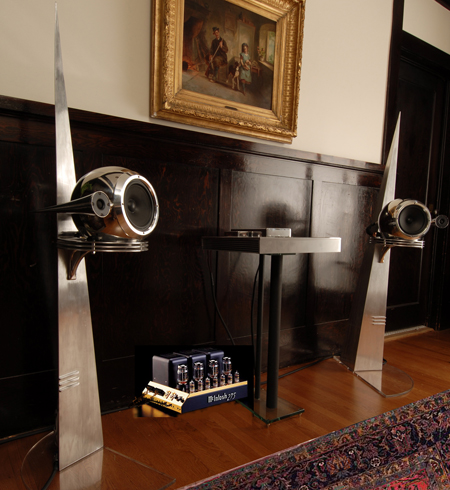 Within a ±3dB tolerance, the Type Two's overall frequency response is specified from 39Hz to 18kHz; if the tolerance is widened to ±6dB, the response extends from 34Hz to 24kHz. And the price? $16,500/pair—not bad for beautiful metal sculptures that also serve up aural art.