Streaming for the Masses Page 2
Like Netflix, you'll need a computer to activate your device and set up an account. The user interface is easy to learn and includes a wide variety of ways to find a movie to watch. There are buttons for Featured, New, and Recommended titles, coupled with a search function. When you click on a movie, you'll gain access to the trailer, along with an overview with the Rotten Tomatoes Tomatometer, VUDU Community rating, information about the cast and crew, links to reviews, and even a Wikipedia page.
VUDU is a pay-as-you-go service, and it's a great value. You can rent its standarddefinition movies for as low as $1, HD titles at 720p resolution for $4, and $6 for a full HD experience (VUDU calls it HDX) with 1080p video and Dolby Digital Plus soundtracks. Also, as the company announced at CES 2011, VUDU will be the first service to offer 3D streaming for a $1 premium over its HDX downloads.
Once you rent a movie, you have 48 hours to watch it as many times as you'd like. If you want, you can purchase a movie from VUDU starting at $9.99, and it will always be linked to your account to watch at any time. Unfortunately, the video quality for purchased movies is strictly standard definition. Frankly, if you like a movie enough to purchase it, you'd do better to skip the download and buy it on Blu-ray.
The quality of its video feed is what sets VUDU apart from its competitors. The HDX feeds have outstanding depth and detail, with minimal compression artifacts. In fact, if it were delivered at suitable network speeds, I would be hard-pressed to tell the difference between a VUDU HDX download and a Blu-ray on a 50-inch display—it's that good. As viewed on my front-projection setup (76.5-inch-wide screen with a JVC DLA-HD1 1080p projector), Blu-ray definitely looks better, but the margin is closer than many people would like to believe. VUDU's 720p HD feeds are superior to what's found on Netflix and offer 5.1 audio on many titles. Standard definition looks about how you'd expect it to look—ugly.
Amazon VOD: The Online Retail Giant
Amazon.com is one of the pioneers of e-commerce. In the 15 years since its inception, its sales have surpassed $25 billion. As one of the largest sellers of DVDs and Blu-ray Discs, you wouldn't expect the retail giant to sit on the sidelines and let its competitors take over the streaming applications market without a fight.
Its first foray into streaming started on computers but has migrated to a wide variety of devices such as TiVo, Google TV, Roku, Blu-ray players, Xbox 360, and select HDTVs. If you already have an account at Amazon (who doesn't?), setting up your compatible device is a matter of entering your user name and password in order to link it to your account. Any rentals or purchases you make will be billed to your credit card through Amazon.com. In late February, Amazon also announced unlimited Amazon VOD downloads, some 5,000 movie and TV show titles, to all of its Amazon Prime customers—those who pay $79 annually for free and discounted shipping of other purchases. Otherwise, Amazon Video On Demand is a pay-as-you-go service, with catalog SD movies starting at $1, new-release SD at $4, and 720p HD films for $5.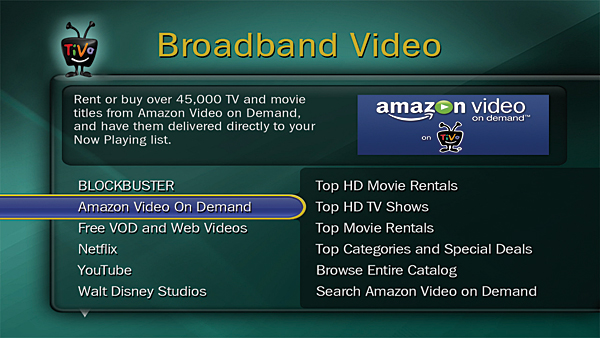 If you own a broadband-connected TiVo device (Series 2, Series 3, HD, or Premiere), the service lets you download the title to your Now Playing section in lieu of streaming. Most titles include 5.1-channel audio, which is always a plus. If you download a movie to your TiVo, it will be stored there for 30 days or until you press play. Once it starts, the 24-hour viewing window begins. You can purchase a movie if you want, but only SD content is available.
I downloaded an episode of Dr. Who in HD and found the quality to be very good. Daytime scenes exhibited adequate depth and detail, with only occasional pixilation. The show appeared in my Now Playing list about two minutes after I purchased it, and I could start watching it even though the download hadn't completed.
Blockbuster On Demand: Can It Adapt?
Blockbuster was the dominant player in the brick-and-mortar video rental business for nearly 20 years, but market dynamics over the past five years forced the company into bankruptcy in September 2010. It couldn't compete with Netflix and Redbox and is in the process of closing hundreds of stores; those that remain are spread few and far between.
Unlike Netflix, Blockbuster On Demand isn't tied to its through-the-mail service and acts as a standalone business. There are no subscription fees; it's a pay-as-you-go service that lets you rent or purchase movies (purchases are limited to SD titles). You'll find the service on TiVo, various HDTVs, Blu-ray players, mobile devices, and Windows computers (sorry, Apple).
The key benefit of Blockbuster On Demand is that its business model is heavily geared toward new releases, and it can stream most titles the day they hit DVD and Blu-ray. (With Netflix and Amazon VOD, you need to wait up to 28 days on some titles.) You can rent or purchase movies from your compatible device, and you have up to 30 days to view a rental and 24 hours of viewing time once you hit play. Movies start at $2 for an SD rental. 720p HD rentals are $5, but the audio is limited to stereo. Its HD streaming quality is on par with Netflix but doesn't come close to offering the audio and video quality of VUDU's various HD offerings.
Hulu Plus: The Networks Fight Back
Hulu is a partnership of NBCUniversal, News Corp., The Walt Disney Company, and Providence Equity Partners. It started as a free (and legal) online video service that offered a selection of hit shows, clips, and movies from more than 225 content companies through an advertising-supported model.
Hulu Plus evolves the service to the next level—an $8 monthly subscription with greater benefits. First, it allows users greater access to its content by providing streaming options to devices other than your home computer, such as Apple's i-products (iPad, iPhone, etc.), Sony's PS3, Blu-ray players, Roku, and HDTVs with a 720p video feed and stereo audio. It includes access to all current-season episodes of 45 popular shows such as Modern Family, The Office, and Glee, plus full-series runs of over 90 past TV hits. While other services can claim the latter, Hulu Plus' network partnership lets it show current TV shows 24 hours after they air on TV.
I sampled the video feed through a PS3 and found the quality to be equal to Netflix and Blockbuster's offering. I'm not as picky about the audio on TV shows, but it would be nice to see Hulu Plus upgrade to 5.1 at some point in the future.
iTunes with Apple TV: Controlling the User Experience
Apple TV is a crossover product that's both a hardware platform and a means by which to access iTunes Store videos directly from your family room without the use of a computer. The current device has an extremely small form factor (about the size of your palm) and lets you use your HDTV to view photos, play music, and watch video streamed from iTunes, Netflix, and YouTube.
What sets Apple TV apart from other hardware devices is its slick user interface. In the Apple tradition, it's extremely well organized, easy to read, and about as userfriendly an experience as you'll ever encounter. You can search by top movies, title, or genre. You can read a movie review from rottentomatoes.com or check out the trailer, all with the push of a button. If you find something that strikes your fancy, press play. The streaming process will begin, and your iTunes account will be charged. Your show will start to play within seconds.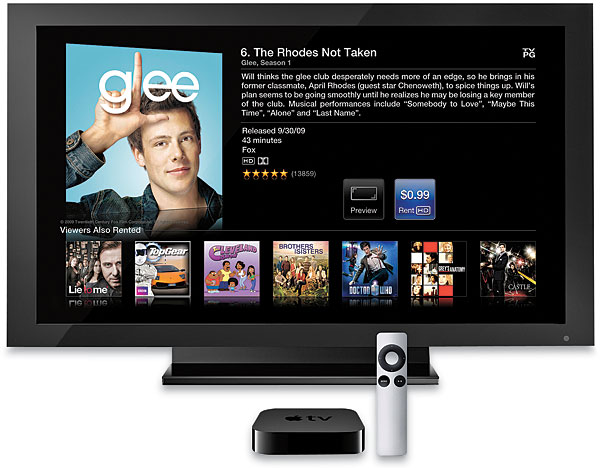 TV shows run a buck an episode, and standard-definition movies check in at $3 each. HD titles are available for $4, and most titles include 720p video and Dolby Digital 5.1 audio. Like Amazon VOD, once you rent a title, you have 30 days to watch; but once you hit play, there's only a 24-hour viewing window. Another plus to the Apple TV is its Netflix interface, which rivals that of the PS3, although it lacks 5.1 audio.
Conclusion
There are plenty of other streaming options out there that I haven't covered, including YouTube, CinemaNow, Qriocity, Xbox Live, and the PlayStation Network. While each of these options has its place in the streaming world, they pale in comparison to the majors covered here. If you're looking to dump your cable or satellite provider because your monthly bill is as high as Ghana's gross domestic product, you can save quite a bit of money every month by jumping onto the streaming bandwagon. My recommendation: Get a PS3 to enjoy stellar Blu-ray performance and gain access to my three favorite streaming options: Netflix, VUDU, and Hulu Plus all for under $20 a month. It may have taken more than three decades, but the first promise of the VCR—"Watch what you want, when you want."—is finally coming true.