Steve Forbert Makes No Sonic Compromises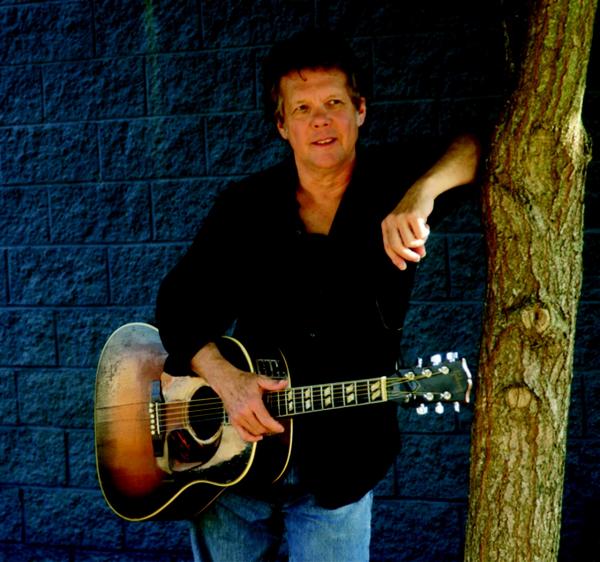 The songwriter's songwriter is one who adheres to an unwavering standard of excellence. His work is honed, sculpted, shaped, and then reshaped until it feels right to share with the world. These are just a few of the guiding principles Steve Forbert followed while composing the 11 original songs that appear on his new album,
Compromised.
(Rock Ridge).
"The art of making a recording a finished product is extremely sophisticated," Forbert observes. "I've put a lot of work into this album. If I had to go back into the studio and do four more takes to recut a vocal to get the right performance, I did. That's the kind of obsession that went into this. It's not a 'modern' record — it has an aggressive, roots rock and folk rock styling that's not a lot different from [1992's] The American in Me in its instrumentation."
Recorded in various locales including Woodstock and Cape Cod over a period of 8 months and produced by Forbert along with John Simon — who helmed Forbert's breakthrough sophomore album, 1979's Jackrabbit Slim, featuring his indelible Top 20 hit, "Romeo's Tune" — in addition to Steve Greenwell, Jon Evans, Anthony Crawford, and Marc Muller, Compromised is anything but what its title suggests. From the rambling piano and horn-driven swing of "Big Comeuppance" to the seductive twang of "Devil (Here She Comes Now)" to the Altamont romanticizing of "Welcome The Rolling Stones," Forbert has followed his muse to the hilt. Stripped-down Americana versions of three of its songs appear as bonus tracks, plus a stirring take on "You'd See the Things That I See (The Day John Met Paul)," an especially poignant song given how John Lennon is always at the forefront of our thoughts at this time of year.
Forbert, 60, and I got on the phone recently to discuss the art of songwriting, how you know when a song sounds as good as it can sound, and how to keep challenging yourself creatively. Come on out beneath the shining sun and let me hear you say everything's alright — and that I won't have to reassess my research in the middle of the day. (No big comeuppance needed here, you see...)
Mike Mettler: To me, the collection of songs on Compromised shows a career songwriter doing his thing by bringing forth the kind of material people want to listen to coming from your pen and your guitar.
Steve Forbert: There really aren't any hit songs until you make the right recordings of them. A recording is a "demonstration" of a song for people. And in this world today, there's such a rare, small group of people who can affect you by a song just played on guitar, like the way that guy Ed Sheeran does. If somebody was sitting around at somebody's house singing, oh, "1979" by The Smashing Pumpkins on a cheap guitar, I don't know if you'd say, "What are the chords to that? Let me learn that song."
Mettler: The inspiration has to be realized in just the right way to spark something in the listener.
Forbert: For me, if you have the inspiration, then you have to make the commitment to getting the song as good as you know it should be. It is about the song, but the song is about the inspiration to me. Of course, anybody can write a song. A lot of things come out of Nashville, for example. I'm not going to go on about it, but everybody knows they don't all sound particularly inspired.
Mettler: Right. When do you know the song is good enough, in your mind?
Forbert: That's an ability that I have. Any good songwriter we might mention has that built-in barometer where you say, "OK, I'm happy with it." The cat is in the bag. The ears are in, the tail is in, and sometimes writing and finishing the song means you've got your case before the jury, and you're ready to present it Friday morning. You've got your evidence, you've got your witnesses. You want it to be in and of itself convincing.
You have your barometer with a song. When you think you're done with it and it's ready to present to people, then you're confident in it. And then you have to come up with a recording of it. I've been through it many, many times, and hopefully, this album will merit people getting excited about it and listen to it, and end up caring about it.
It's real tough out there, man. I don't have a lot of illusions, Mike. I mean, I'm 60, and there's been so much change since the digital revolution. I don't just look at it like, "Well, it's f---ed up the whole record business." It's changed everything, period.
I do think we're dealing with more intense experiences because of the digital revolution. We have so much intensity in the air now — the cliché of so much information. It's tough, but you have to say, "You're 60 now. Do you feel like you did when you were 35?" No. You know what I mean? Some of that is just going to happen if you're in the Western culture in any generation.
There have only been four generations since The Civil War, and that was a helluva interruption in the normal flow of things. But you have to say, "Right, hey man — you're 60." Sure, you're not going to like what you're hearing played in a Walgreens over the [sound] system. Sure, you're not going to like what you're hearing played over where I was earlier, in a Subway sandwich shop.
Mettler: You must have heard your own music played over these in-store systems over the years.
Forbert: I've heard "Romeo's Tune," period. I do hear that occasionally. I guess what I'm trying to say is, with Compromised, we went for the type of record which you still may sort of call a rock record. This record, as I've already confessed, isn't all that different from The American in Me — and I'm happy with The American in Me. I'm happy with Streets of This Town (1988), and I'm happy with Mission of the Crossroad Palms (1995). And I'm pretty happy with Strange Names & New Sensations (2007).
Mettler: Will we get Compromised vinyl at some point? Is that something you're interested in releasing that way?
Forbert: Well, of course, yes. These days, it's like, Wilco might sell a few copies of vinyl. It's more like a badge of merit. I did vinyl on the last record [2012's Over With You], and that's nice.
Mettler: For you as an artist, is there a preferred way you'd like people to hear your music at this point?
Forbert: In my opinion, it doesn't matter. I could worry about it, I could go to the lengths that Neil Young has gone to — well, no I couldn't! (MM chuckles) He's done a lot of complaining, and then he came up with his medium [i.e., Pono].What people want is convenience. That is the way the current flows.
So it would be nice to have Compromised on vinyl but no, I don't have any obsessions about that. I own thousands of compact discs, and only recently quit buying those. It's hard to find the time to enjoy them and listen to them.
Mettler: I can relate to that. So much music, so little time, as they say. One of the words I kept coming back to for Compromised is that it sounds real to me. We have real musicians playing real instruments on it, which I think is important as the basis of the songs you're singing here.
Forbert: Yeah. They could have been done with just a couple of acoustic guitars and a percussionist. At the time, I took the time with the band I was rehearsing with. The reason, Mike, was, in 2013 we did an Alive on Arrival [35th] anniversary tour, where we played that album in its entirety for a couple of weeks. And then the same group got together a year later to do [1979's] Jackrabbit Slim. At that time, I was ready to make this record. So it just seemed natural for me to say, "Ok, we're going to rehearse for this tour — and we're going to record an album too."
And the players are good. I'm totally down with Joey Spampinato on bass and Lou Cataldo on drums, no problem. It's just like you said — real musicians playing on the floor, live. And I sang those live too, as I like to do.
Mettler: So you're going to be seen live by people who know your "calling card" song, as you've called it, "Romeo's Tune." You were talking about knowing when songs are right and that you're also your best editor, You've said that you were working on "Romeo's Tune" for the debut Arrival record but it just didn't feel right for you to fit it on there, so you kept working on it until you got it right to include on Jackrabbit Slim.
Forbert: Yeah, and that all turned out — it was good serendipity. Did I become somewhat of a household word with household recognition? No. Someone wrote a book on how Leonard Cohen's "Hallelujah" took this sort of odd journey to becoming a song that most people actually know. [The book is 2012's The Holy or the Broken, by Alan Light.] These days, this record would be successful, in an objective way, if it were picked up in a TV show or movie. That would be the best-case objective.
Mettler: I look at your progression from album to album like I'm reading an author creating each next step throughout his life. You have life experience added in there that gives the listener something to follow. We want to follow your throughline to the point where we get to hear a song like "Whatever, Man" — which itself kind of ties into the title of Compromised, as I see those two things working together.
Forbert: Yeah, yeah. I can tell you, for what it's worth, I went to the trouble of going back to Woodstock just to redo the vocal for "Whatever, Man," because one of the takes we have on the record is in C. I asked my daughter about it, and she said the other take is better. She's actually pretty good with this stuff.
That's the type of thing that happened with this record. I went back, tuned the guitar, and did four takes of the vocal, and we mainly liked the last one. That's the kind of obsession that went into this.
Mettler: Obsession is a good word here. If you could describe the sound you were going after on this album, could you encapsulate that?
Forbert: Not really, because I was discovering it along the way. Once I decided on the musicians, I worked with a band I actually knew and people who were friends of mine. Us all working together — that determined a lot of it.
And in the end, Steve Greenwell was the next big factor into it, with the mixes he did. All along the way, it's not an aggressive record, but it has a little more aggressive folk-rock stylings, like Streets of This Town or The American in Me. But I don't know what I would call the overall style of it.
Mettler: The album title is pretty ironic, because it doesn't sound like there was any compromise at all with what you wound up doing on it.
Forbert: If people ask me why it's called Compromised — that's also the first song on the record, and it's pretty true to my style. I didn't want to say just "compromise." If I had to defend it, I'm 60 years old and trying to deal with all the changes we've gone through and what we live with in life today.
It's the challenge of what you're saying. You're still interested in listening to new things and hearing what older people have come up with lately, or hearing a new band. My son's telling me that Tame Impala is good, so I'll check it out.
Mettler: One of the phrases I wrote down in the margins of my notes while I was listening to the album is "the thread of acceptance," which I suppose plays into the art of compromise. We mentioned "Whatever, Man," which connects to the whole Compromised concept. What's that first line — "I'm not the only one with a world of problems / but I'm the only one with mine."
Forbert: Yeah, you're looking at a certain amount of resignation. Compromised, yeah. I guess between "When I Get to California" and "Whatever, Man," primarily speaking, those are two where I was able to interject some of my verse-long conclusions. "The Lord helps those who tend to help themselves / to more than anyone might need." That's my Bernie Sanders verse, I guess. (MM laughs)
Mettler: This is a good record for an election sequence, Steve.
Forbert: Yes. Well, we'll see if it gets beyond the expected audience.
A longer version of this interview appears on Mike Mettler's own site, soundbard.com.