State of the Arc: Curved Screens Are Here, But Why?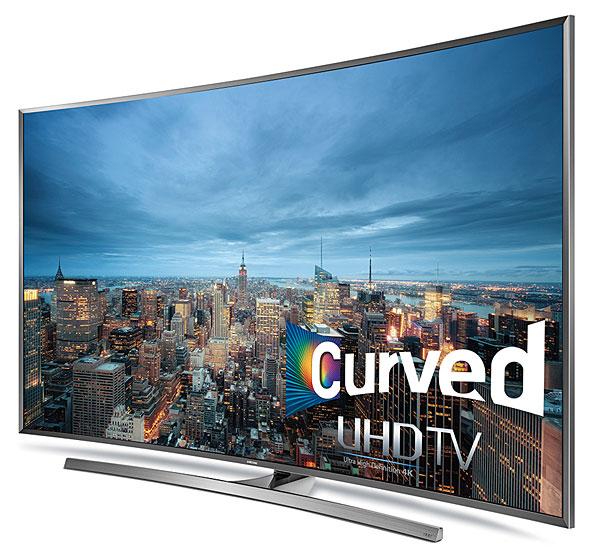 Are curved screens going to take over the world? If you walk into one of the 500 Best Buy stores featuring Samsung's impressive Entertainment Experience display area, you might think so at first glance. Stylish curved-screen TVs are front and center in the ultramodern space, displayed under glowing "Curved UHDTV" signs that beckon you to come over and take a closer look. But the reality is, curved screens are still new and account for only a tiny piece of the overall TV market. The Consumer Electronics Association (CEA) and retail sales tracker GfK project worldwide shipments of 3.4 million units this year, up from just under a million units in 2014—an impressive jump but not unheard of for a new category and still less than 2 percent of the global market.
Curved screens are so new that you can't really call the phenomenon a bona fide trend just yet, observed Paul Gagnon, director of TV for IHS Technology (formerly NPD Display-Search), a research firm with expertise in the television market. "There's a trend in that it went from nothing in 2013 to something in 2015," he said, noting that IHS expects curved TV shipments of 700,000 to 800,000 in the U.S. this year—about 2 percent of the total market. "As we look at the curved marketplace as a whole, we're curious to see if it takes root considering there is really only one proponent [Samsung] kind of creating the category."
Indeed, 2015 is shaping up to be a pivotal year for curved screens. Over the next 12 months, we'll learn whether they have what it takes to capture the imagination of a fickle TV-buying public driven largely by price. But for now, there's a more pressing question: Why curved screens in the first place? Do they bring tangible benefits to the viewing experience, or is the curve simply cosmetic?
Doubling Down
In what amounts to its most ambitious offering to date, curved screen models account for about half of Samsung's 2015 UHD TV lineup or about a quarter of all models. As of this writing, two dozen curved-screen models in sizes from 55 to 78 inches were listed on the company's Website. Most are new models, a few of which were not yet available, and all but one are 4K/Ultra HD (UHD) resolution.
So why curved? "First and foremost is aesthetics," said Dan Schinasi, senior marketing manager for TV product planning. "It's a differentiator, and it looks beautiful, but there are considerable technical merits as well. If you're at the proper viewing distance, a curved screen offers some unique advantages. It slightly increases your field of view, and there's somewhat of a correlation between field of view and immersion. The curve is very gentle—it's not like it wraps around you, but you get about a 4-percent boost in field of view. It also helps minimize stray reflections, so if you have lamps in your room, reflections are reduced, by some calculations, up to 36 percent—not insignificant.
"There's also more of a sweet spot to the TV," Schinasi continued. "A lot of folks say, it's curved so therefore it's distorted. There's actually less [geometric] distortion. We've done extensive studies with UC Berkeley to look at the perception of objects on a curved screen to discern when and if they can't be comprehended. As long as you're not at the very extremities and looking at the screen from anywhere in that sweet spot, even from the left or right side, a curved screen actually delivers less geometric distortion than a flat screen. That translates into more ideal viewing conditions." (More on this in a moment.)
Having sung the praises of curved TVs, Schinasi is quick to point out that the company also sells plenty of flat screens. "If there's a strong preference for one or the other, we have it."
Academia Weighs In
The study Schinasi refers to was conducted in conjunction with Martin Banks, professor of optometry and vision science at the University of California, Berkeley and principal investigator at the Visual Space Perception Laboratory, and Marina Zannoli, PhD, a postdoctoral researcher at the university. We contacted Banks and Zannoli to learn more about the study's findings on how a curved screen affects field of view, reflections, and geometric distortion.
Field of View. They characterized the research as a formal study that will eventually be published in a scientific journal, and confirmed that with a curved-screen UHD TV, a viewer sitting at the recommended viewing distance of 1.5 times the height of the screen will experience a slightly expanded field of view of about 4 percent and around 2.5 percent for a standard HDTV. Interestingly, "those values aren't very dependent on lateral position (sitting too far to the left or right) unless of course you're way off to the side, which no one would do," Banks explained. "The numbers also depend on the curvature of the screen. We used Samsung's current 65-inch (diagonal) screen, and the radius of curvature was 418cm [which is Samsung's standard curve]."
What does the expanded field of view mean in the real world? "We found that an increase in field of view does have a positive effect on immersion," Banks said. "Does a 4-percent increase have a positive effect on immersion? I don't know. A tad unlikely, but in the right direction, anyway."
Reflections. The question of a curved screen's ability to minimize stray reflections reveals the study's most noteworthy finding. "A nice feature of the curved screen is that it does reduce the set of positions in a room where lamp placement would reflect off the screen and into the viewer's eye," Banks said. "And that's a fairly significant effect. Even if you're sitting to the side, you still get a positive benefit. It's completely independent of position."
Geometric Distortion. The relationship between a curved screen and geometric distortion is more complicated. "We focused in the research on what's called the wide-angle distortion that people can see with widescreen panels," Banks explained. "Even though images presented on the screen may be correct in shape for a person at the recommended position, viewers tend to see objects near the edge of the screen as distorted. The critical thing is what we call the slant angle. Imagine a line coming out perpendicular from the point on the screen that we're looking at (somewhere off to the side). Imagine another line from the viewer's eye to that point. The slant angle is the angle between those lines. When that angle becomes greater than 30 degrees, perceptual distortions start to arise. When the screen is curved, the slant angle is reduced, so an object on the screen will appear to be less distorted than it would have been when viewed on a flat screen."
Curved, Schmurved
Vizio, the second largest seller of TVs in the U.S. behind Samsung, wants nothing to do with curved screens and even went so far as to produce a fake ad entitled "Revolutionary Anti-Curved Glasses" that pokes fun at curved screens. Done in the style of a hard-sell TV pitch offering "anti-curve glasses [that] turn your curved TV into a beautiful flat screen," the ad opens with a man holding his head and grimacing while a voiceover asks: "Is your new curved TV causing you frustration?" The video logged more than 205,000 hits in three months.
John Hwang, director of product management, HDTV, explained: "We wanted to point out in kind of a humorous way some of the things we think of and have experienced with curved screens to kind of send a message to consumers that says, hey look, our focus is to improve the overall experience, and we feel from a Vizio viewpoint that curved TVs do not do that."
In making the argument against a curved screen, Hwang said, "The most obvious thing you don't see is a uniform image. Even from a front view, you're not seeing a rectangular-shaped screen—it's kind of bowed at the top and bottom, and when viewed from different angles the picture gets distorted pretty massively in a nonuniform way. Even with a flat screen, if you go off angle, you're skewing the image, but you're skewing it in a more natural perspective as opposed to an unnatural curved perspective."
Hwang also takes issue with the often-heard statement that a curved-screen TV can deliver a more immersive experience than a flat-screen set with the same screen size. "Unless we're talking about an extremely large IMAX-like screen, the curve doesn't really deliver the whole immersive experience that's promised by some manufacturers." He also claims curved-screen sets that use full-array direct LED backlighting—which Vizio is introducing across its entire lineup—exhibit "some extremely strange moiré effects. We're curious to see if some of the competitive products incorporate technology that solves this."
A Happy Medium
At LG, which holds the number three position in U.S. TV sales, curved screens are reserved for its growing line of OLED TVs, which comprises five new UHD OLED models with screen sizes from 55 to 77 inches.
"For us, curved is a great way to show off the attributes of OLED, which is a totally different technology [than LCD] with perfect black levels and vivid colors," said Tim Alessi, director of new product development. "The other thing about OLED is its extremely slim form factor, which enables us to do different things with design. Our first OLED, you may recall, had a clear crystal base. The overall aesthetic was very attractive. Our belief is that if you want a curved screen, the best way to experience that is with an OLED TV because of its superior viewing angles. There are no sacrifices in picture quality when you curve an OLED."
Although LG makes curved LCD TVs, it does not sell them in the U.S. "We decided to keep our regular LCD lineup all flat," Alessi explained. "There are some downsides to curving a TV screen—with reflectivity, with viewing angles, especially with a non-IPS (in-plane switching) screen [IPS panels provide a wider viewing angle than the VA, or vertical alignment, technology used by Samsung]. We've done a lot of side-by-side comparisons between our curved OLED and some of the competitive curved LED screens, and there are distinct differences in picture quality, especially when you get a little bit off axis. OLED doesn't have the narrow sweet spot like an LCD does.
"If you were to compare an OLED and LCD side by side, both curved, the superior black level and viewing angles of OLED is what's going to strike you right away, even if you get just a little off axis," Alessi continued. "Now, if you were to do detailed measurements, it may come out that the color accuracy is better as well. When you curve an LCD, you're taking something that was meant to be flat and curving it so there's the possibility of misalignment and light going through adjacent color filters simultaneously, which means color may not be as accurate, whereas OLED makes its own light, so you don't have any of those issues."
Like many, Alessi sees aesthetics as the primary benefit of a curved TV screen. "If you read a lot of the reviews, for example, I think the general consensus among the expert community is that a curved screen doesn't really add anything to the picture, and most people seem kind of happy that it doesn't detract from it as much as they thought. So I think it's mainly an aesthetic thing. When you get to the larger screen sizes, there is an immersiveness of the picture that appeals to some people. It does kind of draw you in a little bit, especially when I see our 65-inch OLED, but it's more of a personal choice."
What About Sony?
How about Sony, which introduced the first curved-screen TV in 2013 but has since pulled back on the category. What's its current stance on curves?
Taka Fujita, vice president of home entertainment, said in a statement: "There are benefits to curved TVs and benefits to flat TVs. While Sony was the first to introduce a curved TV to market and does now offer a curved model in other regions, we do not currently plan to carry these models in the U.S. We look at each market individually and determine our product offerings accordingly. In the U.S., most people tend to hang their TVs on a wall, so an ultra-thin [flat] TV integrates better into the American lifestyle. Sony will continue to evaluate the market and will consider introducing curved TVs again in the U.S. when we think the market conditions are appropriate."
The Big Push
Samsung has come out swinging and appears intent on building a market for curved-screen TVs, leaving some industry pundits to wonder if there's more to the story than the obvious desire to be different.
"I think Samsung is looking to continue to cement its position as the premium TV brand," observed Stephen Baker, vice president of industry analysis for the NPD Group, a top-ranked market research firm specializing in consumer electronics. "The curved screen is an upsell on a big screen—an enhancement for that really big television." TV manufacturers operating in a competitive market are looking for ways to prevent 4K from becoming commoditized as prices come down, Baker noted. "I think it's an industry-friendly way to maintain some kind of premium in pricing."
IHS's Gagnon has another theory.
"OLED has been a topic of great interest by both Samsung and LG. Both companies have been talking about it as the next generation of display technology for many years. I think it's quite clear at this point that LG has figured OLED out with their solution, but for Samsung, it's back to the drawing board. So rather than cede new technology to LG, they've become one of the leaders of being able to do curved LCDs. And, oh, by the way, it's quite difficult for LG to curve LCDs because of the IPS panel technology they use."
Meanwhile, Chinese brands, such as Hisense and TCL, have curved screens on their 2015 product road maps but are waiting to see how curved plays out in the marketplace before fully committing, Gagnon said.
Convincing consumers to pay the higher price commanded by curved screens is a huge challenge, he added. "From our point of view, we see the curved attribute as being more related to design and aesthetics than an improvement in consumer enjoyment. And as a result, it's subject to things like fashion, and you know fashion is in the eye of the beholder. It's tough to ask the consumer to pay 300 bucks more for this TV that has a fashionable attribute."
But Schinasi said price premiums are not "quite that black and white." The higher pricing on some of Samsung's curved-screen TVs is not just for the screen. "It's also for the step up to 4K in many instances and the TV performance itself—the backlight performance, which contributes to brightness and color accuracy."
Another factor is the material cost of curved panels. "We know curved panels themselves carry a roughly 20 to 30 percent premium," Gagnon noted, "which leads me to believe Samsung is not making much money on curved sets."
Curved Here to Stay?
"I think curved screens will have staying power," said Brian Markwalter, senior vice president of research and standards for the Consumer Electronics Association, producer of CES, the world's largest consumer technology show.
"It's definitely differentiating and attracts some attention. I think we'll see combinations of improved display characteristics and form factors. We saw a 65-inch curved OLED at 2015 CES that weighs 35 pounds. That's a pretty stunning form factor, and the picture is better than what most consumers have."
NPD's Baker thinks it's too early to tell whether curved TV will prevail but said, "My gut is that it has more legs than 3D. Whether or not it really adds value, I'll let consumers decide if they see a value proposition there."
"I have a difficult time saying curved—a design-related attribute—is something you can capture a premium for in the market," said IHS's Gagnon, but he acknowledged that it's still too early to make a call one way or the other.
Retailers we spoke with report success selling curved TVs and seem to have bought into the notion of curved screens presenting a more immersive experience. "IMAX-like" came up in conversations with Best Buy, the country's largest electronics retailer, and Indianapolis-based hhgregg, which operates 228 stores in 20 eastern states.
"The trend right now is new 4K technology, and everybody is going to the larger size televisions," said Jeff Clark, who manages sales training and management development for hhgregg, which devotes about 10 percent of its TV inventory to curved TVs. "Overall sales of curved sets are better than what we expected. And the nice thing about the screen being curved is you're able to sit in the middle and your field of vision is better. It's similar to going to an IMAX theater."
Best Buy doesn't comment on sales, but a spokesperson said "a curved TV is something many customers look for" and noted that they are "primarily part of our premium HDTV assortment. Because of this, our Ultra HD and OLED products are really the only available models that have a curved screen. For both Ultra HD and OLED, having a curved screen complements the incredible picture quality found in those TVs with an immersive IMAX-like viewing experience. Customers have always gravitated toward technology improvements that focus on picture quality, and the combination of curved screens and Ultra HD/OLED does just that."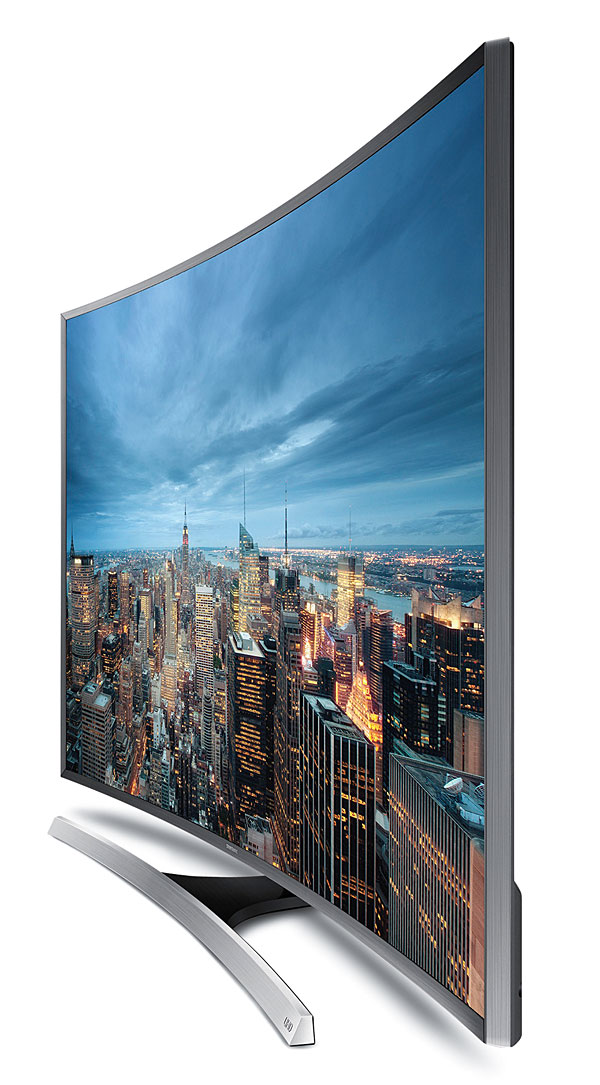 To Curve or Not to Curve
It may be too early to predict if curved-screen TVs will catch on, but we know through our conversations with retailers that some shoppers are attracted to the design aesthetic, while others have no idea curved screens exist—let alone offer subtle benefits they may or may not perceive—until they see a display or the salesperson directs their attention to one. We also know that many enthusiast readers of Sound & Vision abhor the idea of a curved screen. Will the findings of UC Berkeley's research sway them? Probably not, but we'll see. Ultimately, the success of curved TVs will come down to whether the TV-buying public relates to the modern aesthetic and thinks it can bring value to the entertainment experience. And, as LG's Tim Alessi noted, that's a personal choice.