Speaker, Speaker on the Wall Page 4
B&W FPM SystemB&W's new FPM (Flat Panel Monitor) series of speakers is probably the best example I've seen of a company trying to get into a "flat" mindset and succeeding. The series consists of the FPM 4, 5, and 6, which are designed to mate with 42-, 50-, and 60-inch plasma TVs, respectively. Each speaker model beautifully mirrors the picture-frame form factor of a flat TV, right down to its slim cabinet depth (about 4 inches for the FPM 4 and 5, and 5 inches for the FPM 6). They even come with detachable magnetic frames and grilles in three finishes: brushed-aluminum/silver, matte black/black, and "anthracite."
The FPMs don't look like B&W speakers, but all you have to do is lift the grilles and you'll see the familiar yellow Kevlar cones and dimpled ports. The system I tested comprised three FPM 5s for the front channels, two FPM 4s for the surrounds, and the ASW 675 subwoofer. Each satellite speaker can be wall-mounted, or you can buy B&W's optional stands. The build quality of the company's brushed-aluminum stands is impressive. And besides providing extremely sturdy coupling between the speakers and the tabletop or floor, they look very slick. The little ASW 675 sub, part of the company's 600 series, can be stowed away in a corner where it won't spoil the FPM system's sleek, minimalist aura.
For a slim, wall-hugging system, the B&W FPMs did a great job of reproducing the cavernous church interior in X-2. Storm's resonating voice arrived with equal strength from all sides. And more directional effects, like the sudden flight of frightened birds or the creak of a swinging lamp, had a smooth, unbroken trajectory as they panned from speaker to speaker. The ASW 675 sub lent an authoritative low end to these and other scenes. For example, when the massive Cerebro machine closed around Xavier and Logan, the shutting of its doors was accompanied by a full, muscular slam.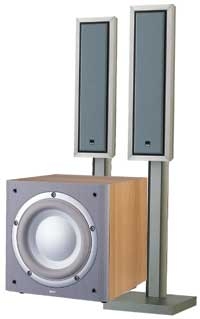 The B&W system had a surprisingly deep and larger-than-life sound for music, too. Closing my eyes, I played Mogwai's "I Know You Are but What Am I?" The soundstage was very wide for such slim speakers. I could hear a precise delineation between layers of instruments, and the bass was tight and well defined. The drums in Steely Dan's "Babylon Sisters" also had impressive dynamics and drive. On this and other songs with male vocals, I detected a slight chestiness in the lower midrange, but as with all the other speakers except the MartinLogans, it cleared up when I moved the speakers a bit out from the wall. My ultimate impression of the FPM system was that it was more forward and bright-sounding than other B&W speaker systems I've listened to, but there was plenty of family resemblance, especially in its great imaging and midrange clarity.
B&W obviously got into a flat mindset when designing the FPM series. Although the $4,650 price tag isn't cheap, the system looks elegant, mates perfectly with plasma TVs, and makes you feel like you're listening to something remarkable and new. But newness here doesn't mean compromise. The FPM satellites' performance is as about good as can be expected from on-wall speakers. And given their very slim profiles, that's an amazing feat.
MartinLogan Fresco SystemMartinLogan is best known for its towering electrostatic speakers, some of which stand nearly 7 feet tall. Given this lineage, the company's newest model, the Fresco, is a serious act of miniaturization - a speaker that has the company's distinctive technology and sound but takes up a mere 200 square inches or so of wall space. The speaker's aerodynamic looks are equally impressive. The configuration that the company sent me - five Frescos and a Grotto subwoofer - ranks as one of the most beautiful systems I've laid eyes on. These are on-walls that even an interior designer could love.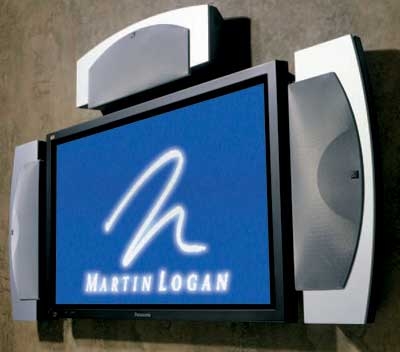 The Fresco's silver faceplate and grille proved to be a perfect match for our plasma TV (other finishes are available). The optional bracket lets you attach it to either a wall or ceiling, and once installed the speaker can pivot up to 90° to aim its sound at the listening position. Since the flexible Fresco is designed for either vertical or horizontal mounting, you can use it as a front, rear, or center speaker. A two-position switch lets you adjust equalization for on- or off-wall placement - the only speaker here that offers this feature.
The Fresco uses what MartinLogan calls an Advanced Thin Film (ATF) transducer to reproduce midrange and high frequencies. The film is coated with etched aluminum, and sound is created as it's pushed toward or pulled away from magnet arrays positioned on either side in reaction to fluctuations in an electrical current running through it. Frequencies below 500 Hz are crossed over to a pair of conventional dynamic woofers, which handle bass duties down to 75 Hz.
The Grotto sub's sculptured design makes it a perfect match for the Frescos. Like a piece of contemporary furniture, you'll probably want to keep it out in the open where everyone can see it. Among its full complement of controls is a secondary level knob that lets you boost or cut the bass at 25 Hz in 1-dB increments up to ±12 dB - useful for counteracting room modes that weaken bass response or make things sound boomy.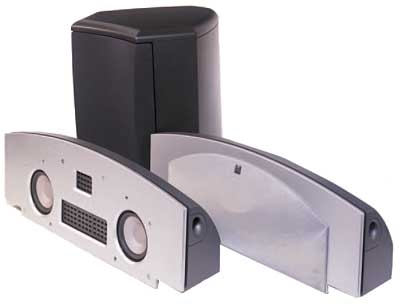 After switching the Frescos' on-wall/off-wall setting to the on position, I settled in to watch X-2. Right away, I could hear what was special about the system. In the museum scene where Jean's telepathy goes haywire, the Frescos cleanly rendered the dialogue coming at me from various angles - I could distinctly hear each voice as well as locate its position in space. And when Scott came over to help the disoriented Jean, their conversation had the same level of clarity when I moved to various off-axis positions on my couch as it did when I was sitting front and center.
The later scene in the abandoned church let me know just what to expect from the system's overall dynamics. The trajectory of the sound effect accompanying the lightning bolt Storm hurls at batboy Kurt Wagner was smooth and seamless. The Grotto sub, meanwhile, lent a dramatic heft to the impact of the lightning on the perch where Wagner hissed down at Storm.
The system's handling of X-2 boded well for its performance with music, so I wasn't surprised to hear how good it sounded on Steely Dan's Gaucho. The bass guitar and drums on "Babylon Sisters" were full and tight, and cymbal splashes sounded detailed and three-dimensional. Even though it was sitting well out in the open, the Grotto sub's smooth integration with the Frescos made it virtually disappear. And there was great coverage from the surround channels - a 360° pan of chimes used to evoke southern California's Santa Ana winds sounded seamless as it circled around me.
For its first conplete on-wall speaker system, MartinLogan has come through with something unique. Not only does it look stunning and provide a high level of installation flexibility, but its ATF mid- and high-frequency transducers deliver the kind of clarity and detail listeners have come to expect from the company's other speakers. You'll pay a good deal more for the Fresco/Grotto combination than for the other systems featured here - around six grand in all - but if you're seeking high-end looks combined with high-end performance, you won't be disappointed.
Flat-panel plasma and LCD TVs have definitely changed the home-entertainment landscape for the better. A big screen no longer means surrendering your living room to a TV the size of a baby elephant. It was only a matter of time before audio companies got hip to flat, and as this survey shows, there are plenty of great-looking, great-sounding, wall-friendly speakers available at a variety of prices. So if you're going to get two-dimensional, there's no need to stop with the TV. Get your whole home theater up against the wall.
PDF: In the Lab
PDF: Fast Facts
LATEST VIDEO