Speaker, Speaker on the Wall Page 2
Polk Audio RM7600 SystemWith their black speaker grilles, glossy black finish, and big, bad subwoofer, Polk Audio's RM7600 system looks a lot like a normal home theater rig. Aside from tapered cabinets, the main concession to two-dimensionality here was to slim the depth of the satellite speaker down to 5 1/2 inches, which makes it an inch or so deeper than most of the other models in this group.
The four RM4300 satellites and RM4600 center speaker have brackets on their back panels, which you use to attach the speakers to the wall using the included template (no additional hardware is supplied). The bracket does double duty as a Polk Power Port - a cone-shaped structure that juts into the speaker's back-firing port and helps break up the air turbulence that can cause port noise, or "chuffing."
Setting up Polk's PSW505 subwoofer was a bit more confusing than it should have been due to a seeming contradiction between Polk's manual, which suggests that you use the LFE input for a filtered signal coming from your preamp, and the sub's back panel, which labels the LFE input "Unfiltered." But I plugged into the LFE jack and experienced no problems.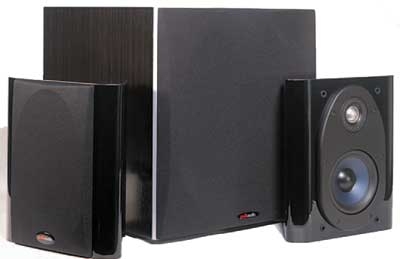 Getting on to business with X-2, I cued up a clip where Magneto is accosted in his prison cell by the ruthless Stryker. This scene really showed off the system's dynamic capabilities. First came subtle layers like piped-in Muzak, a vague ambient background rumble, and Magneto's expectant breathing, all of which were rendered with excellent clarity. In contrast to the softer sounds, a jarring, full-frequency whack of the prison guard's nightstick against Magneto's head nearly made me leap from my seat. And in a following scene where Logan enters the vault-like Cerebro, the surround speakers created a convincing environmental ambience. When all is said and done, Polk's beefy on-wall speakers can be cranked up loud without showing strain, and they don't make any undue compromises when they're used in home theater applications.
With acoustic folk songs like Richard Thompson's "King of Bohemia" (from his CD Mirror Blue), the Polk system displayed good high-frequency detail without sounding bright. But positioning the speakers near the wall gave their sound a slightly chesty quality - something that plagued all of the models reviewed here except for MartinLogan's Fresco. Squarepusher's decidedly less folky "The Exploding Psychology" showed off both the RM4300's excellent imaging and the PSW505 sub's wide range. Low-end extension was very good, and the sub generally sounded authoritative, although some overhang occasionally made the bass sound a little thick.
The most standard-looking system of the bunch, Polk's RM7600 package offers an on-wall placement option without a big sacrifice in performance. If you're inclined to avoid on-wall speakers that look or sound wimpy, this is the system for you. At $1,826, the RM7600 is also the best bargain here by a long shot, so if you've already blown a lot of cash on a plasma TV, that's all the more reason to consider it.
Sonance SilverScreen 50 SystemSome manufacturers create on-wall systems by simply reducing the depth of their standard speaker cabinets and throwing in some mounting hardware. Sonance's SilverScreen 50 speaker, on the other hand, was designed from the ground up for on-wall installation. Only 3 3/4 inches deep, the SilverScreen 50's cabinet extends about the same distance out from the wall as a plasma TV. It comes with the company's Invisimount wall bracket, or you can order optional stands for $20 each. But I don't recommend using Sonance's stands. Even after I attached them firmly to the speaker, they rattled during playback - at first I thought that the speakers were damaged!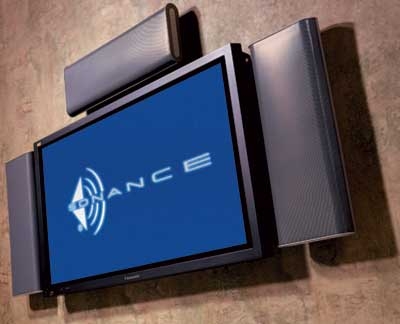 The SilverScreen 50 is a very plain looking speaker. Its neutral silver finish should blend in with most environments, and the detachable grille can be painted for an even more precise match. While the cabinet is fairly wide at 8 1/4 inches, making the speaker big enough to easily accommodate 5 1/4-inch woofers pays off in bass performance exceeding that of many other on-walls.
The Sonance system created a great sense of envelopment during the scene in X-2 in Professor Xavier's Cerebro machine. I could almost feel the doors closing behind me as Cerebro kicked into gear, and the voices of the phantom mutants that Xavier tracks with it swirled from the front to the back of the room in an unbroken trajectory. Dialogue coming from the center speaker had decent clarity, but Patrick Stewart's musical, Shakespearean voice sounded slightly duller than over the other center speakers in this group.
Some of the same sonic qualities that I noted on X-2 also came across with music. On Mogwai's "I Know You Are but What Am I?" from their CD Happy Songs for Happy People, the SilverScreens cast a wide image, with relatively full sound and a good tonal balance, but there wasn't much depth or dimensionality. I could hear the sound of a piano being struck but didn't get the sense of fingers on the keys. The Son of SUB's relatively modest output also limited the system's overall loudness. I could hear the low bass notes on Bill Frisell's rendition of "Moon River," but when I cranked the system up, the sound became murky and congested. It made me wish I had The SUB itself instead of its offspring.
For on-wall speakers from a company that specializes in in-walls, Sonance's $2,235 SilverScreen 50 system delivers surprisingly decent performance. Its looks are unexceptional, but if you just want shallow speakers that hang on the wall and unobtrusively pump out sound, that's not an issue. Do yourself a favor, though: take a pass on the speaker stands, and if you plan to crank things up, consider upgrading to The Sub ($825). PDF: Fast Facts
LATEST VIDEO