Speaker, Speaker on the Wall Page 3
Jamo D 400PDD SystemI don't know exactly what it is, but something about Jamo's D 400PDD system reminds me of Ikea. Maybe it's the Scandinavian connection (Jamo's headquarters are in Denmark). Or maybe it's the pictographic approach the company takes in its instruction manuals. Or maybe it's the combination of wood, metal, and laminate speaker finishes - cool and contemporary, like a nice Ikea cabinet. But one thing I wish Jamo did share with Ikea was its naming scheme. While there's nothing inherently wrong with D 400PDD, I'd be happier hearing a system named Flärke or Callax.
Like the Polk Audio rig, Jamo's D 400 satellites and D 4CEN center speaker look like pretty standard speakers that have had their cabinet depth halved to accommodate wall mounting. But with their black grilles, curved front baffles, and metal-trimmed wood-veneer finishes, the Jamo speakers are a pleasure to look at. Metal slots on their back panels let them hang directly on screw ends protruding from the wall. This doesn't strike me as the sturdiest mounting solution, so you may want to consider placing the speakers on stands.
The finish on the slim, streamlined D 4SUB subwoofer matches that of the rest of the system. A very convenient volume dial sits on the top surface where it can be adjusted without disturbing the sub's placement. The back panel doesn't have any speaker-level ins or outs, but it has both a standard stereo line-level input and one labeled Boundary Gain Compensation with a -10-dB filter at 20 Hz, which reduces boominess when the sub is placed too close to a wall.
In the scene from X-2 where the telepathic Jean is surrounded by "voices," the Jamo system did a great job establishing the ambience of the museum space. And when voices kicked in, they came across clearly, with a distinct sense of separation and spatial positioning. But I never had a sense that the dialogue was "locked" to a certain speaker - the soundstage was impressively wide in both the front and the rear of the room.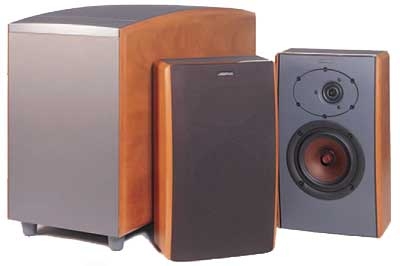 Storm and Jean's resonating voices in the church scene also sounded huge on the Jamos. After meeting resistance in her efforts to apprehend would-be presidential assassin Kurt Wagner, Storm conjures up a lightning bolt and directs it at the bat-like mutant. The impact of the bolt knocking batboy Kurt off his perch wasn't as violent as on some of the other, more expensive systems, but it was still pretty dramatic.
Although you may think maximum output is the way to go with subwoofers, the D 4SUB sounded much better in our room when I used the Boundary Gain Compensation hookup. The acoustic-bass solo on Bill Frisell's "Moon River" was tight and well-defined, and there was good integration between the satellites and sub. The D 400 satellites displayed good detail, but they also sounded a bit dark. On tracks like Steely Dan's "Hey Nineteen," however, this proved to be a good thing. Instead of sounding bright, the high-hat cymbals were evenly balanced with the rest of the instruments in the mix. As with X-2, the sense of envelopment was excellent, and Donald Fagen's cynical, laconic voice sounded natural coming through the center speaker.
Jamo's D 400PDD system offers slick Scandinavian design and lush, laid-back sonics at a reasonable $3,000 price. Pair it with a plasma TV and an Ikea couch, and you'll be living the good life in no time.
Definitive Technology Mythos SystemAs a manufacturer of bipolar speakers, Definitive Technology is used to engaging the wall - in most cases by bouncing sound from a speaker's rear-panel drivers off it, a technique that enhances image spaciousness. But its newest system - a $3,700 rig consisting of four Mythos Two satellites, a Mythos Three center speaker, and a SuperCube I subwoofer - was designed to hang on the wall. This is a big step for the company, which mostly relies on bipolar technology to deliver its trademark "big" sound. So did Def Tech pull it off?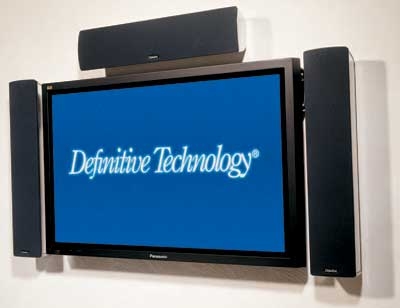 Aside from the MartinLogan and B&W systems, the Mythos is the most radical design departure here - especially coming from a company that's not known for updating the look of its speakers. At around 4 1/2 inches wide (or high in the case of the center speaker) and 4 1/2 inches deep, the Mythos Two and Three are strikingly slim and delicate. The handsome polished-aluminum cabinets taper in toward the back and can be wall-mounted using the supplied brackets. The Mythos Two also comes with an elegant glass base for placing it on a table or stand.
The SuperCube I subwoofer is surprisingly compact for a box containing a 10-inch driver, two 10-inch passive radiators, a 1,500-watt amp, and a full range of connections and controls. But at 75 pounds, it also seems like a black hole that's swallowed up a universe or two - especially in the glossy piano-black finish.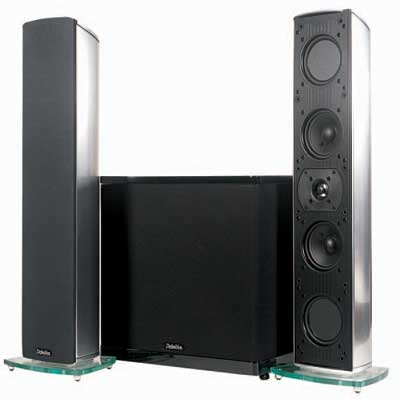 If I had any concern that the compact Definitive Technology system could deliver larger-than-life sound, it was put to rest by watching X-2. In the sequence where Logan joins Xavier in Cerebro, the speakers convincingly recreated the cavernous, reverberant space - the seamless continuity between the front and surround channels made me feel like I was in the machine with them. Subtle sound effects like Logan snuffing out a cigar on his hand (then quickly healing himself, of course) came across very clearly. But then, so did more dramatic effects like the shutting of Cerebro's massive doors - a gut-grabbing slam that owed its impact to the SuperCube I sub.
Moving on to something intimate, I played my Richard Thompson reference track. The Mythos Twos displayed great detail on the song, capturing the scrape of fingers across a guitar fretboard and the gentle overtones of the strings. As with many of the other systems, Thompson's vocals sounded slightly chesty and reinforced, but it was nothing that moving the speakers a foot or so out from the wall - a luxury afforded by my setup - couldn't tame. I was also impressed by how good Mogwai's "I Know You Are but What Am I?" sounded. For speakers that sat relatively close together, the Mythos Twos' presentation was surprisingly wide. Overall, the sound was warm and lush, but I could also hear the distinct layers of piano, drums, and synthesizers.
You've got to hand it to Definitive Technology for tackling the on-wall speaker challenge with technical ingenuity and flair. The Mythos system doesn't look much like any of the company's other speakers, but its sound is up there with the best of them. So I guess the answer is, yes, Def Tech did pull it off. PDF: Fast Facts
LATEST VIDEO