Sony NSZ-GS7 Internet Player With Google TV
Price
: $200
At A Glance
: Bluetooth and IR universal remote control • Lighted extended keyboard • Access live TV and streaming sources in one place • Global search includes live TV
When I decided to review two Google TV media streamers back to back, I thought there would be little difference between them. After all, Google TVs run on an Android platform, and both the Sony Internet Player with Google TV and Vizio's Co-Star would have most of the same apps— pre-loaded apps or those available through the Google Play Android Market. I was surprised to find that there was more difference than I had expected. Sony knows home theater, and as with its other media streaming devices, low-quality video appears nicely cleaned up for viewing on a big screen. I've been unable to get a straight answer from Sony on what's under the hood that improves the picture. Still, picture quality of identical content is noticeably better with the NSZ-GS7 than its competition.
Better Picture Quality and Performance
I tested a number of videos on my 46-inch Samsung 6100 Series LCD and saw that the Sony handled each better than other media streaming devices, including the Vizio Co-Star. These videos were streamed from the same sources—Amazon Instant Video, YouTube, and the Redux app. I used the same HDMI cables to connect to the same HDTV. The Sony's picture quality was brighter and had more clarity every time. Many standard- (or sub-standard) definition videos that were blurry and unwatchable when streamed to other devices could be enjoyed on the Sony Google TV. In particular, nature videos streamed using the Redux app were beautiful. Highdefinition video quality was also excellent, but there was little difference between the Sony's high-def picture and that of other streaming devices.
During my testing period, I had no problems with buffering, freezing, or dropping video. Also, the lists of photos and music loaded quickly from the online sharing Websites Picasa and Google Music Play.
Remote Improvements
Sony's Google TV remote shares many features with the Vizio Co-Star remote. Both are two-sided—with a touchpad mouse and navigation on one side, a keyboard on the other, and an internal detection to know which side is up. The two remotes are Bluetooth and IR enabled, using Bluetooth with the Google TV device, and using IR for controlling your TV, cable or satellite box, and A/V receiver as a (limited) universal remote. Universal remote users should note that, since the Sony is strictly Bluetooth controlled, you won't be able to operate it with your Harmony or other IR- triggering universal remote or control system.
Although it's similar to Vizio's remote, Sony added a few enhancements. Unlike the Co-Star's method of double-tapping on its touchpad to click on an item, Sony's touchpad mouse works by using a hard click press on the touchpad to select an item. To drag scroll bars and other items, push in on the touchpad to click and drag your finger. On Web pages with embedded lists, clicking on an item in the list allows you to use the arrow up and down navigation buttons. The Co-Star doesn't offer this feature, and it makes it much easier to move around Web pages and drop-down menus.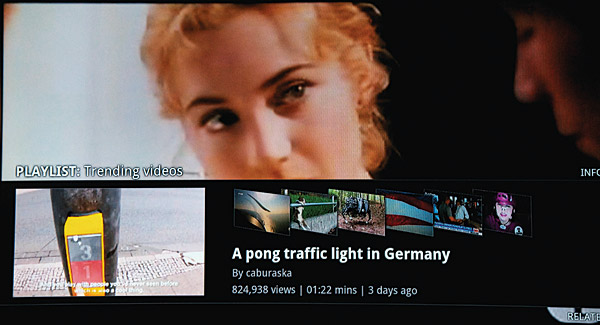 Sony must have also heard complaints about other keyboards found on remotes. One of the biggest complaints from users is that the keyboards aren't backlit and can't be used in the dark. Not so here—Sony has added backlighting around each key. It doesn't shine up through the key so you can clearly see each letter, but it's better than typing in the dark.
I've never understood why some keyboards require you to hold down the function key to type numbers or often-used symbols like the @ key. Fortunately, the keyboard on the Sony Google TV remote has an extra row of keys, and yes, it includes dedicated number keys and many symbols. The bottom row of keys can be used with the function key to control playback. Number keys can be used to type in channel numbers. Basically, you can do everything on the keyboard side of the remote and then quickly flip it over to arrow around with the mouse.
Of Menus and Apps
When you press the home button, the Sony Google TV displays a limited number of apps as an overlay along the bottom of your TV screen. You can press the All Apps icon to access the rest of your apps. As with other Sony devices, there are onscreen instructions to make it easy to know which remote button presses are available while browsing or playing content.
Most content on the Sony Google TV are apps that are available either pre-loaded or through Google Play, with the exception of Sony's own content. Of course, the Sony Google TV includes Sony's video-on-demand (Videos Unlimited) and music streaming services (Music Unlimited, formerly Qriocity). Video Unlimited offers movies from all studios to buy or rent. The music service is unlimited play for a monthly fee. To bridge the price gap between the Sony at $200 and the Vizio Co-Star at $99, Sony is offering a $45 credit toward purchasing or renting movies.
Wrapping It Up
The new crop of Google TVs is getting closer to its promise of aggregated content and apps on TV. Its open platform means more apps and features will be added as time goes on. The Sony also performed excellently in my repeated testing. If it's in your budget and you want a Google TV with a great Web browser, the NSZ-GS7 is a good choice.