Sony MDR-Z7 Headphone and PHA-3 Headphone Amp
PRICE $700
AT A GLANCE
Plus
Yummy sound, nice bass, clear top end
Impeccable Japanese build quality
Huge soundstage for a closed-back design
Minus
Doesn't fold for compact storage
THE VERDICT
Sony's back with a winner! The MDR-Z7 looks, feels, and sounds like a high-end headphone.
PRICE $1,000
AT A GLANCE
Plus
Handles ultra-high-res 384kHz/32bit files
Does DSD at 2.8MHz and 5.6MHz
Single-ended and balanced headphone outputs
Minus
No indicator for remaining battery charge
THE VERDICT
The Sony PHA-3 has undeniable synergy with the MDR-Z7, but sounds terrific with other headphones.
Sony's hardly a newcomer to the upper echelons of the headphone scene. Some of you might recall the legendary MDR-R10 from 1989—at $2,500, it was the most expensive headphone in the world. The sleek Qualia 010 debuted in 2004, and that one bore a remarkable resemblance to Sennheiser's current flagship, the HD-800, but the Qualia 010 arrived five years before! Now, with the $700 MDR-Z7, Sony's back with a new, considerably more affordable flagship. For this review, we mated it up with the company's also-new flagship portable DAC/headphone amplifier, the PHA-3.
Sony MDR-Z7 Headphone
This headphone is made in Japan, and it's a handsome black beauty. The thickly padded leather headband and ear cushions, impeccably finished ear cup "yokes," and metal headband sliders all lend a luxury feel to the design. The ear cups house an unusually large (70mm) aluminum-coated liquid crystal polymer driver that features a copper-clad aluminum voice coil. The MDR-Z7's claimed high-frequency bandwidth extends all the way up to 100 kHz, but Sony doesn't cite any +/- tolerance for that figure.
You get two silver-coated, oxygen-free copper cables: a 118-inch standard cord and a 79-inch balanced audio cable that can be used with the PHA-3 amp's balanced outputs. Both cables are fitted with 3.5mm connectors at each end; and a 3.5mm to 6.3mm (1/4-inch) adaptor is also included. Sony's attention to detail is impressive— it even extends to the cables' exquisitely machined and finished metal barrel housings. Some headphones that sell for double the MDR-Z7's price look a little crude next to this new Sony.
The sound is highly detailed, but the sonic balance is warmer than neutral. Given my long experience listening to headphones, that confounded me at first. How could the MDR-Z7 dish out oodles of detail, yet still let me enjoy over-compressed, even harsh sounding contemporary recordings that would be unlistenable on many other 'phones? Whatever, it absolutely works.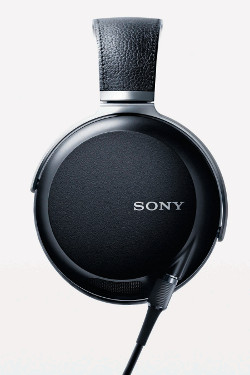 I brought the MDR-Z7 to a Brooklyn recording session of an African percussion group, and compared the Sony to Audeze LCD-X and Hifiman HE-560 headphones, two headsets that are among the very best I've heard. Listening to a microphone feed of uncompressed drums is a rare thrill, and the three headphones sounded very different. The HE-560 was the most see-through transparent, while the LCD-X tracked dynamic contrasts—from ultra-quiet to make-your-hair-stand-up loud—more accurately. But the MDR-Z7's sharper soundstage focus was ahead of the pack. Then I caught the more subtle stuff: I could hear the sound of the drums bouncing off the church's ceiling more clearly on the MDR-Z7, so it sounded more like being in the room with the band. With the LCD-X and HE-560 the soundstage extended outside my head more, while the MDR-Z7 pulled the soundstage in. There was no clear winner in this three-way face-off, but I gravitated to the MDR-Z7 more than the other two headphones during the session.
Just last year I reviewed another high-end Sony headphone, the MDR 7520, and while it shares the MDR-Z7's uber clarity, the MDR-7520 has a tighter, smaller stereo image, so the sound is more immediate and close up; the MDR-Z7 is more spacious. The MDR-7520 is a professional monitor headphone, so it sounds more accurate, but the MDR-Z7 is richer and sweeter.
Sony PHA-3 Headphone Amp
The all-black aluminum PHA-3 measures a tidy 3.14 x 1.14 x 5.53 inches, and weighs 10.6 ounces. It feels ruggedly built, and the rear panel hosts one switchable 3.5 mm analog input/output; a Toslink input; a USB Type A input for iPhone, iPod, and iPad; a USB Mini-B input for Sony Walkman players and Experia phones; and a separate USB Micro-B input for charging. Up front there's a standard unbalanced 3.5mm stereo headphone jack (labeled "Normal"), left and right channel balanced 3.5mm headphone jacks, a volume control, plus LEDs to indicate "Hi-Fs" (lights up with any DSD signal or file with greater than 48 kHz sampling rate), DSD files, and Power Charging/Power On. Digital converter resolution goes all the way up to 384 kHz/32 bit PCM and 2.8- and 5.6-MHz DSD—quite a range. The PHA-3's rubber rails did a great job keeping the little amp from sliding around on my desktop.
To get a fix on the PHA-3's sound signature I compared it to my favorite portable headphone amp/digital converter, the Centrance Hi-Fi-M8 ($700). The PHA-3 has more weight and oomph, the tonal balance was richer on bluesman John Hammond Jr.'s Rough & Tough album. When I switched over to the PHA-3's balanced headphone outputs everything got better—the bass firmed up and the soundstage bloomed. Clearly, there was PHA-3/MDR-Z7 synergy at work here. Returning to the Hi-Fi-M8 was then a bit of a letdown; the sound was less colorful.
Next, I put the MDR-Z7 aside and plugged a pair of Ultimate Ears UE900s in-ear headphones into the PHA-3 and checked out an HDtracks high-resolution download of the first Crosby Stills & Nash album. Graham Nash's vocal and guitar on "Lady of the Island" was vivid and tangible, and "Long Time Gone" took my breath away! I'm listening to a 45 year-old recording, and it sounded so natural, fresh, and immediate over these in-ears. I love my job! I happened to have a set of balanced cables for the UE900s, so I switched over from the standard cord and they further bumped up the palpability of CSN's sound. Aside from the $2,500 Chord Hugo, the PHA-3 is the best sounding portable headphone amp I've had the pleasure of using.
Why the PHA-3's balanced connection sounds better than the "Normal" one I can't say, but according to the specs, the balanced out provides up to 320 milliwatts of output for each channel, versus the 100 mw per side spec'd for the standard unbalanced 3.5mm stereo headphone jack. But not every headphone can be wired to work with the PHA-3's balanced outputs, so check with your headphone's manufacturer to see if it can be run with balanced cables.
Nitpicks: The PHA-3 leaves you clueless about the resolution of program material—there's absolutely no precise indication of sample or bit rate in play aside from the Hi-Fs indicator telling you you're over 48kHz. And it's the same story with the battery—there's no way to know how much juice is left in the lithium-ion rechargeable battery, other than a blinking LED when it's almost empty. I averaged 10 hours of play time per charge, and charging from empty to full takes a lengthy 15 hours! The unit will not charge while it's playing, even if it's plugged in.
Taken separately or in combination, the sound of Sony's magnificent MDR-Z7 headphones and PHA-3 headphone amp offer ample proof of the company's commitment to the headphone cognoscenti.