Sony MDR-Z1R Headphones Review
PRICE
$2,300
AT A GLANCE
Plus
Remarkably transparent
Fine, handmade build quality
Very, very comfortable
Minus
New-gen balanced cable may not fit current headphone amps/sources
THE VERDICT
$2,300
Sony has a long history of making reference-quality headphones, starting with the limited-edition MDR-R10. That was in 1989—and at $2,500, it was the most expensive headphone in the world. A couple of years ago, I had the pleasure of spending a few hours with an MDR-R10, and it was the most beautiful-sounding headphone I'd ever heard. No wonder the cognoscenti dubbed it the Stradivarius of headphones and scooped them all up years ago. MDR-R10s rarely come up for sale, but when they do, they go for at least $6,000!
Next came the Qualia 010 in 2004, priced at $2,400, and it was stunning as well. However, Sony discontinued the model in a couple of years, and the company didn't initially reassert its considerable headphoneengineering chops when the high-end market took off in the early 2010s. We had to wait until 2014 for the MDR-Z7 ($700), which I reviewed favorably in this magazine.
Now, with the MDR-Z1R headphones, a companion of the TA-ZH1ES headphone amplifier/DAC and NW-WM1Z Walkman, Sony has launched its new Signature series and is getting serious about making great headphones again.
'Phones for the Ages
You might assume the MDR-Z1R is punched out by high-tech robots, but that couldn't be further from the truth. They are handcrafted by one man in a Sony factory in Japan. Not only that, but all of the parts are sourced from the company's Japanese plants to maintain the strictest quality control over every element of the design. Sony makes a lot of headphones, but the MDRZ1R and MDR-Z7 are the only two consumer models done in Japan. They're that important to the company. Hold them in your hands, and you'll know the MDR-Z1R are finely honed luxury headphones. Listen to them, and you'll know they're an extraordinarily accomplished design.

The 70mm driver is unusual in that it's a two-part design, with a central magnesium dome surrounded by an aluminum-coated polymer "edge" diaphragm. This driver was designed with high-resolution audio in mind, so it's capable of remarkably extended high-frequency response, up to 120 kilohertz. Of course, human hearing doesn't extend even remotely that far, but some would argue that headphones with extreme high-frequency extension have cleaner treble in the range we do hear.
Looking at the earcups' rounded stainless-steel mesh grilles, I assumed the MDR-Z1R is an open-back design, but it's actually closed-back, so it provides a healthy amount of isolation from external/environmental noise. Or rather, it's sort of a quasi-closed-back design: The cups are constructed of three layers, with a vented surround ring backed by an acoustic filter made of felted material and then the grilles. The filter controls the air resistance behind the driver and is said to help dampen any reverberation within the cup. The deliciously soft sheepskin-covered earpads are heavily padded for maximum comfort, and the leather-covered titanium headband is super light but incredibly strong. The MDR-Z1R comes packed in a handsome storage case.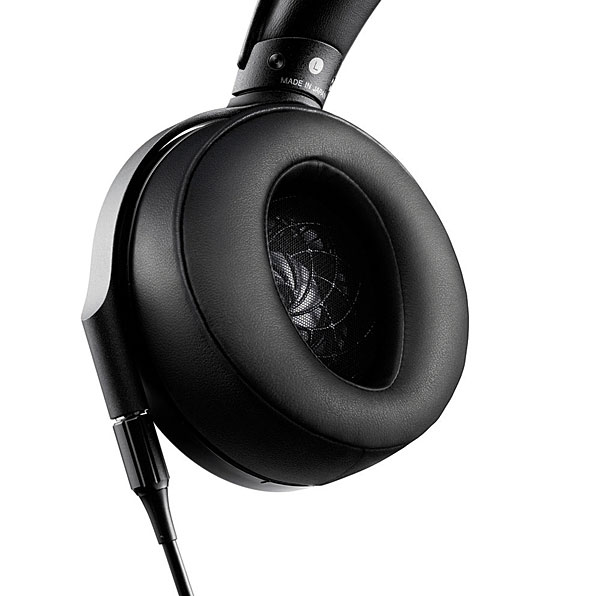 Two silver-coated OFC (oxygen-free copper) cables are included with the MDR-Z1R. You get a singled-ended 10-foot cable with a 3.5mm plug and 6.3mm adaptor plug, and a balanced 4-foot cable with a newly developed 4.4mm plug that's been established as a JEITA industry standard. Both Y cables connect to the MDR-Z1R's earcups with screw-on locking rings. Note that the balanced cable won't fit into the vast majority of today's existing headphone amps with balanced outputs. Sony offers an option for a 2-meter Kimber Kable balanced cable with the same 4.4mm connector (MUC-B20SB1, $249) but none to accommodate current connectors, and no adapters are supplied in the box. We can probably assume these will come available from third-party suppliers at some point but don't appear to be available just yet.
Listening Pleasure
Sony was clearly going for top status in the upper tiers of the headphone market, so I began my auditions by comparing the MDR-Z1R with a couple of my familiar reference headphones, driving them directly with my high-end Oppo BDP-105 universal disc player. One of my recent faves is the MrSpeakers Ether Flow ($1,800). With a couple of Henry Mancini soundtracks on CD, The Pink Panther and Peter Gunn, the MDR-Z1R was brighter and more palpably immediate. The Ether Flow was no less resolved but had a sweeter top end. As I continued with the late Leonard Cohen's final release, You Want It Darker, the MDR-Z1R supplied more gravitas to Cohen's low moan of a voice and the title tune's authoritative bass line than what I heard from the Ether Flow. The Sony was more than holding its own against one of the very best new headphones on the market.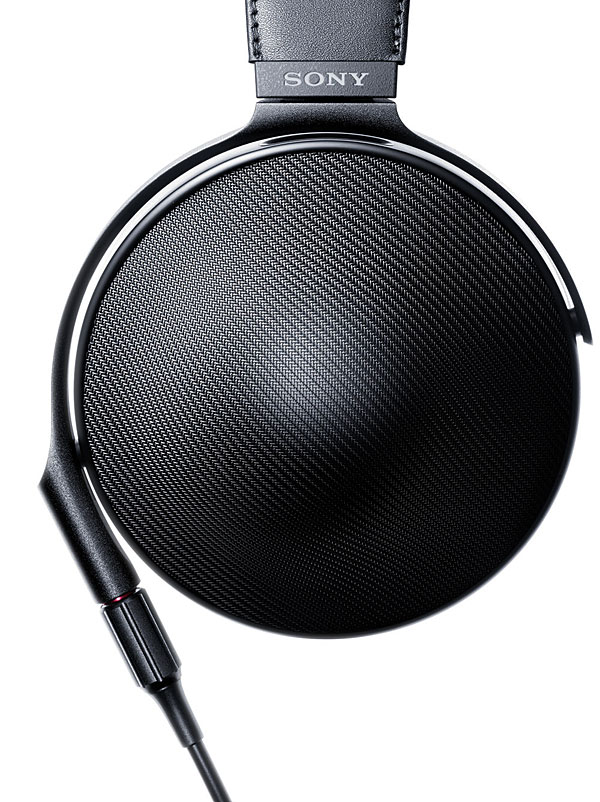 Then I pitted the MDR-Z1R against Audeze's LCD-XC closed-back headphones ($1,800, reviewed here in 2014) as I listened to Amon Tobin's acid-jazz Bricolage. The beats definitely had tremendous weight on the Audeze, but switching over to the Sony opened up the sound with more depth, air, and texture. I continued with King Sunny Adé's Live Live Juju CD; his 20-piece band's interlocking percussion and chanting fully exercised both headphone models, whose ability to reproduce the tactile feel of hand percussion and transient details was truly spectacular. When a musician slaps his drum, the MDR-Z1R makes it sound more realistic. The Sony's high sensitivity may be largely responsible for its impressive way with dynamics.
Introducing a Pass Labs HPA-1 headphone amp and an Arcam irDAC-II digital converter, I did a bit of time traveling with some 96-kHz/24-bit high-resolution files of the self-titled debut from Crosby, Stills & Nash. The original recordings were made in 1969 on analog tape, and their analog-ness was especially apparent on the MDR-Z1R—and that's meant as a compliment. The in-the-studio quality of the minimally produced sessions was oh-so-clear, and I could hear the analog tape hiss coming up just before "Guinnevere." The Audeze headphones sounded excellent but glossed over some of the analog flavor of the recording. Ah, the irony of hearing analog character via hi-res digital put a smile on my face!
I switched from vintage CSN to new hi-res files released by one of my favorite audiophile labels, MA Recordings, and the MDR-Z1R seemed to melt away and transport me directly to the sessions. The rarefied sounds of the La Segunda and Será Una Noche albums were exquisite, with finely focused and precise stereo imaging. I hope more mainstream recordings sound like this someday. Still, I find exceptional recordings here and there from mainstream labels; the Swiss Army Man soundtrack is to die for.
I also watched a few films. With one of the more natural-sounding ones, the Civil War epic Free State of Jones, the MDR-Z1R sounded more open and less inside my head than the LCD-XC. In the swamp scenes, the birds and insects seemed to come from all around. The MDR-Z1R sounded more spacious than the LCD-XC; it wasn't even close. The Sony was also a lot more comfortable than the Audeze, and when you're watching movies with headphones on, comfort is just as important as sound quality.
To put it simply, the MDR-Z1R is a spectacular headphone. It matches or exceeds the performance standards of the upper-echelon planar magnetic headphones I've heard, and I've heard them all. Bravo!