Sony 2010 ES AVRs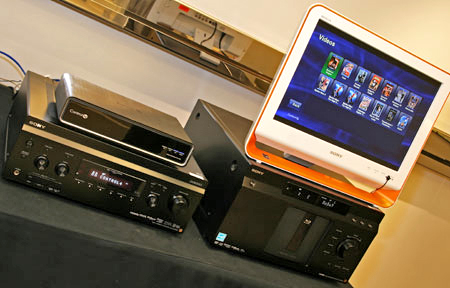 As I've written many times, the Ultimate Gear blog is intended to cover A/V products that embody extreme performance, design, and/or price. The 2010 ES line of A/V receivers from Sony—which were unveiled last week at a press event in Beverly Hills, California—might not fit any of these criteria, but they do include so many unique and highly useful features, I decided I could legitimately cover them here.
The flagship is the STR-DA5600ES ($2000, 130Wpc), shown above with the BDP-S770 3D Blu-ray player. Proceeding down the line, we find the STR-DA4600ES ($1500, 120Wpc) and STR-DA3600ES ($1100, 100Wpc). All three provide seven channels of amplification, 3D HDMI pass-through, HDMI Audio Return Channel, and audio/video HDMI pass-through when the units are in standby mode, which means you don't need to power up the AVR if you—or your family—just want to watch some TV with the TV's onboard sound. That last one is a pretty cool feature in my book.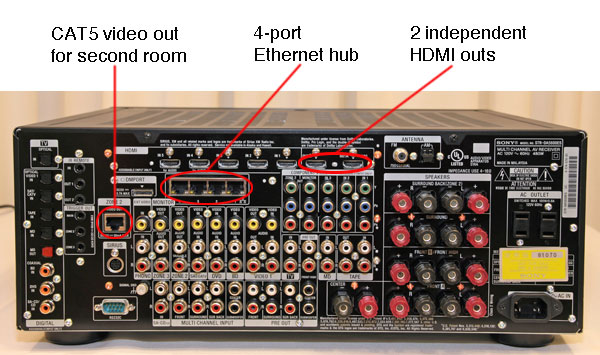 Another really cool feature—and unique as far as I know—is an integrated 4-port Ethernet hub, which demonstrates Sony's commitment to networking. All three AVRs can serve as DLNA clients, accessing media files from networked servers, and the 5600ES can also act as a DLNA audio server. Reaching beyond the local home network, all three AVRs provide access to Shoutcast Internet radio and the Rhapsody online music service, and their firmware can be updated online.
One incredibly useful and rare feature of the 5600ES and 4600ES is the presence of dual HDMI outputs that can be used to send the same or different 1080p signals to two different displays. For example, if you have a flat panel behind a drop-down projection screen in the same room, you can watch either one without having to physically switch outputs. Alternatively, one output can feed a display in a second room, though running HDMI that far might require a repeater/booster.
If the second room is too far away for HDMI, the 5600ES and 4600ES offer a unique alternative—video for the second zone can be sent via CAT5 cable from a special output on the receiver. This output is limited to 1080i, but the cable can be just about any length. At the far end, the cable connects to an adaptor that converts the signal to component video.
Control options abound with all three ES AVRs. They can be easily integrated into a control system from Control4, Crestron, AMX, Savant, URC, RTI, and others. (In the photo at the top of this blog, a Control4 box sits atop a 3600ES next to BDP-CX7000ES 400-disc Blu-ray changer and a 19-inch monitor showing the Control4 GUI.) In addition, Sony offers a free app that turns an iPhone or iPod Touch into a full-function receiver remote, and a Quick Click function in this app lets you control source components in the main room from the remote zone. Finally, the full graphical user interface appears on the remote display.
Even the auto-calibration function offers a few new wrinkles. Dubbed Digital Cinema Auto Calibration (DCAC) with Automatic Phase Matching (APM), the system corrects for phase differences between the front, center, and surround speakers. The 5600ES goes one step farther with DCAC EX, which adjusts for the angle of each speaker as well.
Front-height speakers are becoming more popular these days, and the new ES AVRs make use of this concept with their HD Digital Cinema Sound, developed in collaboration with Sony Pictures Entertainment. This function replicates the acoustics of the Cary Grant scoring stage at Sony Pictures Studios, using two of the seven amp channels to drive the front-height speakers.
I realize that AVRs in the range of $1100 to $2000 hardly qualify as extreme in terms of price, and black boxes hardly qualify as extreme in terms of design. As for performance, I can't say until I hear them in a controlled environment, but I can't imagine they outpace the best über-receivers, such as the Pioneer Elite SC-09TX ($7000) or Yamaha RX-Z11 ($5500). Still, as I said at the top, the feature sets of these puppies are mighty impressive—one could say extreme, even compared with über-receivers—and I applaud Sony for advancing the state of the AVR art in this way.