Sonos Play:3 and Bridge Wireless Music System Sweepstakes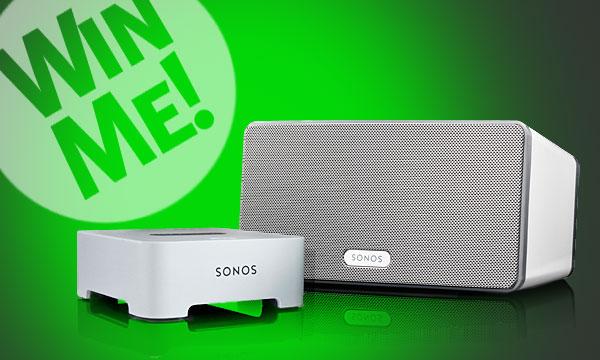 Register to win an Sonos Bridge and PLAY:3 system (MSRP $348) we are giving away.
According to Sonos:
Experience the Sonos Wireless HiFi System, this holiday season's Ultimate Gift of Music – to give and to get. Unleash all the music on earth, in every room, wirelessly. Sonos is the only system that combines HiFi sound with high-performance wireless. Plus it's simple to set-up, control and expand so you can easily fill your home with music.

The giveaway package includes:

PLAY:3 ($299): The smaller, sexier, tuck in the corner and blow out the roof, all-in-one player.

Stream your entire music library, music services, and radio stations
Control wirelessly, easy to set up music player
Start with one music player, expand everywhere
Versatile enough to put anywhere -- horizontal or vertical
3 driver HiFi speaker system

Bridge ($49): Connect to your router so all players can go anywhere and work wirelessly

Connect to a router to set up your Sonos wireless network
Sonos music players can go anywhere and work wirelessly
Perfect for homes with less accessible routers
Extend the range of your existing network

Click here for more info on the PLAY:3 or Bridge
To enter the sweepstakes, all you need is an account on this website. If you don't already have one, click on the link labeled "register" at the bottom of this announcement or "Create new account" in the right column (under the ads). Then, enter a username and a valid e-mail address, and click on the "Create new account" button. A message will be automatically sent to the e-mail address you specified, which will include a link to activate the account.
The final step (and only step for those who already have an account) is to log in and leave a comment right here on this announcement—any comment will do, as long as it's not profane or spam. Then, when the sweepstakes closes, a lucky commenter will be chosen at random to receive the prize. So post a comment, and good luck!
For complete sweepstakes rules, click here.
[This Sweepstakes is now closed.]