Snell Acoustics Signature Series C7 speaker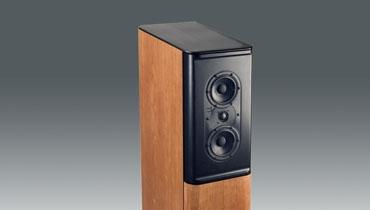 Full disclosure: I've known the guys at Snell Acoustics for more years than I care to discuss, and have admired their speaker creations from the first. And it's been an illustrious crew: The late Peter Snell, who died tragically young of an undiagnosed cardiac defect in 1984, founded the Snell design dynasty in 1978 with the original Snell Type A, launching a string of full-range, do-it-all audiophile-targeted loudspeakers that culminates today in the brand's imposing, $ 50,000 -per-pair Illusion A7. Today, Snell's chief designer is Joseph D'Appolito. Yes, the same guy whose name has become synonymous with the midrange-tweeter-midrange vertical driver array he first devised to achieve smoothly accurate in-room sound. (The moniker is often abused: A true "D'Appolito array" is a more complex bit of engineering than many of the haphazard mid-tweet-mid trios that borrow the label.)
The Signature Series Type C7 may be three steps down from the flagship Illusion in Snell's current full-range family, but it's no lightweight. Dual 8-inch woofers and a solidly machined D'Appolito mid-high-frequency array, all packaged in a beautifully finished tower nearly 4 feet tall, make for an imposing presence. My evaluation pair was modestly finished in black, but close inspection revealed the usual superb Snell woodworking touches such as matched, mirror-image veneers and meticulous, hand-rubbed finishing. While my C7s appeared coolly competent in black , I'm sure that the same speaker in any of Snell's standard or special-order hardwoods would look spectacular.
SETUP
Once you unbox and place the C7s, each weighing in at 95 pounds (I had help!), you'll have some decisions to make. Like nearly all Snells, the towers have several user-selectable setup switches. You can adjust the front tweeter level using Cut, Normal, or Boost settings, switch Boundary Compensation to Normal or Boundary ( this invokes a mid bass-cut to curb "woofiness" with close-to-wall placements), and turn the rear-firing tweeter on or off. (A feature dating back to Snell's original Type A, the rear-firing tweeter helps the speaker deliver smoother, full-hemisphere power response at high frequencies.)
From long experience I had a pretty good idea how I'd want these settings adjusted after hooking the C7s up to my 200-watt-per-channel amp. But I did my due diligence anyway, listening, moving, and adjusting before settling on a front tweeter-cut, Boundary-on, and rear -tweeter-enabled configuration.