Sennheiser Momentum Wireless Headphone Review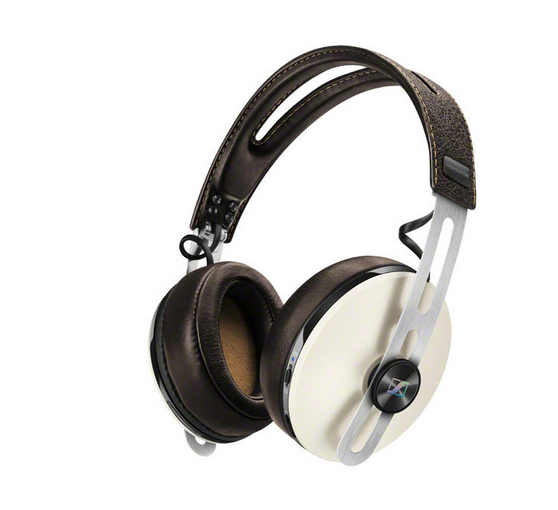 There's a new member of the Sennheiser Momentum family. The Sennheiser Momentum Wireless are Sennheiser's answer to the Parrot Zik and Samsung Level Over; they're Bluetooth, have active noise cancelling, and are looking to appeal to fans of higher-end audio. They also come with a higher-end price tag: nearly $500. So what, exactly, does your money get you?
First of all, the Momentum Wireless have some of the best audio over Bluetooth that I've tested to date. The Momentum Wireless are Bluetooth 4.0 and AptX, and while yes, they are still Bluetooth headphones, the sound quality is really fantastic. They aren't muddy or muffled like a lot of mid-price-range BT headphones, and they don't have the characteristic transmission hiss that many wireless cans suffer from. They have excellent sense of depth and separation and separation, even when cordless.
The overall sonic profile to the Momentum Wireless is similar to their corded sister headphones, the over-ear Momentum, and have a claimed frequency response of 16 Hz - 22000 Hz. The highs are clear and defined without piercing or being fatiguing: fans of extra intense spikes around 10kHz may want to look elsewhere. The mids have a rich, mellow quality, and the bass, while slightly elevated, doesn't have too much Q to it. The lower frequencies definitely are boosted in the mix, but the bump doesn't extend too far up in the frequency range as to blur the sound of the lower mids. It's a pleasing, slightly warm sound that retains clarity due to the dexterity of the higher frequencies. Fans of rock and jazz will especially love it.
Is the sound better when corded? Yes, but only slightly: it's not as drastic a shift as in many other BT options on the market. The main difference in performance when corded seems to be a bit more restraint on the attack and decay of sounds; guitar strums seem to have more sparkle to the string noise, kick drums seem to have a little more definition. But it is very subtle, and mostly only noticeable on music with which you're intimately familiar.
The ANC is always active when the headphones are powered on, so if you want to listen wirelessly, you're going to have the noise cancellation activated as well. This isn't a big deal for most people (and possibly a plus!), but if you are someone who likes to listen to music over BT and needs some situational awareness, it's worth bearing in mind. That said, the Momentum Wireless' ANC is pretty great. It's not as effective as the Bose QC25, but it's close. However, the QC25 aren't Bluetooth, and I would say the ANC on the Momentum is on par with the Parrot Zik and better than the Samsung Level On.
The build quality of the Momentum Wireless is undeniable. The aviator design aesthetic (available in black and ivory) coupled with a leather-wrapped headband and memory foam earpads is both retro-fashionable as well as comfortable. The earcups themselves have a relatively low profile off the sides of your head, so you won't feel like a DJ or robot if you need to venture out of the house while wearing your headphones. The memory foam seals against your head well, so the passive isolation is rather good.
The only caveat in terms of fit is that the internal earcup space is oval in shape, so those with larger outer ears may find the Momentum Wireless fit more like a combo on-over-ear rather than strictly over. That said, the headband has a nice clamping force that those with smaller heads will feel is stable without causing migraines in those with bigger hat sizes.
Controls on the Momentum Wireless are intuitive and easy to use while still on your head. The power on/off/pairing button has an indicator light, plus there is a voice guide in the headphones themselves so you always know what function you've activated. This may sound basic, but so many Bluetooth Headphones neglect to make this clear in their industrial design, and the result is a frustrating dance of not knowing if you've powered on, gone into pairing mode, or fully turned the headphones off.
Over BT, a multi-function button toggles to adjust volume, and is depressed for play/pause/track change/taking of calls/voice dialing. It's simple to find without looking at the headphones, and functions relatively intuitively.
The only major quibble (aside from the always-on ANC) I have with the Momentum Wireless is that the included cable is just that: a simple cable. I would have liked to have seen the three-button remote and microphone cable that is included with the corded Momentum also be included with the Wireless. When the Wireless are powered down, you lose the ability to change tracks, take calls, adjust volume, etc through the headphones, and so if your battery runs out, you're unable to use the headphones for anything but music. With an MSRP just a few cents shy of $500, a remote and mic in-cable doesn't seem like too much to ask.
The bottom line is that if you need headphones that sound great, are Bluetooth, and have active ANC that works well, the Sennheiser Momentum Wireless are a fantastic choice. They have a more straightforward function than the Parrot Zik (read: they don't need an app to work), better sound than the Samsung Level On, and are built to last you a good long time. Yes, $500 is a lot of money, but for someone who needs an all-in-one headphone, and has the means, the Sennheiser Momentum Wireless may just be the best option currently available.
The Sennheiser Momentum Wireless retail for
$499.95 from Sennheiser.com