Samsung UN46D6000 LED LCD HDTV HT Labs Measures
HT Labs Measures
Full-On/Full-Off contrast Ratio: 10,133:1
As mentioned earlier, the LEDs shut off completely when the TV is displaying a full black field, which doesn't often happen with real program material (except sometimes in inter-scene blackouts). So I measured the black level using a low-APL PLUGE pattern, which is mostly black. The black level I measured in this way was 0.003fL, which is excellent—better than most flat panels these days—but the mostly black pattern revealed non-uniform lighting across the screen, a nearly universal problem with LED-edgelit LCD TVs that is evident only in very dark scenes.
Turning down the backlight brought the peak-white level to 30.4fL, which is just about perfect, leading to an exceptional peak contrast ratio without resorting to any dynamic-contrast trickery.

At the Movie mode's default Color Tone setting of Warm2, the color tracking/grayscale was closer to correct that just about any TV I've ever reviewed. There was only a very slight rise in blue toward the upper end of the brightness scale. Using the 2-point calibration controls, I was able to correct that slight rise in blue at the top end, but the difference wasn't really visible.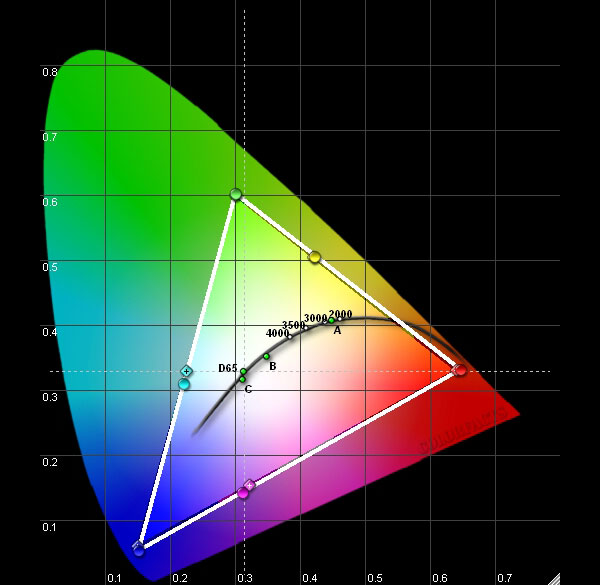 With Color Space set to Auto, the color points are nearly perfect. Cyan and magenta are slightly off, but not that anyone would notice on real-world material.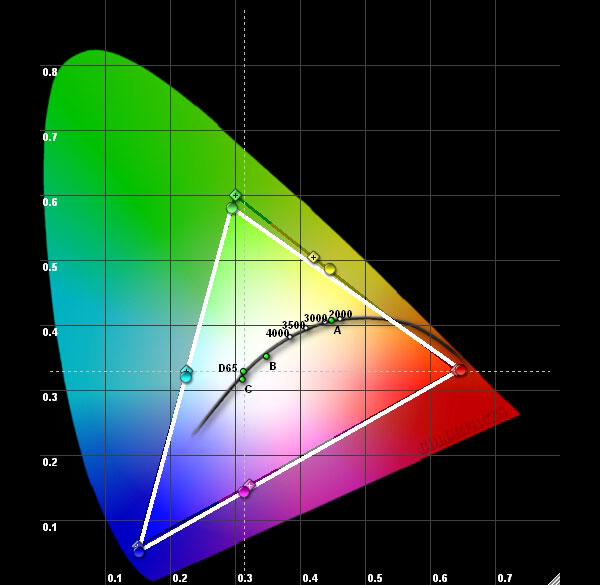 Setting Color Space to Native, the color points are not as accurate as Auto, though again, the deviation is not pronounced. I used the Auto setting.

3:2 = film-originated content sent interlaced to display (broadcast movies and many TV shows)
2:2 = progressive video-originated content sent interlaced to display (not common)
MA = Motion Adaptive (interlaced video-originated content sent interlaced to display; becoming common for 1080i TV shows)
The Film Mode default is Auto2, which fails the 3:2 and 2:2 pulldown tests in standard definition. The Auto1 setting passes both tests. This is one of the very few displays I've seen that passes the 2:2 pulldown test under any circumstances. All in all, the video processor in this set is excellent.